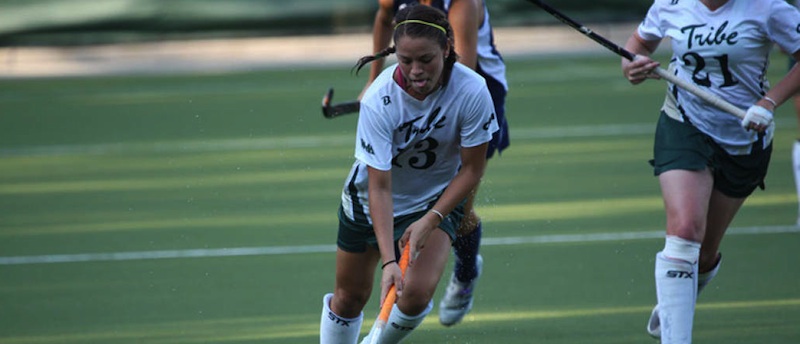 William and Mary's offensive struggles continued Friday when the Tribe dropped its second straight contest, falling on the road to unranked James Madison, 3-0.
With two games remaining in the regular season — both against Old Dominion, the top team in the conference — the loss moves the College (10-6, 3-3 CAA) to fourth place.
Neither the Dukes nor the College were able to generate too many scoring opportunities on the night, but unlike the Tribe, JMU was able to capitalize on set pieces, scoring all three goals off of penalty corners.
After nearly 20 minutes of scoreless play, the Dukes opened up a lead when JMU's Jenna Taylor sent in a corner that found Dana Allaband, who played it off for Courtney Versfeld to blast a low shot that deflected off senior goalkeeper Elizabeth Frey and into the back of the net.
After that, it didn't take long for the Dukes to double their lead. In the 26th minute, Loes Stijntjes played in a penalty corner to Taylor West, who beat Frey to give JMU a 2-0 advantage.
A few minutes later, Frey — who had made five saves to that point — was pulled for redshirt freshman Cate Johnson.
The Tribe finished the half with just five shots to JMU's eight, generating three penalty corners while the Dukes garnered four.
Twenty minutes into the second period, JMU sealed the win with another penalty corner. This time, it was Dukes defender Amy Goldstein who served the ball in to Allaband, who slowed it down for Versfeld to slap it into the back of the cage for her second goal of the night.
Senior defender Christine Johnson and senior attacker Leah Zamesnik led the way for the Tribe, logging two shots apiece, while Johnson finished with two saves in 42 minutes, 16 seconds of action. But on the game, the Tribe was outshot by JMU, 16-11, and the Dukes finished with a 6-4 advantage in penalty corners. The College has scored just five goals in its last three games.
The last two games of the regular season will be a tough test for the Tribe as both are against Old Dominion, a team that's still undefeated in conference play and an impressive 12-4 overall. The home-and-away series will begin Wednesday when the College heads to Norfolk.