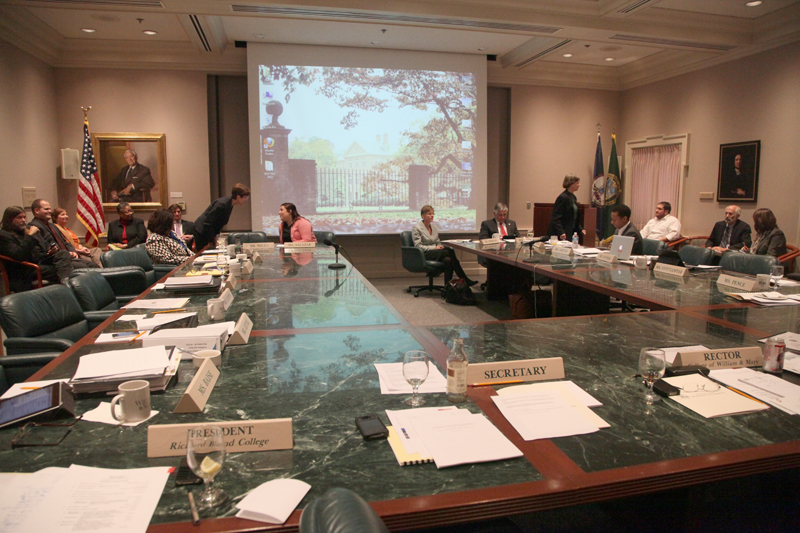 Dwindling state support and repercussions of a possible fiscal cliff dominated conversation at the College of William and Mary Board of Visitors' Committee on Financial Affairs Nov. 30.
The state increased general funds to the College in comparison to the recession period of 2009-11, but the committee does not want to rely on the state for financial security.
Vice President for Finance Samuel Jones '75 M.B.A. '80 noted that general funds had not yet met the pre-recession levels from 2008.
"So, even as we've gone through that recession, what's interesting is across all higher education, we're down $427 million," Jones said. "They're not filling in that gap of what was lost."
The committee also looked at consequences for the College if the federal government goes over the fiscal cliff.  Since Virginia has been given a negative outlook due to its status as the No. 1 recipient of federal procurement spending and defense spending, the committee anticipates further cuts in state funding.
Among state schools, the College has the second highest undergraduate in-state tuition, behind Virginia Military Institute.  The College also comes in second for highest undergraduate out-of-state tuition, behind the University of Virginia.
However, the College was found to be far less expensive than its peers for law school and business school tuition.
"We're still in a situation with U.Va. where people will reflexively go to the law school, even if it's a lot more money. … We compete with U.Va. for undergraduates, but we don't for law and business and we won't until we're much more highly ranked," College President Taylor Reveley said.
Another study found that the College ranks last for faculty salaries when compared to its top 25 competitors for students.
"Let it be on the record that we are committed to rectifying that situation," Rector of the College Jeffrey Trammell '83 said.