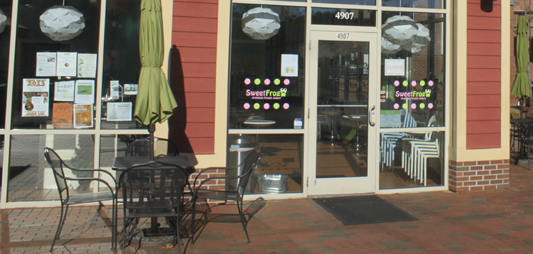 As is the case in many tourist havens, Williamsburg has no shortage of ways to satisfy a sweet tooth. In the competition for the best Williamsburg dessert location, though, Sweet Frog easily takes the cake — or in this case, the frozen yogurt.
Sweet Frog is a fairly well-known chain that is growing quickly and becoming almost as popular as Pinkberry. The variety of choices, low prices and overall atmosphere set the company apart from competitors in the booming frozen yogurt industry.
Sweet Frog is self-serve, allowing customers to control portions and prices, which is perfect for starving college students. The store charges by the ounce and offers three different cup sizes. Punch cards reward frequent customers after their 10th visit with $4 off their next cup. However, cashiers often forget to offer a card or a punch, so it's up to customers to make sure they get their due rewards.
The store offers 14 different flavors, and the options for mixing flavors and toppings are endless. Be sure to ask for a sample cup when trying new flavors so you don't end up with a full cup of a flavor you don't like.
Even though you may not traditionally gravitate toward cold frozen yogurt in the winter months, Sweet Frog's seasonal options are irresistible. Holiday flavors include eggnog, peppermint and gingerbread; toppings such as peppermint bark make perfect additions. In the fall, cinnamon roll and banana nut bread made an appearance. Classic flavors like original tart, cappuccino, chocolate and strawberry are available year-round. Sugar-free added options are great for dieters, and there is usually a non-dairy option as well.
The toppings bar makes it tempting to load up cups with candy and fruit. The range of selection includes cereal and nuts, along with fresh fruit and candy pieces. This way, the customer can take the chocolate-lover's route, make a healthier, fruit-filled choice or concoct a more eclectic combination that would make a third grader proud.
Williamsburg's Sweet Frog has plenty of indoor seating, with futuristic-looking spinning tables that make it possible to turn the tables quite literally and steal some of your date's yogurt. The bright pink and green walls make for a happy atmosphere and a fun soundtrack is usually played over the store's speakers.
The one drawback of Sweet Frog is its location. New Town is something of a hike compared to Duke of Gloucester street, but the Williamsburg trolley is an easy and free transportation option. The trolley has a stop very close to Sweet Frog, and the nearby shopping areas and movie theater make the trip worth your while.