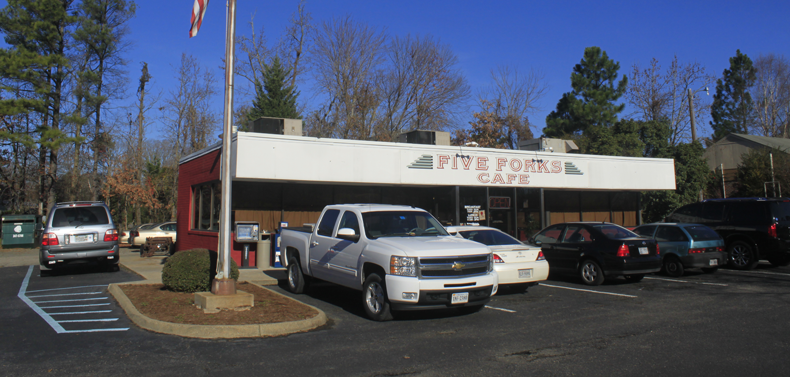 When traversing the parallel roads that lead directly to the triangular heart of Williamsburg, any tourist, student or driver might notice something strange about the restaurants lining the streets. While you have your all-American tourist chains like Chili's and Applebee's, interspersed between these hamburger havens are a host of pancake houses. There are enough pancake houses in Williamsburg to keep your pancake selection fresh for weeks, but once you have found that syrup-covered sweet spot, why mess with success?
All the way down John Tyler Parkway, you will find a small shopping center to your right housing the best pancake in the Tidewater area — Five Forks. It might not be as pristine as the Gazebo on Bypass Road or as well known as the IHOP chain, but this out-of-the-way diner is hidden in the woods for a reason: The pancakes can't be beat. On Saturdays and Sundays, you may have to wait half an hour while the just-out-of-church crowd filters out, but the wait is worth every delectable bite of pancake you are about to enjoy.
From French toast, to omelets, to pancakes with all sorts of toppings and flavors, your mouth will not be displeased with this pancake pilgrimage. My personal favorite is the all-chocolate Sunday morning selection. Order a big glass of chocolate milk and pair it with a heaping serving of chocolate chip pancakes. Don't forget a side of scrambled eggs and cheese for a little bit of protein. After one trip down to this delicious diner, your taste buds will refuse to return to any of the pancake houses littering Jamestown and Richmond Roads ever again.
If you are looking for a new ambiance or pancake taste, or just don't want to drive all the way out to John Tyler, there are a few second-tier pancake houses close to campus. The Chickahominy House right up Jamestown is the ideal spot to take parents passing through the 'Burg for the weekend. The Gazebo on Bypass Road boasts great pancakes with limited variety, and if you just need to satisfy that fast pancake food craving, IHOP on Richmond Road never fails. It is not open 24 hours, so get there before it's too late, but the menu options are consistent all over the country, so you won't need that much time to mull over the options. While these second-rate options aren't half bad, it's well worth the windy drive and the potential wait to eat a steaming plate of mouth-watering Five Forks pancakes.