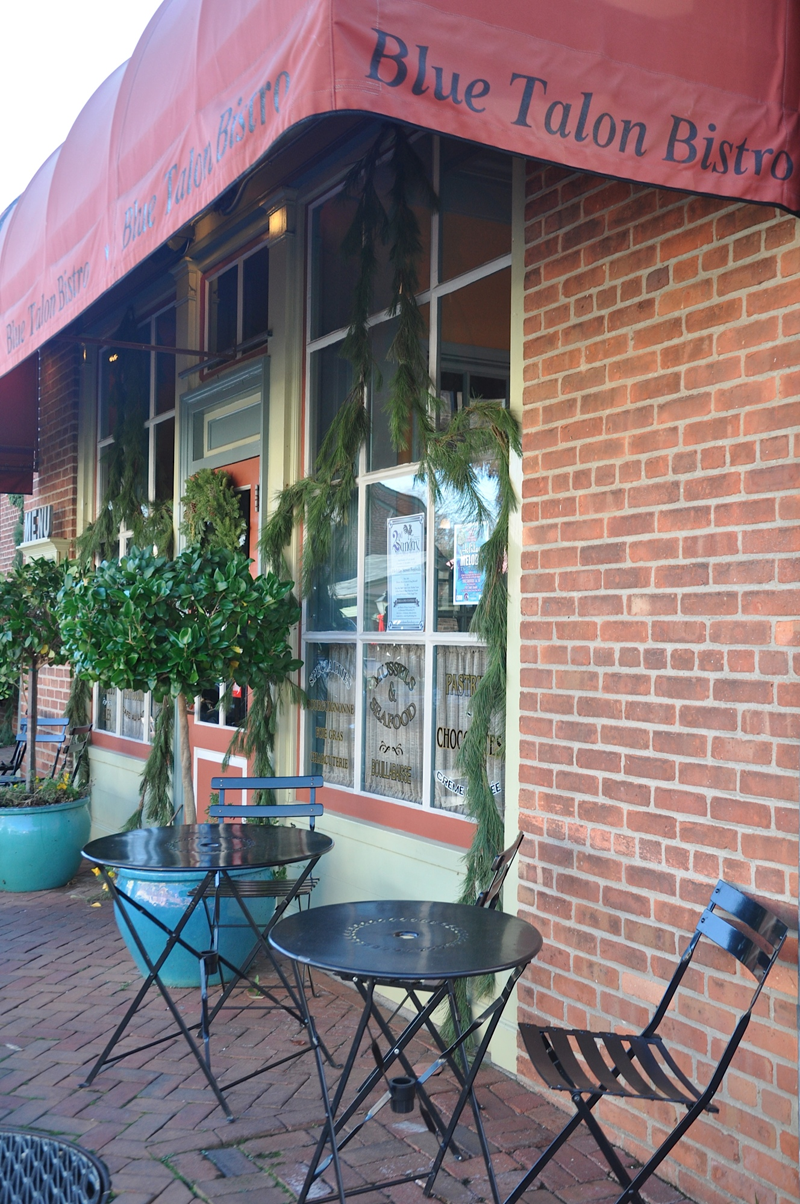 The ultimate challenge has arrived — and no, it's not the big biology exam. Your parents are coming to Williamsburg, and they want to take you out to dinner. The dining centers on campus will not make the cut, so where can you take them? Look no further than the Blue Talon Bistro. Not only is it conveniently located near the College of William and Mary in Merchants Square, it also — and more importantly — offers delectable meals anyone can enjoy.
Open daily from eight a.m. to nine p.m., the Blue Talon serves "serious comfort food" that students and parents will enjoy. Chef David Everett cooks both traditional meals and original creations that are sure to make customers' mouths water, no matter what time it is. The bistro offers breakfast and coffee every morning, and brunch on Sundays with Belgian waffles, meatloaf meurette, an assortment of breakfast pastries and other specials. Lunch is also served Monday through Saturday and dinner is available every night.
Of course, parents will want to know which meals are the best. The escargots bourguignon is a delicious appetizer; the soup of the day and the several different salads are great options for light meals. The Blue Talon also has several specials, such as the unique macaroni and cheese, which is much fancier and more delicious than anything Kraft has to offer. The steaks are great, but if you're looking for something a little less expensive, the hamburger topped with fried egg, bacon, cheese, lettuce, tomato and onions is sure to satisfy your taste buds. Desserts at the Blue Talon are scrumptious, including the chocolate mousse, creme brulee and burnt sugar ice cream, which the chef claims is "the greatest ice cream in the world." Finally, the Blue Talon has a wine list that will probably make your parents glad to have made the trip to Williamsburg, whether they traveled from Richmond or California.
The Blue Talon can be expensive, but that's why it's the best place to take your parents — they can pay for your meal. The Blue Talon is a great restaurant for a birthday dinner because you can get a free entree with your student ID.
The bistro's atmosphere is exceptional. The waiters and waitresses are friendly and helpful, and they give great recommendations. Whether eating inside or outside, the aesthetic qualities of the Blue Talon are quite pleasing, with warm, inviting colors inside and softly lit candles outside at night. One waiter agreed that the Blue Talon is a great place to take parents and has even taken one of his own parents to dinner there. He thinks the atmosphere is part of what makes the restaurant so popular: it's classy but comfortable.
Because the Blue Talon Bistro is simultaneously small and popular, reservations — made online or by phone — are often necessary for dinner. If you want a time that fits your parents' arrival schedule, you'd better call early because the Blue Talon Bistro is the place to eat in Merchants Square.