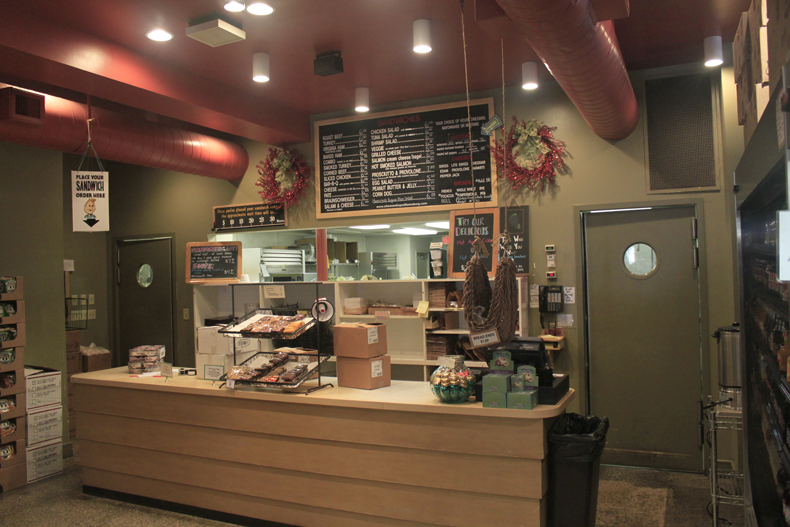 If you are anything like me, when you first came to tour the College of William and Mary, you heard every current student tell you the one restaurant you had to visit on Duke of Gloucester Street was The Cheese Shop. Thankfully, I went with an alumna. She picked me up, called The Cheese Shop on her speed dial and asked me what I wanted. She blurted out a couple of options, and I quickly picked one. When we arrived, the line was pouring out the door like it usually does on Friday afternoons. We snuck past the other customers to get inside and collect our order as soon as it was ready.
If it weren't for her, I might fear The Cheese Shop as a locals' place in the midst of tourist haven. You either know what you want right away, or you run the risk of getting trampled by the next person in line who does. You quickly learn what you want and how you want it. And whatever your order is, you always get it with house dressing.
Everyone has their favorites, and they hardly venture from them. Just the other day, I saw someone pull out a grilled cheese sandwich, and the person next to him was astonished. He had never let his eyes wander to other items on the menu.
To buy or not to buy, that is the question. At least, that is the question my friends and I ask ourselves when we see the fat squares of brownie heaven staring us in the face while we wait for our sandwiches. Some take the dare while others do not.
Then when your name is shouted, you collect your little black basket and fill it with your drink, chips, brownie or side before making your way to the checkout counter. After paying, you head outside to enjoy your sandwich while watching the most bizarre tourists and the cutest dogs on DoG Street. When all of your friends arrive, everyone launches into their first bite.
The Cheese Shop is the sort of place that sticks in your head because it is distinct from all other eateries on DoG Street. For some, it is where they splurge for a truly good sandwich, and for others, it is a daily stop. The Cheese Shop is what you make of it. For many alumni, it is a meeting place. They walk outside with their wine, cheese and bread to sit down and reconnect.  It is a place that calls them back again and again to enjoy good food and old friends.
The Cheese Shop is different from Pita Pit or Mooyah because it is the sort of place that you go to when you feel like indulging yourself in an atmosphere of sophistication. At the same time, it doesn't deplete your college budget.
From house dressing to bread ends to brownies and more, The Cheese Shop offers something for everyone, easily making it the best of DoG Street.