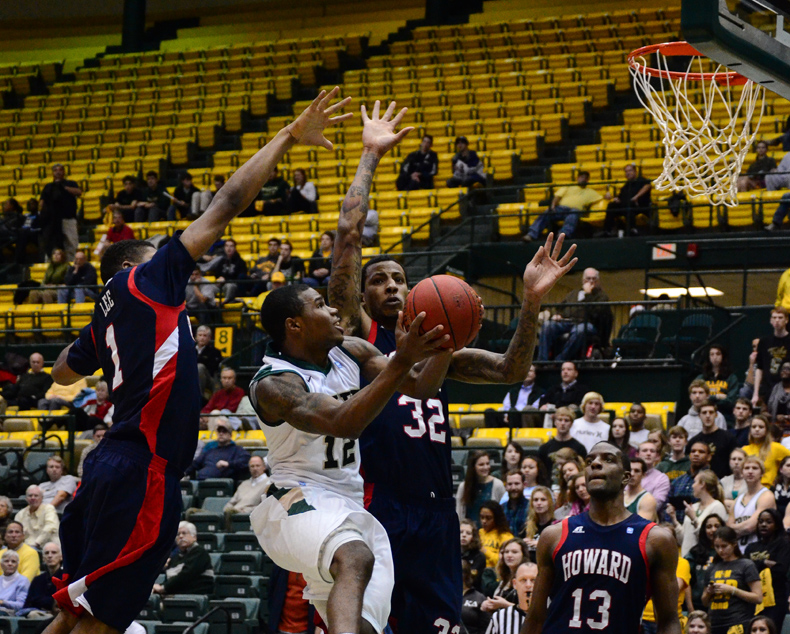 It was far from pretty at Kaplan Arena Thursday night as William and Mary conceded 15 offensive rebounds and racked up 12 turnovers, but when all was said and done, the College moved to 5-3 with a 78-69 win over Howard.
Led by junior guard Brandon Britt's career-high 26 points, the Tribe shot 47.9 percent from the field and picked up its second consecutive win.
"Great win for us," head coach Tony Shaver said. "I thought Howard played really well … I don't think we played a great game, but it's really important to win that kind of game."
The Tribe controlled the game for much of the first half but failed to ever put comfortable space between itself and Howard. Early on it was offensive boards and second-chance buckets keeping the Bison in it, but as the quarter progressed it was mainly shoddy defense from the Tribe — Howard being a team that entered averaging just 52.8 points per contest — and the play of forward Mike Phillips, who went 5 of 8 from the field for 12 points over the first 20 minutes.
Sparked by Britt and junior forward Kyle Gaillard — who led with 12 and 11, respectively, for the half — the College filled it up in the first, shooting an impressive 63.6 percent from the field to build up a 38-30 halftime lead.
Britt kept at it in the second, opening the scoring for the Tribe with a hard drive that resulted in a three-point play.
"I'm always looking to score," Britt said. "I feel like that's definitely a strength of mine, but I was just picking my spots. I knew those guys pressure so driving the ball would be good."
But Howard guard Calvin Thompson responded with a three-point play of his own, and after a quick burst to open the half from the Bison, the Tribe's lead was down to just four.
Then, after a quiet first half, sophomore guard Marcus Thornton got into it, serving as the catalyst for the College's fast break. After a transition lay-up off his own rebound, Thornton knocked down a fast break jumper to put the Tribe up 50-41 with 13:31 to play. The team's leading scorer, Thornton would finish with 13 and three rebounds but five turnovers as well.
Still, Thompson and Phillips kept the Bison alive. The two would ultimately combine for 44 points, and a three-pointer from Thompson made it a 56-50 game with just under 11 minutes remaining.
"They made a lot of shots. They're good players and they made a lot of shots," Britt said. "We didn't do a great job of getting over screens and contesting shots, but they're definitely good players."
A minute later, though, the College's fast break bit again as Thornton got an outlet from senior guard Matt Rum, pushed the tempo and sent a pretty cross-court bounce pass to a streaking Britt, who hit the lay-up and drew a foul. After his free throw was good — the junior would go 13 of 15 from the line — the Tribe was back up by nine at the midway point of the quarter.
After Howard's biggest player, 6-10 Alphonso Leary, picked up his fifth foul with five minutes to play, Thornton put the Tribe up 67-54 with another fast break lay-up. It was the biggest lead of the night for the Tribe, and the Bison would hang around with more second-chance points and three-point shooting, but the College added an exclamation point when Thornton got out in transition and found freshman guard Terry Tarpey for the alley-oop to give the Tribe a 12-point lead with 2:37 to play.
It was Tarpey's only field goal of the night, but the freshman had another well-rounded performance, grabbing a game-high 12 rebounds and logging four assists.
"We were a little flat," Tarpey said. "So I tried to spark us up and it worked."
Shaver raved about the freshman's contributions this season.
"Terry's a great player," he said. "This isn't the first time I really thought he might be the key to our win… he's a very composed, very confident young guy out there."
Much improved was the Tribe's free throw shooting as the College went a lights-out 90.3 percent from the line, a key factor in a game that saw the Tribe get into the double-bonus relatively early.
Shaver's squad will have little time to rest before heading out to Radford Saturday.
Blake Hunt contributed to this report.