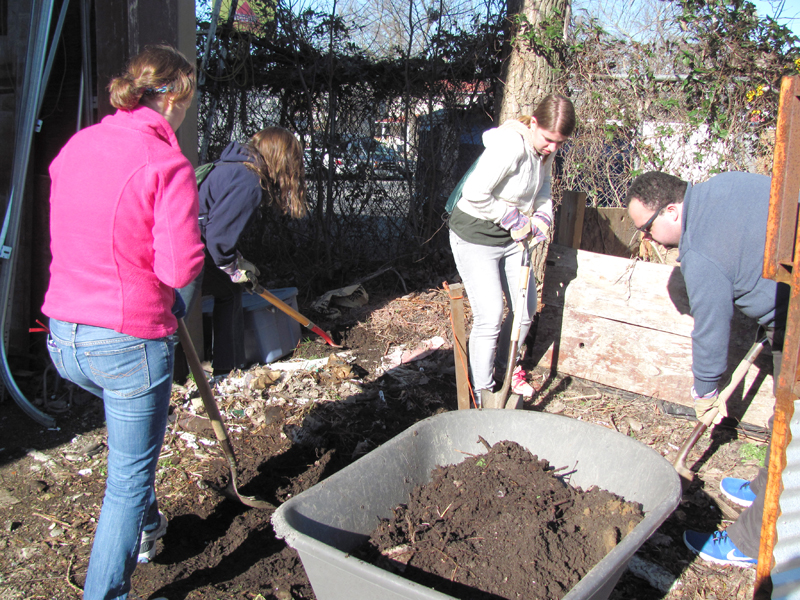 Driving through an area with boarded-up windows and run-down yards, students gazed at the remnants of a town pivotal in the Civil Rights Movement. As volunteers from the College of William and Mary arrived at Pathways, an organization focused on the redevelopment of Petersburg, they celebrated the history of the town while helping to revitalize its present.
Martin Luther King Jr. spent time in Petersburg in the 1950s and 60s, with locals drawing inspiration from his movement. Pathways has since formed a commemorative march to reflect on his actions and philosophies. Students worked with Pathways to not only volunteer in the community but also assist in this educational walk.
Katie Caudle '14 coordinated the project as part of the Office of Community Engagement's participation in Martin Luther King, Jr.'s Day of Service.
"Martin Luther King Jr. started a movement for people to grasp the impact of what an individual can achieve," Caudle said.
Some students worked at composting trees, others picked up trash, and some made soup for those who participated in the activities for the day.
"I felt like we attributed a lot to Pathways and what we did may seem small but it is about service, sharing, and being apart of something else," student volunteer Coleen Herbert '14 said.
After the students concluded their activities, they participated in the commemorative march. This included walking to the historical First Baptist Church, Gillfield Baptist Church and Third Baptist Church where preachers from each church talked about how their churches played an influential role in the Civil Rights Movement.
"Martin Luther King Jr. was committed to small actions being connected to others. I feel that the educational part of the service really played into this. You can share knowledge and that is what this service today really pulled in," Herbert said.
Another co-contributor to the service day was Kate Furgurson '13.
"Those that volunteered today had a great opportunity to get involved about learning about the Civil Rights and to be apart of the current movement," Furgurson said.
During the service at Third Baptist Church, community member Richard Stewart reflected on his experiences of prejudice growing up during the Civil Rights Movement. He talked about how, at the time, having an African American president or a holiday for an African American man seemed impossible.
"The reference on Martin Luther King Jr. and his struggle which was 50 years ago and how we have a national holiday about him was amazing to realize," Caudle said. "So much has changed because of how people influence the hearts and minds of others in their communities."
However, the trip to Pathways was not the only volunteer trip that students took. Other groups on campus did volunteer work around Williamsburg.
"Programs like these are a hallmark for William and Mary because everyone has been so engaged in learning and growing outside of the classroom," Caudle said.