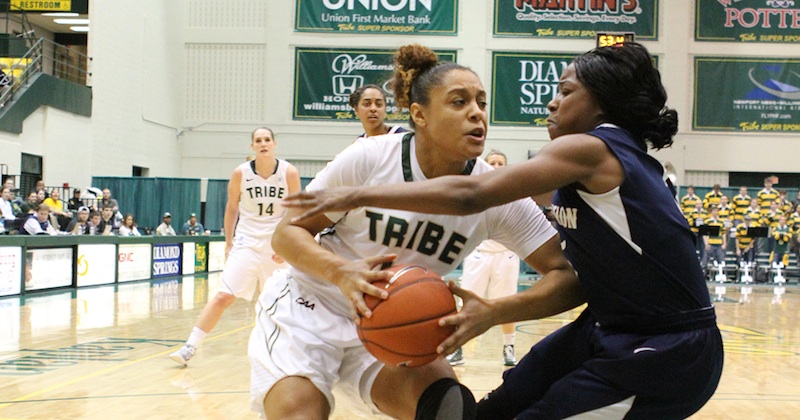 For head coach Debbie Taylor, the last three seasons at William and Mary have brought little to be happy about.  But Sunday afternoon, that couldn't have mattered less. Even her team's current record of 4-14 could do nothing to temper her joy after coaching the Tribe to a 73-69 upset over rival Old Dominion at home.
"[It was] one of my proudest moments here as a coach," Taylor said. "Definitely."
And she had every reason to be proud. Not just of the sterling effort put forth by her players, but by her own moves as a coach. If the measure of a coach is how much she can squeeze out of the talent on her team, Taylor was great Sunday.
It began with the lineup she sent out at the start of the game. Out was senior center Jaclyn McKenna; in was junior forward Kaitlyn Mathieu. You know a lineup change works when both players respond, and while Mathieu — making just her second start all year — finished with a season-high 19 points and 10 rebounds, McKenna was on the floor at the end of the game to draw a charge and all but seal the win. She also scored 11 points on 5 of 7 shooting.
Another change to the normal starting five came at guard. Sophomore Anna Kestler got the nod over senior Chanel Murchison. Kestler went 0 for 3 from the floor but did everything else, pushing the tempo when appropriate and finding open woman after open woman for a game-high seven assists.
But the best move Taylor made wasn't before the game but during it, and it also happened to be her riskiest.
The team's leading scorer, senior forward Emily Correal, struggled from the start, turning the ball over and getting beat on the boards. Unafraid to turn away from the conference's seventh-best scorer, Taylor sat Correal for most of the first half.
"We're at the point where there are no guaranteed minutes," Taylor had said after the College's win over Towson Thursday.
Obviously she meant it, and after things didn't get any easier for the senior in the second, with 16:39 remaining Taylor took her out again, and for good. On came a motivated McKenna, who immediately came up with a steal that turned into a Tribe three-pointer on the end that cut Old Dominion's lead to two. McKenna would log eight points, two rebounds and two blocks in the second half.
Of course, Taylor can't get all the credit for the College's upset win. A coach's job is made much easier with a player like Aldridge, who went off for an incredible 26 points on 11 of 15 shooting. And 66.7 percent second-half shooting is just as much — if not more — a reflection of the players on the floor as it is of the coach on the sideline.
But every string Taylor pulled worked to perfection, especially when she wasn't afraid to sit seasoned seniors. Sophomore guard Jazmen Boone saw lots of action off the bench in place of senior guard Taylor Hilton and turned in one of the game's most well-rounded performances, going for seven points, six assists and four rebounds in just 19 minutes.
For the second game in a row, Taylor challenged conventional wisdom, and for the second game in a row, it worked to perfection.