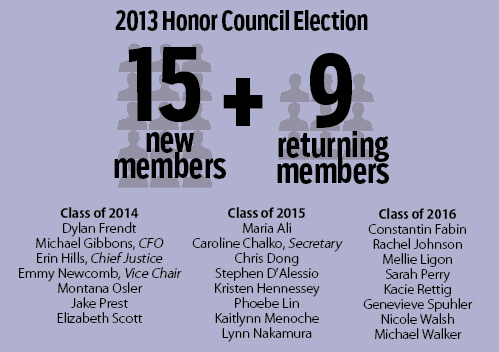 Fifteen new members and nine returning members were elected to serve on the College of William and Mary's Undergraduate Honor Council for the 2013-14 term last Thursday. The elections were conducted electronically and 23.84 percent of the student body voted.
Pending upcoming changes to the Student Code of Conduct from the Honor Systems Review Committee, the new council enters a year with a bit more uncertainty than previous councils.
"It will be training intensive on our part," Honor Council chief justice Erin Hills '14 said. "You are not only dealing with people who haven't been on council at all, but you are dealing with a whole new set of rules. … It is truly going to be a team effort for us understanding this, seeing how we are going to apply it in practice, and communicating it to the community that it is a good change."
The Honor Systems Review Committee was appointed by College President Taylor Reveley to update the Student Code of Conduct. The committee, led by government professor Clay Clemens, has worked on updating the code for the past two and a half years.
Once the changes are agreed upon, the committee will release a plan to the community  and finally, to Reveley. Former chief justice Justin Duke '13 serves as the Honor Council representative to the committee.
If changes are implemented, Hills believes the Honor Council mission will stay the same, but some logistical and necessary updates will be included in the new code.
"There might be some small nuances or small logistical matters that may change, but overall, we will serve the same purpose," Hills said. "I think [the code] will be more clearly defined."
With 15 new members on the council in the upcoming year, Hills foresees a focus on training and understanding the code as a priority regardless of the possible changes to the code.
"I think it is going to be an interesting year because we are going to have a lot of training regardless," Hills said. "We are excited about the upcoming year."
Mellie Ligon '16 decided Honor Council was an organization she wanted to be a part of while taking the honor pledge during orientation.
"I just realized how important it was to me in making my college decision," Ligon said. "It was something I really wanted to do. I want to set an example of holding the honor code as a standard for the community."
After spending a year away from the council and a semester abroad in France, Richard Murphy '14 returns to the council after this recent election with former experience.
"When I was a freshman, the rising seniors were the people that I looked up to the most in my first term," Murphy said. "They were who I would always turn to for help. … Now I feel like I have reached the age where people are going to look at me like that."
Hills believes the high number of new members has less to do with the organization itself than it does outside factors. If students choose to study abroad, they must exempt themselves from serving on the council for the entire year. As a result, many rising sophomores and juniors refrain from re-election.
"I don't necessarily think it is a function of our council but a function of students being interested in pursuing other opportunities," Hills said.