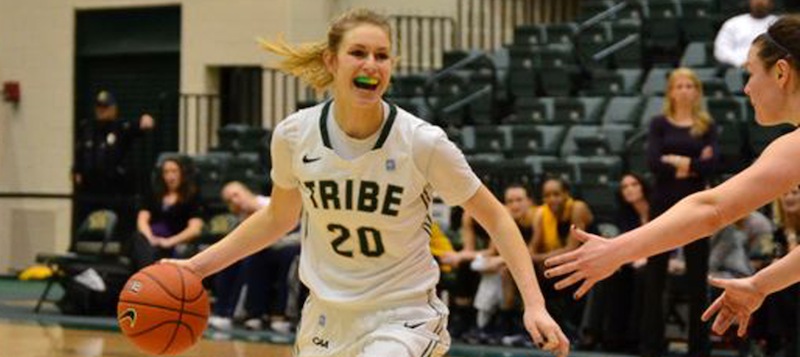 Close losses are losses all the same, and despite fighting hard all night, William and Mary reached the 15-loss threshold Thursday, falling at Georgia State, 57-52.
Senior forward Emily Correal led the way for the College (9-13, 3-8 CAA), turning in a stellar 22-point, eight-rebound performance. Sophomore guard Kyla Kerstetter also had a big night, coming off the bench to score 12 on 3 of 8 shooting, grab three rebounds and dish out two assists.
But perhaps the Tribe's most significant individual performance was that of senior guard Janine Aldridge. Usually the Tribe's go-to sharp shooter and the team's second-leading scorer, Aldridge was off, going just 2 of 13 from behind the arc en route to scoring eight, pulling down three rebounds and giving away three turnovers.
With four seconds left, Aldridge had a chance to send the game into overtime but couldn't connect on a three-ball. It followed a furious Tribe comeback that saw the College climb out of a 15-point second-half deficit after the Panthers (11-10, 3-7 CAA) scored the first 10 points of the period. Between the 14 minute, 12 second-mark of the second and the 5:37-mark, the College outscored Georgia State 22-5, taking a 47- 45 lead on a transition three from Kerstetter.
The Panthers then regained control, going on an 8-1 run of their own to grab a 53-48 with 3:30 to play. With 1:49 left, Georgia State's Kayla Nolan knocked down a jumper to stretch that lead to five, but the College wasn't out of it, responding with a Correal layup.
Trailing 55-52 with 14 seconds to play, head coach Debbie Taylor used a timeout. Aldridge got the three-point attempt with four seconds remaining, but it was off. Two free throws from Georgia State's Kendra Long on the other end sealed the win for the Panthers.
Nolan led the charge for Georgia State, finishing with 17 points on 6 of 13 shooting and six rebounds.
Neither team was at all capable from beyond the arc Thursday night, as the College went 4 of 21 from distance and the Panthers hit just two of their 16 deep attempts. Georgia State finished the night at 32.8 percent from the field, while the Tribe shot a sub-par 29.5 percent.
The loss drops the College to sole possession of ninth place in the conference, one game behind UNC-Wilmington. The Tribe will return to action when the Tribe heads to George Mason — the Colonial Athletic Association's fourth-place te