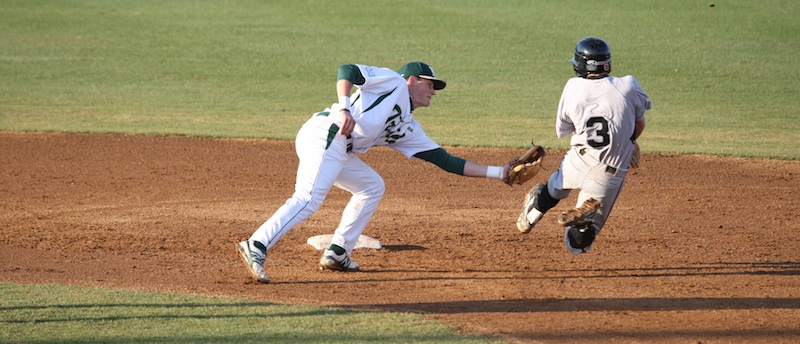 As players mill around the Plumeri Park locker room preparing for their Wednesday practice, the weather outside is dreary. The temperature in the high forties, the wind is blowing and a light mist is coming down. Of course, this can only mean one thing: it's baseball season again in Williamsburg.
William and Mary will return to the diamond Friday when it kicks off a three-game set at Clemson. With it are plenty of fresh faces, most importantly its new head coach, Jamie Pinzino. After seven seasons at the helm, Frank Leoni resigned the head coaching position following a tumultuous year and Pinzino, a head coach at Assumption College and Bryant University before joining the Tribe as pitching coach last season, was tapped as his replacement.
A graduate of Tufts University and the 2010 Northeast Conference Coach of the Year, Pinzino is staying away from comparisons with Leoni, whose strong personality at times bordered on polarizing.
"I try not to classify myself as a coach," Pinzino said. "That's something best answered by other people. I've always felt that you just have to be yourself as a coach … As a coach, you need to be somewhat of a strong personality to keep all 35 guys going in the right direction, but it's just about being yourself."
Pinzino will try to improve upon the team's 2012 output, when it began by cruising to a 19-7 non-conference mark before disappointing in Colonial Athletic Association play and missing the postseason with a 12-18 CAA record (31-25 overall).
Pinzino's already made a lot of changes, completely shuffling the infield by moving junior Ryan Lindemuth from third to second, sophomore Michael Katz from first to third, and senior Kevin Nutter from second to first.
Lindemuth, unquestionably the College's 2012 offensive MVP after leading in on-base percentage (.458), slugging percentage (.563) and runs (54), praised the entire staff, which also includes two new assistants: hitting coach Brian Murphy and pitching coach Brian Casey.
"We have really good leadership amongst the coaching staff," Lindemuth said. "I think our team is really close this year. I think that's something we may have struggled with in the past."
Lindemuth will anchor a lineup packed with young talent and veteran leadership. At the top will be Nutter, who was second to Lindemuth with a .431 OBP, and senior center fielder Ryan Brown, who led the team with 17 stolen bases.
Joining Lindemuth in the middle of the order will be Katz, who slugged his way to a Tribe-best 10 home runs and a freshman all-American selection in 2012.
"The key is how much that lineup can get stretched out," Pinzino said.
To do that, he'll turn to — among others — senior shortstop Ryan Williams, who logged a .344 OBP and 24 runs batted in last year.
"[He's] had an outstanding pre-season," Pinzino said. "He'd be a guy we're looking to stretch that lineup hitting in the 6, 7 hole."
Rounding out the lineup will be freshman catcher Ryan Hissey, junior left fielder William Shaw — a transfer — and senior right fielder Derek Lowe.
But last season the College mostly won games with its arms, posting a CAA-best 3.01 earned run average. The rotation, though, will be missing two key pieces, Matt Davenport '12, who led the team with a 1.73 ERA and was drafted by the Detroit Tigers and Cole Shain '12.
Leading the starting four this season will be senior righty Brett Koehler, who posted six wins, 55 strikeouts and a 3.21 ERA last season. Following him will be senior righty John Farrell, sophomore lefty Jason Ingraham and senior lefty Matt Wainman.
"I realize this is my last season and I just want to be out on that mound," Koehler said. "I'm expecting big things out of the rotation. We've got a lot of experience and if we can set the tone we can do some big things."
The off-season has brought a lot of change, but Pinzino and his team are hoping that with opening day will come consistency in performance.
"For the players, change sometimes can be tough," he said. "There's a lot of things — even though I was here last year as a pitching coach, — when we come in here it's a different system, there's an entire new set of assistants and that's an adjustment for guys. Hopefully the changes that we're making are for the better."