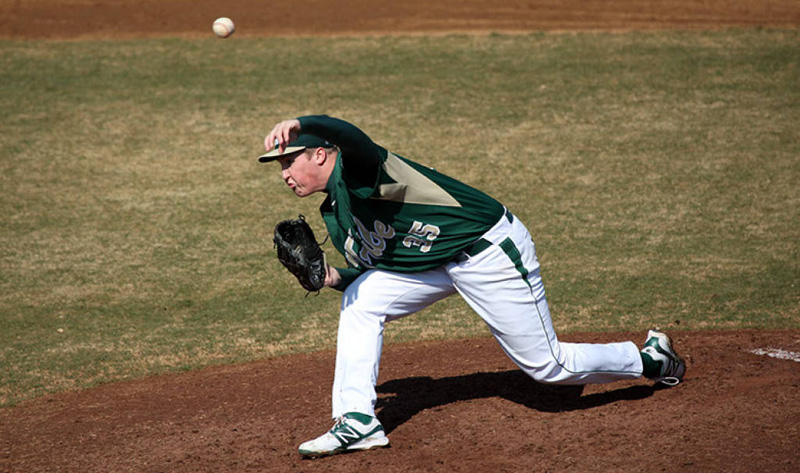 After plating just two runs in the series-finale loss at Clemson, William and Mary entered Tuesday's contest looking for an offensive spark. Instead, the College continued to struggle at the plate, as No. 25 Virginia won handedly, 11-2.
Senior pitcher Matt Wainman held the Cavaliers (4-0) at bay for the first three innings, as neither team could find an advantage. Wainman held Virginia hitless until the third inning, where the Cavaliers advanced as far as third base before infielder Jared King hit into a double play to allow Wainman to escape the frame.
Wainman and the College (1-3) ran into trouble in the fourth and fifth innings, however, giving up six runs on four hits. After retiring the first two batters, consecutive two-out doubles helped Virginia build a 3-0 lead in the bottom of the fourth inning.
Outfielder Brandon Downes hit a double to center field in the bottom of the fifth, scoring to put Virginia up four runs. Wainman again struggled to get out of the inning, giving up a two-run homerun to infielder Kenny Towns. After five innings, the Cavaliers had expanded its advantage to six runs.
In five innings of work Wainman allowed six earned runs on six hits, walking four batters while fanning three others.
Head coach Jaime Pinzino pulled Wainman in favor of sophomore pitcher J.T. Castner in the sixth inning, but the bleeding didn't stop there. Castner gave up a two-run home run to right field, before getting two pop flies to end the inning.
Junior pitcher John Sheehan and freshman pitcher Aaron Fernandez relieved Castner, giving up three runs on five hits to finish out the game. All told, Virginia tallied 11 runs on 13 hits, leaving seven runners on base.
Offensively, the College failed to crack Virginia pitcher Nick Howard. Howard struck out two and allowed five hits in six innings of scoreless work. It took the Tribe until the ninth inning to notch a pair of runs, and even then it wasn't without help.
Junior second baseman Ryan Lindmuth reached first base thanks to a walk before advancing to second on a wild pitch. Junior left fielder Bobby Klein then advanced to first on another walk. Senior shortstop Ryan Williams hit a double and freshman pinch hitter Thomas Pulisic grounded a shot to second to allow two Tribe runs to come across, ensuring that the Tribe would not be shut out.
All told, the College managed seven hits, leaving six runners on base. Williams and senior first baseman Kevin Nutter paced the Tribe offensively, each going 2 for 4. Senior centerfielder Ryan Brown, Lindemuth, and sophomore third baseman Michael Katz each added a hit.
The College begins a seven-game homestead this weekend, taking on Siena in a three-game series at Plumeri Park. First pitch is scheduled for noon on Saturday.