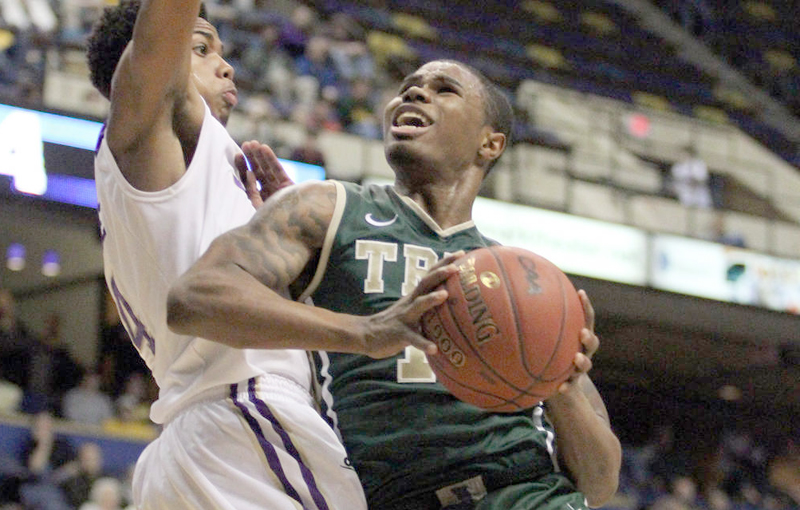 It happened November 28 in Richmond. And it happened January 9 in Towson. Then one more time in Boston, January 23. Three double-overtime games. Three Tribe losses.
These weren't blowout losses, either. These were the knife-in-the-gut losses, the losses that haunt a team. Somehow William and Mary proved time and time again its ability to shake off such defeats, clawing its way to a 13-17 overall season record.
Their penchant for climbing out of holes kept fans coming to Kaplan Arena. Unfortunately, the Tribe also proved again and again that no lead was certain, no advantage safe.
Look at the home tilt against James Madison March 3. Somehow, almost inexpiably, head coach Tony Shaver was left scratching his moustache after his team relinquished a 16-point lead to lose by two in the regular season finale.
Last weekend, the College was tasked yet again with finding a way to compete after a tough loss. But this time, the stakes had grown. The game marked the first round of the Colonial Athletic Association Conference tournament and the opponent was the Dukes, a team who had realized they could beat the Tribe squad even if staring at a 16-point hole.
Did anyone really expect the College to win this one? In a season where the only sure wins came against Division II Hampton or High Point, this game was by no means a safe bet for either side.
In true Tribe fashion, the game came down to the final moments. Just like in November against Richmond, the last Tribe shot went to sophomore guard Marcus Thornton. It wasn't enough. Again.
But don't blame the second-team All-CAA selection — Thornton has proven his capability to sink late game shots. Blame the College's season-long reliance on a last second miracle.
Early in the season the Tribe faced multiple blowout losses. Offensive production rested primarily with Thornton, junior guard Brandon Britt and junior center Tim Rusthoven. Shaver addressed  that problem ­— but the losses continued.
Finding stable ground after their eight-game losing streak, the Tribe faced a new problem — a series of double-overtime and close losses. It seemed as if every press conference mentioned the need to close out games. The issue grew habitual and ultimately insurmountable.
For the College to become a serious contender in the conference, it would need to learn how to be the team defending last-second prayers, not the one throwing them up to a deaf basketball god.
Every game is a chance to win, but not if you're tossing potential game-winners in the final four seconds every night.
Next season, the Tribe returns four starters and capable talent. Shaver will have to find a way to change the team's mentality from that of a barely winning squad to a barely losing one.
Is it possible? Absolutely. Then again, winning close games was "possible" all season long.