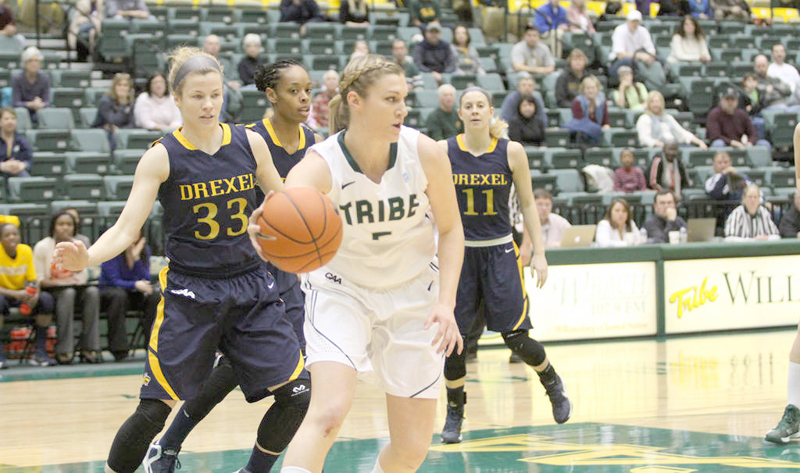 After a brutal winter for the team, spring didn't come soon enough for William and Mary. The Tribe traveled to Baltimore in hopes of staging a dramatic rebirth in the CAA tournament. They were promptly stomped, 65-31 in the first round.
It would be right to say Friday's outcome was predictable. Nobody really expected the team to win, but a 34-point loss with only five Tribe players even making the scoreboard can only be described as pathetic. Drexel's evisceration of the College was merely the sad exclamation mark at the end of a sorry season that got away from the team months prior to Friday's massacre.
Four months ago, the Tribe would never have expected to look back on their season with such disappointment. Optimism shrouded the team in the early days of November — the Tribe returned four of its five starters from the 2011-12 campaign, including the record-breaking shooter Janine Aldridge and the dangerous inside-outside threat Emily Correal.  The hopefulness seemed valid — they were sure this would be their year.
"I expect this to be the best team William and Mary has ever had on the women's side," head coach Debbie Taylor said in November. "This is the best lineup of talent this program has ever produced."
But the ecstasy of autumn soon faded into the gloom of winter. The College stumbled through a two-month-long 11-game losing streak, starting their season 2-14. Even after their definite improvement in February and early March, losing was unquestionably the norm of the season, Friday's tournament loss being merely the most severe.
Beyond the surreal statistics, the real surprise was the team's starting line-up — excluding Hilton. How could those same returning starters who had offered such hope at the beginning of the season look so apathetic in their final collegiate appearance? There's no doubt the seniors truly wanted to win — Aldridge was on crutches just days before the tournament tipoff and still gritted through 21 minutes of play. Looking at Friday's performance, one has to question whether Taylor truly built a system that gave her players the confidence to feel like they could win.
If this team truly was as talented as it was billed — which is certainly questionable — why did they finish 8-22 overall? It's hard to look anywhere other than the coach. Taylor has had a remarkable career at the College, and her players unmistakably respect her, but when you haven't had a winning season since 2007, people are bound to ask questions:
Why did she persist in playing the zone for every minute of every game even when her team was rated second-worst in the conference in scoring defense, giving up a wicked 66.6 ppg?  Why did her team rely so much on 3-pointers while shooting a mediocre 30 percent for the season? Why was it that her team surrendered a negative rebounding margin when it outsized most of its opponents? Clearly there must have been a breakdown of accountability and tactics.
In the wake of Friday's debacle, some Tribe fans have called for a new coach, and there is no question the program has fallen backwards in the last few years. But despite these puzzling questions, Taylor's 14 years at the helm are not devoid of accomplishments. She has the highest career women's basketball wins of any Tribe coach and her recruiting has brought academically successful student-athletes to the College who have won 34 All-CAA awards. After everything she has done for the program, Taylor deserves the chance to lead her team back into contention.
But it won't be easy. The College will graduate five seniors this year — that's 62 percent of the team's total scoring and 68 percent of their total minutes this season. If Taylor can mold her inexperienced pupils into a competitive squad next year, long-dormant Kaplan Arena will come alive and maybe we'll even see a winning season. If not, Tribe fans beware — winter is coming. Again.