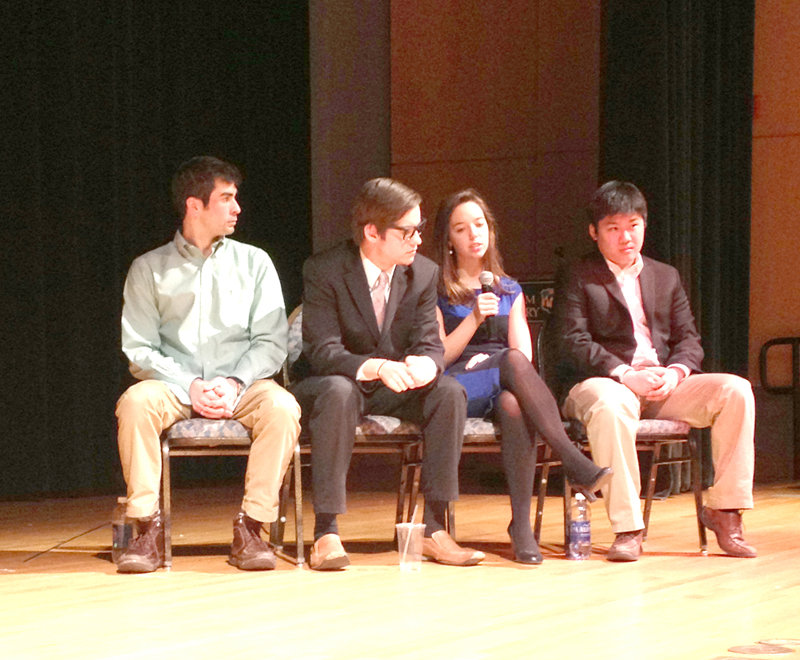 Student Assembly presidential candidates took the stage Sunday to outline their platforms and respond to questions involving the budget, transparency and the future of student services including STI testing and flu shots.
Chancellor Professor of Government Clay Clemens '80 moderated the debate between Dylan Frendt '14, Chase Koontz '14, Stacey LaRiviere '14 and John Woo '14, while the vice presidential candidates, current SA members and other College of William and Mary students watched and listened. Clemens focused on four major topics: the relevance of the SA, the budget process, student services such as STI testing, and candidates' opinions of the most important issue.
Currently, the SA website is not up to the standards outlined by the SA Code. Koontz and Frendt plan to revamp the website. Frendt also wishes to begin a daily blog  allowing students to keep closer tabs on SA happenings. LaRiviere plans to develop an online forum where students can share ideas for SA initiatives and let their voices be heard at  bi-monthly open forums with executive cabinet members. Woo, a current SA outsider, compared students to investors of a $700,000 fund and called for greater accessibility for the student body.
Frendt and LaRiviere spoke of an open application process through which they plan to fill SA offices.
"If we continue to surround ourselves by our friends and people who are soundboards for us — people who echo what we have to say — we turn the student body off," Frendt said.
Koontz and LaRiviere emphasized the importance of incorporating more graduate students into the SA.
Clemens asked students what they would do to demystify the budgetary process through which the SA Executive Appropriations Committee, president, senate chair, senate finance committee and senate determine the allocations organizations receive each year and, ultimately, set the student activities fee.
"The very first problem with the budgetary process is the fact that, besides the people who are sitting in this room, … the people out there don't know the budgetary process," Frendt said.
To amend this, Frendt emphasized involving people who have not previously been involved in the SA budgetary process to make financial decisions for organizations.
LaRiviere plans to create an undersecretary position with the purpose of contacting organizations and explaining the budgetary process. She also hopes to make the EAC more representative of student organizations by using an open application process to staff offices.
Woo and Koontz emphasized the necessity of educating organizations about the budgetary process and Koontz also highlighted incorporating graduate students into the budgetary process.
"When we talk about budget updates, tens of thousands of dollars, what does that mean to the average student?" Koontz said. "It's hard to comprehend. [There are] things that can be done for better communication through interactive ways through the website. I think what's indicative of how we can get this done is our current campaign and our media outreach."
LaRiviere, Koontz and Frendt all plan to continue  the subsidization of STI testing.
"Two [parts of the budget] really take top priority for us," LaRiviere said. "Those are funding for student organizations and funding for these student services."
Woo pointed out not all students used the free STI tests last semester.
"I don't think that most students would completely agree with these kind of subsidies if they're used only by a select few students," Woo said. "We need to have some sort of health awareness with STI and condom usage with students, but if the same numbers of students are using that kind of funding, they are taking advantage of other students' funds. Flu shots, I think, are completely more useful for everyone [in] the student body than STI testing."
In response to audience questions, all candidates emphasized continued development of town-gown relations. LaRiviere wants constant student representation at Williamsburg City Council meetings and will advertise to students the vacancy in the council election next year, an initiative closely associated with  her experience as Secretary of Public Affairs.
Koontz spoke of his complementary relationship with running mate Melissa Alim '14 and their willingness to listen to students' issues.
Frendt described his passion for the College and his ticket's outside leadership experience while Woo highlighted his ticket as the outside observer, a role he believes will enhance his ability to see what needs to change in the SA.
Frendt, who holds an elected position with the Undergraduate Honor Council, stated he would resign that position on the first day of classes next fall if elected.
"A lot of candidates make a lot of promises," Madame Chair Kendall Lorenzen '15 said. "What they bring up, I think, during the debate, are the core issues they want to attack next year if they win."