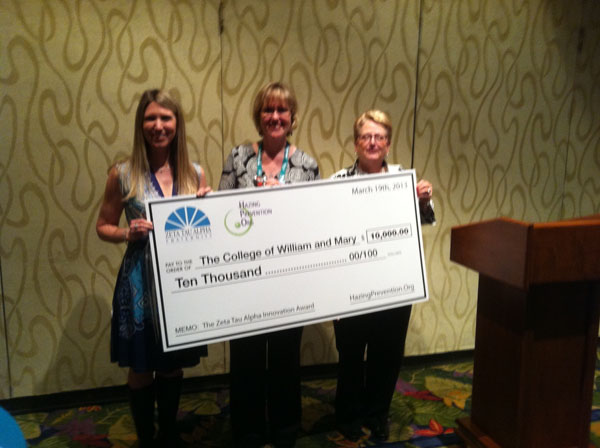 The College of William and Mary received HazingPrevention.org's 2013 Zeta Tau Alpha Award for Innovation in Campus Hazing Prevention and Education. The award comes with a $10,000 cash prize for the College's Hazing Prevention Coalition to use in future prevention efforts. Vice President of Student Affairs Ginger Ambler '88 M.Ed. '06 accepted the award earlier this month on behalf of the coalition.
"They only give one award a year," Ambler said. "It's a big deal for William and Mary that we received this recognition, and we will be good stewards of the $10,000 we've been given."
The coalition is comprised of 13 faculty, staff and student members. The group has worked to create the common message that the College is "a home without hazing" and received an honorable mention for the award last year.
The coalition began in response to a 2007 national study on student hazing in which the College participated. Sixty-three percent of students surveyed at the College said they had experienced hazing and 83 percent said they were aware of hazing on campus. The results of this study, published in 2008, prompted redoubled efforts to prevent  hazing. In 2010, the College sent a delegation to the Novak Institute, a part of HazingPrevention.org, for hazing prevention.
Linda Knight, director of campus recreation and co-chair of the coalition with director of the office of student leadership developement Anne Arseneau '89, M. Ed. '92, says that spreading the same idea to all campus organizations has helped to increase awareness. Arseneau elaborated, explaining that hazing is not limited to any one type of group on campus.
According to Ambler, national research from the University of Maine shows hazing can occur in any type of campus organization that wants to create a sense of belonging or tradition. She acknowledges that tradition is an important part of any group.
"There are healthy ways to do those valuable things," Ambler said. "Hazing and demeaning other people should not be the choice for tradition and belonging."
Arseneau elaborated on the use of hazing in more than just Greek and sports organizations, citing students' roles in various groups on campus as possible networks through which hazing practices can spread.
"I think that any group that has a new membership intake process has some opportunity to be at risk for some hazing practices to take hold," Arseneau said. "Nobody at William and Mary is involved in just one thing. … Things can bleed in different ways. … Our data doesn't suggest that it is just a fraternity or sorority problem. Our high risk groups are club sports, Tribe Athletics and fraternities and sororities."
The Hazing Prevention Coalition tries to teach students about the harmful effects of hazing. Knight says students might not understand other students' pasts and what can be triggers for them. She says if one student is screaming at another student who was abused previously, the student could have a negative reaction that the hazer was not expecting.
"Sometimes we don't know what's in someone's past," Knight said. "Things that seem very innocent could be very detrimental to someone who has a different reaction."
The coalition plans on using the award money to continue educating students, parents and alumni about hazing. Knight says it would be great to get student speakers who could share their experiences because it's important to know that even if students consent to risky or embarrassing tasks, it is still not allowed.
"Hazing is hazing whether you want to participate or not," Knight said. "Nobody really wants to drink so much that they go to the hospital, but they want to be a part of the organization and that's what's important to them."
Knight and Arseneau decided to talk to groups they are not associated with to more effectively spread their message. For example, Knight will talk with fraternities and sororities and Arseneau will talk with sport teams because they don't have as close of a professional connection with those groups.
With this in mind, the coalition is trying to create alternative activities for groups to do with new members or pledge classes. For example, groups could take weekend camping trips, which Knight says will still challenge students while creating lasting bonds.
Arseneau cited the increased use of anonymous reports as a possible resource to curb hazing incidents.
Arseneau described previous cases of hazing, naming Sig Pi's and Phi Tau's infractions last year and Pi Kappa Alpha's infraction this past December as the most high-profile incidents.
"While it's always disheartening to hear of allegations of hazing, there's part of me that recognizes that we would not have been hearing as much about hazing if people weren't aware of what hazing looked like, knowing how to report it, and knowing that reporting it will make a stronger William and Mary," Ambler said.
Arseneau agreed with Ambler's analysis.
"To me, this just demonstrates that nobody fixes everything, and we have continued work to do," Arseneau said.
Flat Hat News Editor Annie Curran contributed to this report.