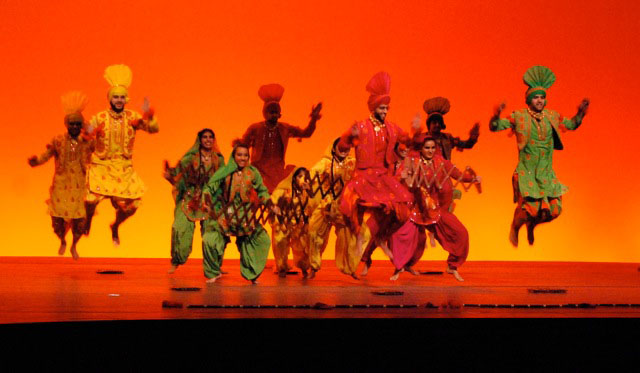 Classical Bollywood moves mingled with Macklemore's thrifty lyrics during the College of William and Mary's South Asian Student Association's Bhangra and Fusion Competition, Nach Ke Dikha.
Teams from universities around the country convened at Phi Beta Kappa Hall Saturday to compete for $3,000 in prize money. The evening marked SASA's second successful year hosting the dance competition, which seeks to bring the different cultures of India to the campus community. Specifically, the competition showcases two styles — Fusion and Bhangra — each with its own distinctive feel. Fusion is a modern twist on South Asian dance. As suggested by its name, Fusion entails the intermixing of different cultural styles, specifically those of East and West, as well as modern and classical dance.
"Fusion incorporates Bollywood dance along with Indian classical and Western styles like hip-hop or R&B to create a totally different style that a lot of people haven't seen before," Harmeet Kamboj '16, an organizer and co-chair of Nach Ke Dikha, said.
The winner for the Fusion category was the all-male University of Michigan group Izzat. The team's performance featured the overarching theme of a James Bond mission put to a dance, combining hip-hop and classical styles.
"I thought [Izzat] was really cool," Anne Self  '15 said. "It was almost a show — and more than just a dance performance."
Using a specific scene as the basis for a dance is a common element of Fusion performances. For example, the University of North Carolina's team, Chalkaa, used a "Life of Pi" themed routine, complete with an introductory video and a recorded narrative.
The mixing of genres attracted the attention of members of SYNDICATE, the College's hip-hop dance team.
"I heard about this because I'm on SYNDICATE and they have a hip-hop fusion segment, so I decided to come and see what it's about," Brian Hur '15 said.
Alongside the modern Fusion showcase, Nach Ke Dikha featured a competition in the more traditional Punjabi dance styles of Bhangra.  Bhangra's folk style involves elaborate and colorful costumes, as well as a number of characteristic props. The winner of the Bhangra competition was the University of Virginia's Di Shaan. Di Shaan is an officially recognized club sport at U.Va. The College's own group, Dhamaal, also performed and continues to strengthen its team.
"William and Mary's team is getting really close to breaking into the big Bhangra scene, especially with our performance coming in second place at the recent competition at the University of Mary Washington," Kamboj said.
Continued practice at university competitions helps the team increase its competitiveness each year. Attending other universities' competitions also helps SASA run its own event. SASA President Prateek Reddy '13 has attended a number of other competitions, which has helped him to refine and build upon last year's Nach Ke Dikha.
Members of SASA managed to put on last year's event in just a month. Teams were invited to attend instead of having to apply to compete, and prize money was $1,000 for each category. This year's prize money was $1,500. SASA also added a mixer for the competitors prior to the event this year to give the teams a chance to get to know one another, as well as to pick the competition line-up.
"A good number of colleges run competitions like this, especially bigger colleges," Reddy said. "So they host competitions like this, and it creates a competitive circuit. I've been to some of other schools to see what ideas we can pull from it and what they do well. Because I didn't have a background in dance, I knew I'd be more heavily involved in logistics. So I bring a different perspective in trying to think of creative ways to host the competition itself."
SASA club members come from a wide range of dance backgrounds. For many, involvement in SASA and Bhangra is a new interest developed at the College.
"I just picked it up in college; I was dating an Indian girl who did Bhangra at VCU," Iman Shajerr '14 said. "At William and Mary, the majority of the team never did it before — they just came into school wanting to do something new."
For other club members, Bhangra was an existing interest that they have since built upon through SASA. This year's Nach Ke Dikha co-chair, for example, brings years of experience with Banghra to the organization.
"There was a point when I was applying to college where whether the university had a Banghra team was a deciding category," Kamboj said. "It's been an integral part of my life since I was 14."
Nach Ke Dikha constitutes a huge success for SASA in bringing a competition of this caliber to campus.
"Prateek [Reddy] really supports all members of SASA in coming up with our own projects and things that interest us — and SASA has really taken off as a club because of his work," Nuha Naqui '15 said. "He was co-chair of Nach Ke Dikha last year, and he had this dream of bringing Bhangra and Fusion to Williamsburg. This year the event has only improved."