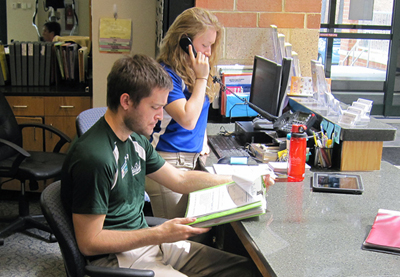 This year, some adjunct faculty members, student workers and temporary employees may start to see a reduction in work hours at the College of William and Mary.
Vice President of Administration Anna Martin recently sent out an announcement that part-time employees at the College must limit work hours to 29 hours per week on average over a 12-month period.
The announcement comes as a response to a new requirement from the governor's office. To comply with regulations in the Affordable Care Act, Gov. Bob McDonnell, R-Va., proposed an amendment to the Commonwealth of Virginia Manpower Control Act which would require that part-time employees at public agencies in the commonwealth not work more than 29 hours per week on average over a 12-month period starting in 2013.
The Affordable Care Act will allow full-time employees at public agencies to apply for the commonwealth's health benefits plan. The act defines full-time employees as workers who average at least 30 hours per week. Part-time employees, or those who work 29 hours or fewer per week, will remain ineligible. Eligibility for the health benefits plan begins Jan. 1, 2014, but the number of hours worked in 2013 will serve as the baseline measurement for eligibility.
Included in the part-time employee category, adjunct faculty members will not be allowed to work more than 29 hours per week, including instruction time as well as research, course development and service on committees.
College administrators noted that the majority of adjunct faculty members will not face a significant reduction in hours, although final calculations quantifying the impact of this change on individuals do not yet exist.
"My estimate is that there are very few adjuncts [at the College] that are imagined to be above the threshold," Provost Michael Halleran said. "Typically, an adjunct faculty member is teaching maybe two courses."
Associate Vice President for Human Resources Ron Price agreed but noted that administrators will need to keep a close eye on work hours for temporary and part-time employees, who on average work 1,500 hours per calendar year. In the past, administrators waived restrictions on the 1,500-hour limit for certain employees, but the new law eliminates the ability to exceed the limit.
"From an impact level, [the new policy's impact is] minimal," Price said. "We still have some positions that will have to monitor the 1,500 hours."
The new law also impacts part-time student workers at the College, limiting the average weekly hours to 29 per week over a 12-month period. The College already limits student worker hours to a maximum of 20 hours per week during the school year, but students with multiple on-campus jobs may need to cut back. The College also allows students to work 40 hours per week during the summer, but the new requirement is an average of the weekly hours worked during a 12-month period.
Assistant Director of Operations at the Sadler Center Casey Van Veen emphasized that both employers and students who work on-campus jobs during the school year and the summer might need to monitor the average hours worked per week over the 12-month period more closely, but that the average numbers generally will not exceed 29 hours per week..
"We're not supposed to have students working over 20 hours a week, and I'm sure from time to time they do go over," Van Veen said. "But it's our responsibility to monitor that, so we just need to make sure we're being a little more careful."
Campus Recreation employees are limited to 20 hours per two weeks, according to Associate Director for Facilities and Aquatics at Campus Recreation Bob Gough. The impact on student employees at the Rec will be minimal, Gough remarked.
"We're not going to have to reduce employee hours too much," Gough said. "We'll still be able to offer the same programming as before."
Director of Residence Life Deb Boykin stated that Residence Life student employees are also subject to the maximum 20-hour workweek during the school year. Boykin explained that until the College receives word about the final regulations from the Internal Revenue Service, speculation about how the rule might affect Residence Life employees with multiple on-campus jobs is premature.
"We're really hopeful that the IRS rules an exemption for students," Price said.
Halleran noted that the College should receive final word from the IRS in the coming weeks.
Even with the new requirements in their current form, Price noted that they will not be a significant strain on the College or its employees.
"I think institutionally we're ready for it," Price said.