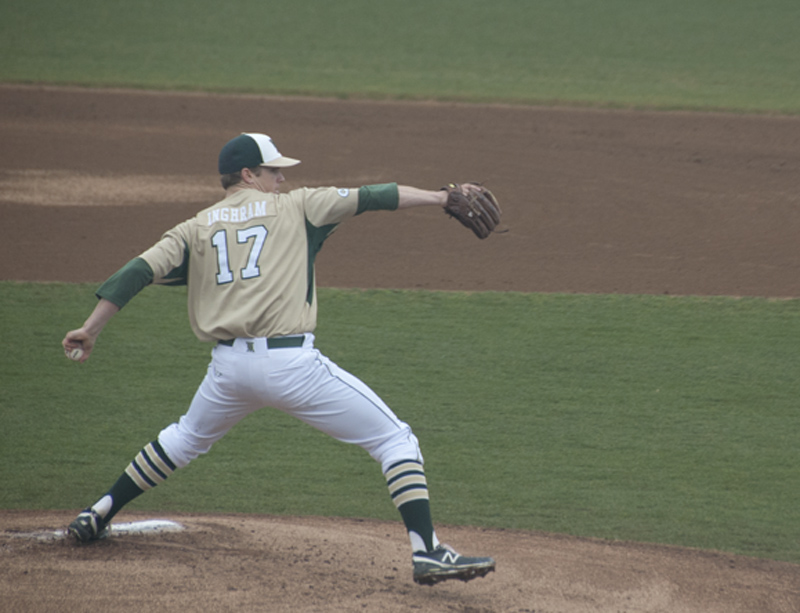 Three weeks ago, William and Mary traveled north to face Delaware, its first Colonial Athletic Association foe of the season. Coming off a home loss just days prior, the College opened the three-game series with a whopping 17-run defeat. Senior pitcher Brett Koehler took the loss, allowing six runs in five innings.
Fast forward to last Friday, April 5, when the Tribe (21-12, 6-3 CAA) was again coming off a loss to Richmond before traveling north — this time to face Towson (15-16, 7-5 CAA). Once again, the series began with a series-opening loss as the College fell 12-4.
Coincidence or not, it was Koehler who took the loss Friday, just as in March. However, this time Koehler lasted just two innings, giving up five early runs.
Whereas the Tribe rallied to take 2 of 3 from Delaware in the March series, the story was different at Towson. Senior John Farrell threw seven scoreless innings in the College's 5-2 win Saturday following Friday's 12-4 loss, but Towson took the rubber match Sunday, as the Tribe gave up the final three runs of the game en-route to a 13-8 loss.
Koehler's series-opening loss parallels an up-and-down season. Despite leading the team in hits allowed, earned runs and runs against conference opponents, Koehler has performed well enough in non-conference games to compile a 3-3 record.
Towson jumped on Koehler early Friday, scoring four runs in the first inning and tacking on another at the start of the second inning to build a 5-0 advantage over the Tribe. The Tigers' lead later grew to 11 as the College's offense struggled to find a rhythm.
Trailing 12-1 in the top of the ninth inning, however, freshman designated hitter Charley Gould lined a single into left field, sparking a Tribe rally. Senior shortstop Ryan Williams drove Gould home with a single before senior center fielder Ryan Brown brought Williams across home plate with a double.
With the bases loaded, sophomore first baseman Michael Katz stepped up to the plate hoping to continue the College's improbable comeback. Katz's pop fly, however, fell harmlessly for the final out.
Farrell continued his perfect season Saturday, earning his seventh win after giving up just three hits over seven scoreless innings. Farrell has faced a team-high 240 batters, while allowing a team-low 1.55 earned run average.
While Towson struggled against Farrell, the College's offense scored five runs on five hits, with junior third baseman Ryan Lindemuth scoring three and batting in two more on three hits.
Behind the strength of Farrell's arm and Lindemuth's bat, the College overcame four errors to win 5-2.
Sophomore Jason Inghram took the mound Sunday for the rubber match, lasting four innings before starting a rough fifth.
After striking out the first batter, Inghram gave up a single to Towson's Pat Fitzgerald, beginning the downhill inning. After hitting a batter, another single plated Fitzgerald. Inghram faced the Tigers' Peter Bowles next.
Bowles, with two men on base, took Inghram's offering deep over the left field fence to open up a five-run advantage. Head coach Jamie Pinzino made a pitching change after a rattled Inghram allowed another hit and walked a batter.
Down 10-3, the Tribe's offense began another rally. Brown's three-run home run fueled a four-run sixth inning and brought the College within three runs of the Tigers. Adding another run in the top of the seventh due to a Towson throwing error, the Tribe found itself trailing by two heading into the final innings.
Freshman relief pitcher Mitchell Aker, coming off a rough outing against non-conference rival Richmond, entered the contest in the seventh inning. Aker's struggles continued as Towson tacked two more runs onto its lead courtesy of an inside-the-park home run.
Unable to keep pace, the College lost the series-finale 13-8, dropping two of the three contests.
Pinzino will have a few days to rest his pitching staff before heading to Lexington, Va. The first pitch against VMI is scheduled for 6 p.m. Tuesday.