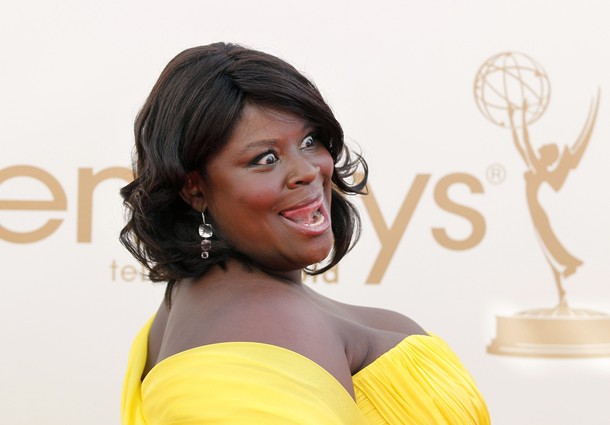 Who would have thought that a former Duke University pre-med student and dabbler in  pharmaceutical research would end up becoming a world-renowned television star and stand-up comedian? It seems like the perfect screenplay for a Judd Apatow film, but for one woman, this is reality.
Retta, best known for her breakthrough performance as the materialistic, man-crazy and sassy Donna Meagle on the hit comedy "Parks and Recreation," performed a one-stop show at the Sadler Center Chesapeake Rooms Thursday evening. Perched on a chair before a large black backdrop with a single spotlight illuminating the stage, the atmosphere created an illusion of an authentic New York City or Los Angeles comedy club.
During her hour-long stand-up routine, Retta recounted many awkward and comical events in her life, which included socializing with men in poorly-executed mullets, her fondness of Louis Vuitton handbags, maximizing laziness at the gym, an alcohol-free wedding reception gone wrong and a surprising lack of chicken during a routine visit to KFC. While Retta noted she "hasn't done stand-up in a while" and relied on her smartphone to remember her setlist, her jokes were met with constant laughter and applause from the audience.
"What's here? Retirement homes and pancake houses?" she asked. "I do not want to be woken up every Saturday with the 'Fife and Drum' tour with those goddamn muskets."
After poking fun at the lack of activities in Williamsburg, Retta deviated from telling stories and turned to her Twitter account @UnfoRETTAble to interact with the audience. Going through her Twitter feed, she gave direct shout-outs and personalized witty comments to all of the College of William and Mary students who tweeted at her preceding the show, and she bantered with some students who sent her advice or questions.
AMP's Film Committee Chair, Kyle Stark '13, says the event was a long awaited co-sponsorship between the respective film and comedy committees.
"[The film] committee wanted to do a big event in the spring since we didn't get to do one in the fall," he said. "A couple of names popped up, and Retta was one of them. We didn't have a budget large enough to cover all of Retta, so I talked to the Comedy chair [Gabbie DeCuir '14], and it was a back-and-forth correspondence between us to make it happen."
Stark also said the reaction to the event was overwhelmingly positive, with over 1,000 students confirming their attendance within mere hours of the official Facebook event's creation. He noted that it was one of his biggest accomplishments.
With a closing act that stunned the audience, Retta let her skills as a classically trained opera singer shine with an impressive rendition of a dramatic operatic libretto. She said opera is her favorite type of music, although LL Cool J is a close second.
After the show ended, Retta answered ten emailed-in questions during a brief question and answer session. Mostly dealing with her work on "Parks and Recreation," the questions ranged from her co-workers on the show to life as a newfound celebrity. She claims that she "works with the filthiest people," with Nick Offerman and Amy Poehler constantly cracking dirty jokes on the set. She also says that Aubrey Plaza has a fondness for pranks involving cayenne pepper and Aziz Ansari "always cracks himself up. … It's kind of annoying after awhile; we need to finish the scene and go home."
She also recounted a profanity-ridden story about a January Golden Globes after-party, where she brushed shoulders (and kisses) with a very inebriated John Hamm.
For most students, including Elise Orlick '15, seeing such a treasured television personality was a surreal experience.
"'Parks and Recreation' is one of my favorite shows, so I definitely wanted to make sure I watched her when she came, as I was hoping she would give us some insider knowledge about the show and the actors," she said. "Donna [Meagle] herself is such a big personality, which I think was really similar to Retta too. It was really fun to watch that play out on stage."
Before appearing in the role that propelled her into television stardom, Retta, born Marietta Sirleaf, held small roles on the shows "It's Always Sunny in Philadelphia," "The Soup" and "Moesha." She also frequently performed stand-up routines on Comedy Central's Premium Blend.
In addition to being admired for her acting chops, Retta has garnished quite a fan base from her Twitter account alone. With over 100,000 followers, she's known for her entertaining live-tweets of particular television shows — her personal favorites are "Girls," "Game of Thrones" and "The Walking Dead" — among other bits of daily observational humor.