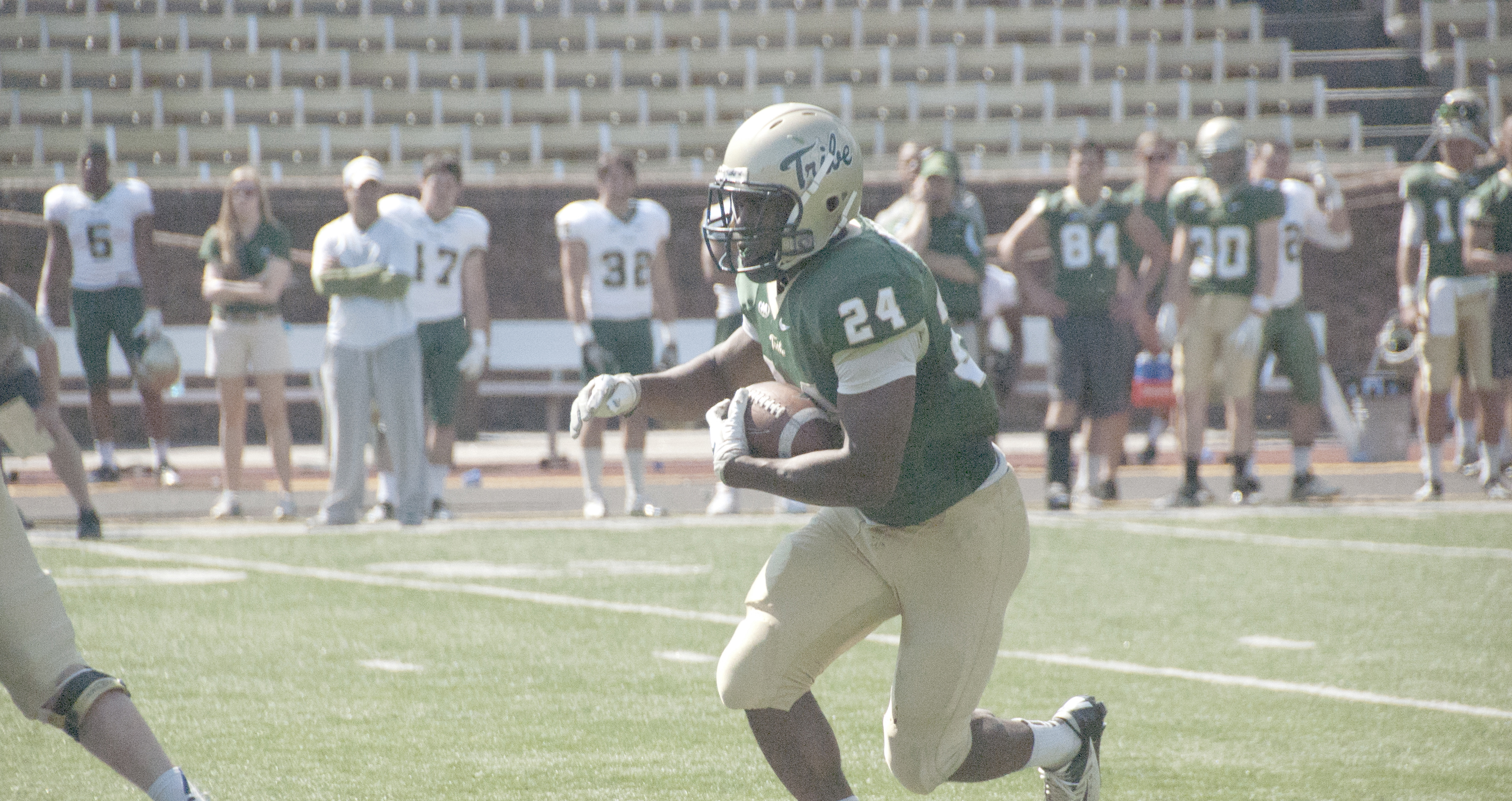 Optimism springs eternal. Discarding dour memories of last year's 2-9 season, spectators filled the west end of Zable Stadium Saturday to get a glimpse of the 2013 William and Mary squad in the annual Green vs. Gold scrimmage.
What they saw is open to interpretation.
"Overall it was okay," head coach Jimmye Laycock said. "We had a lot of guys who couldn't play; they were banged up, especially on offense."
Attention focused on the quarterback position, where senior Michael Graham, senior Brent Caprio, red-shirted freshman Steve Cluley and sophomore Christian Brumbaugh all vied to impress in what will likely be a heated competition to become the opening-day starter. Junior Raphael Ortiz, the presumptive favorite for the starting job, was sidelined Saturday after undergoing shoulder surgery following a tough hit he took at the end of last season.
Most of the quarterbacks who will be contending for the starter spot have become accustomed to the competitive spring season over the past few years.
"It's just normal to me now," Graham said. "I definitely think it's made me better, knowing that every day you have to fight for the job so you can't just take a day off."
Faithful Tribe fans also saw new offensive coordinator Kevin Rogers call plays for the College for the first time. The Tribe hired Rogers one month ago to replace Zbig Kepa, who served as the College's offensive coordinator for 21 years. Rogers brings a wealth of coaching experience — especially in quarterback development — to the Tribe offense, including stints at Virginia Tech, Syracuse and the NFL's Minnesota Vikings.
"Kevin knows this offense, but he's still learning the people and working to adapt to what we can do," Laycock said.
The offense was out of rhythm for long stretches, as might be expected for a scrimmage 139 days before the first game of the season. Receptions were few and far between, with the most notable coming from junior wide receiver Tre McBride's, who acrobatically caught Graham's 41-yard throw. Cluley's lofted 15-yard completion to senior tight end Robert Asmar was the only touchdown of the game.
"The offense is coming together really well," Graham said. "I wish we could have done better today, but we'll get there."
Special teams, one of the Tribe offense's greatest weaknesses last season, looked to be a new strength Saturday. The Tribe's kickers hit three of four field goals during the scrimmage, two of which were over 40 yards in length. Redshirt freshman Heath Saunders drilled a 47-yarder with room to spare early in the scrimmage to put the Green team up 3-0.
The defense was clearly amped to perform, accumulating five sacks from five different players, while the secondary added an interception and a forced-fumble recovery to the defensive show. Following the loss of graduating senior linebacker Jabrel Mines and senior cornerback B.W. Webb, a projected mid-round NFL draft pick, the defense's stifling performance was impressive.
"We played pretty well today," senior safety Jerome Couplin III said. "Our mindset was to stop the run this year, and we knew they were going to run. So we just put our big-boy pads on and competed."
After the scrimmage ended, Laycock announced that senior defensive tackle George Beerhalter, senior offensive lineman Matt Crisafi and Couplin were voted by their teammates as the team's captains for the upcoming season. Laycock also announced the winners of the Winter Warrior award, given to the player or players who display the most improvement and work ethic through the off-season training program. This year's recipients were Beerhalter and Couplin.
The College's first game of the 2013 season will be against Big-12 heavyweight, West Virginia, in Morgantown, W. Va.