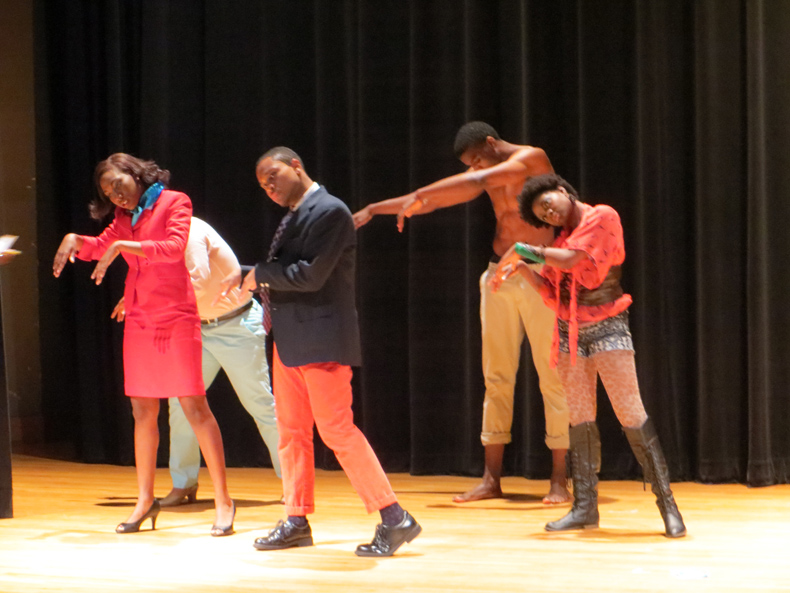 Up until this point, I have had little criticism to offer any stage production I've seen performed at the College of William and Mary. Unfortunately, that streak ended when I saw "Exhibits" from George Wolfe's "The Colored Museum" performed by Theatre 471 and the International Performing Art eXchange. Despite a few good scenes and the presence of a few strong performers, I was ultimately left disappointed and irritated by the time the curtains closed.
Wolfe is an American playwright and director. He's written several plays, his first success being "Jelly's Last Jam," a musical about the life of jazz pioneer Jelly Roll Morton.
He also has directing credits, including the classic "Mother Courage and Her Children" by modern playwright Bertolt Brecht.
Wolfe debuted "The Colored Museum" in 1986 in an off-Broadway theater. It consists of several vignettes — short scenes designed to give a strong impression of a character or idea — which satirize facets of African American culture. Director Alex McBath '13 explained to the audience the play was intentionally satirical, and asked that they observe the humor within a context of self-reflection and observation.
Thus walking into the performance I prepared myself for scenes of sharp humor with serious undertones, but I felt that what I got was largely trivial and shallow. I found the satire blunt, over-exaggerated and, at times, annoying.
The play began with an episode called "Git On Board," where a flight attendant explained how we ought to shackle ourselves in for our ride across the Atlantic. Though some audience members laughed heartily, I thought this humor went beyond the point where it pushed some boundaries but still had a higher purpose, and instead came across as trying too hard — not funny or insightful. This frankly weird treatment of the historical slave trade immediately had me wondering what I was going to be in for in the next hour and a half.
A longer scene around the middle of the production — where the mother wailed over the death of her son —felt particularly obnoxious and overbearing. While doing some reading on the internet about the play, I saw this was intended to exaggerate traditional African American writers like Richard Wright. I've read Wright's autobiography "Black Boy," and while at times it felt gloomy and overdramatic, "The Colored Museum's" appropriation was total parody, not satire.
However, I feel most of my criticism is directed at the actual script and not the performers themselves. Several scenes worked well due to the strength and charisma of certain players. Exhibit B: "Cookin' with Aunt Ethel" stood out early and for me was the show's highlight. Alivia Long '14 sung a free flow recipe for the "typical" black person to some drums played offstage; the combination worked and acted the way the rest of the play's satire should have.
Marvin Shelton '15 played an engaging and dramatic "Miss Roj" which found a great middle ground between humor and theme. Jamar Jones '13 and Jasmine Leeward '16 worked well together as black celebrities, being contorted to the media's preconceived image of the famous African American.
Though there was some evident talent in the production, overall I felt like it didn't reach its intended goals. Discussion on the presence and nature of stereotyping race and culture is worthwhile, but to me "The Colored Museum's" humor harmed the play's motives.