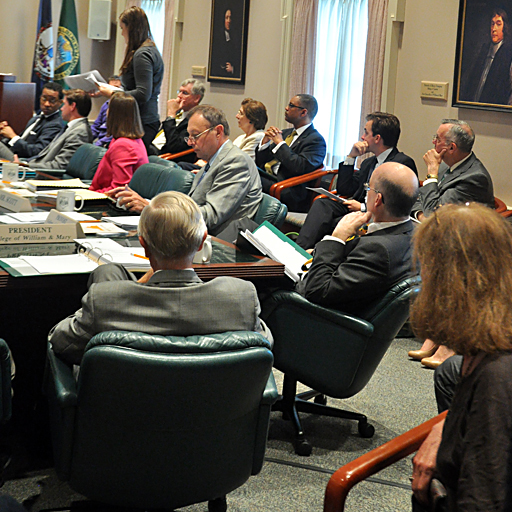 Last April, the Board of Visitors at the College of William and Mary approved a change in policy to better incorporate non-tenure-eligible faculty in the College, which Provost Michael Halleran called "significant" and "critical." The BOV stated in a change to the faculty handbook that all schools within the College needed to develop school-specific policies for their NTE faculty. Halleran gave an update to the BOV members during the Feb. 7 meeting on academic advising.
The School of Arts and Sciences, School of Education, Virginia Institute of Marine Science and Marshall-Wythe School of Law have all adopted policies for NTE faculty. The Mason School of Business will change its bylaws, which the BOV proposed in Resolution 37. Halleran said providing job security for NTE professors has benefited faculty integration. He also sees the changes as helpful because the College will be increasing the number of NTE faculty members over the next few years.
"I think it improves the quality of instruction when you can bring someone here and say, 'You don't have to leave here in five years, no matter how good you are,"' Halleran said. "You can advance — you can have some form of job security."
During his opening remarks, Committee Chair Robert Scott said the committee has been working with faculty members on projects of academic innovation. Scott sees some hopeful signs of engaged learning. The number of credit hours being taught by tenure faculty has increased by five percent, while the number of students engaged in for-credit or credit-linked student-faculty research collaboration has increased by 13 percent.
"I think it's a useful thing for the committee to report each year on where we've come from — mindful, of course, that we have a ways to go," Halleran said.
In his report, Halleran also spoke on the Faculty of Arts and Sciences Curriculum review. The faculty members have been meeting regularly but have not yet completed the process.
"I'm not surprised; these are important issues," Halleran said. "I am confident that this will come to a conclusion sometime in the fall."
He also spoke to the BOV about the appointment of Dr. Spencer Niles as the new dean of the School of Education. After a "rigorous process" in which four candidates were interviewed, Niles was awarded the position.
"I think Spencer will be a first-rate dean," Halleran said. "He has a tough job following Ginny McLaughlin, who has served so ably over 18 years."
Halleran concluded his report by speaking about faculty fellowships. Of the recent faculty members who have received such honors, two members have been named fellows at the National Humanity Center. The NHC only offers 30 to 35 fellowships a year.
"To have two out of 35 or two out of 32 — whatever it will be — that's darn good," Halleran said.
Faculty Liason Committee Chair and English professor Suzanne Raitt gave brief remarks to the BOV. The committee then moved into closed session. After voting to discuss various resolutions at the full board meeting occurring today, Chair Scott adjourned the meeting.