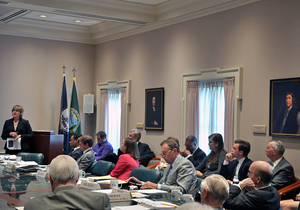 Vice President of Student Affairs Ginger Ambler '88 M.Ed. '06 spoke to the Committee on Student Affairs for the Board of Visitors about the major housing changes for the spring 2013 term, including the renaming of the Hospitality House and the Units.
If approved April 19 by the full board, the Hospitality House will be called One Tribe Place and the Units will be named the Green and Gold Village.
Ambler elaborated on the current housing selection for the Hospitality House.
"There are 10 doubles left, and half of the singles went to juniors and seniors," Ambler said. "There are nine [resident assistants] staffed for the Hospitality House."
She also discussed the College of William and Mary's $10,000 award for efforts toward hazing prevention. The College's hazing prevention initiative, "My Tribe, My Responsibility: A Home Without Hazing" started six years ago. Since the beginning of the program, members of the College's hazing prevention coalition have traveled to the Novak Institute to learn how to prevent hazing in their programs.
"They are focusing on helping bystanders, parents, empowering everyone and  hazing alternatives," Ambler said. "Hazing creates a feeling of tradition and belonging, but we want to help instill belonging by team building like ropes courses or trips."
Finally, the College is looking to hire a consultant to help Provost Michael Halleran, Dean of the Mason School of Business Larry Pulley and Ambler create ways to help students focus on preparing for potential future careers.
The group will work with students from freshman to senior year. The consultant will help them to look at their current practices, what other institutions are doing, and what national surveys suggest.