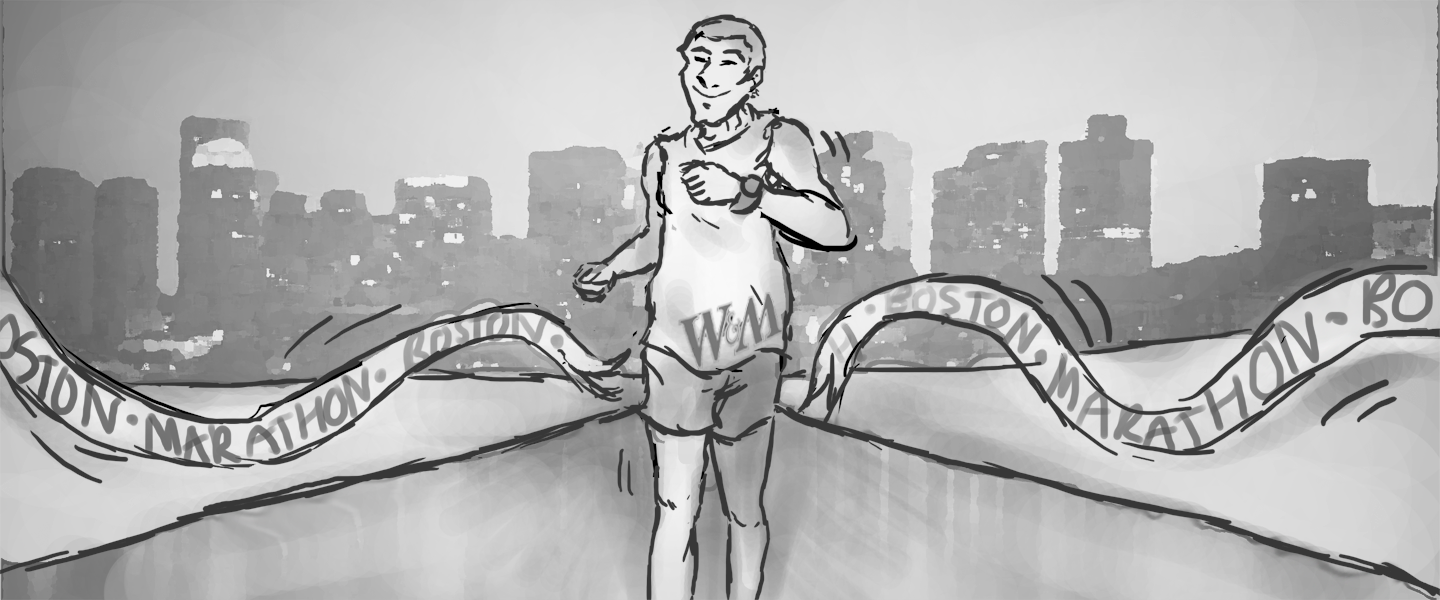 Jonathan Weiss '10
Hometown: Great Falls, Va.
Major: Biology
Currently: Studying music therapy at NYU
"The race day was certainly filled with a mix of emotions. I had finished and was getting lunch in the Prudential Center when the bombs exploded. While close to the blasts, I was well insulated from the actual impact. Rather than the chaos as viewed on TV, I experienced Boston mostly as quietly pensive as we slowly learned about what was happening a few blocks away. The friend I stayed with, actually a freshman hall 'Yates family' friend, heard the explosions and experienced some of the chaotic environment, but safely got away and met me in the Prudential Center. We walked back to her apartment through crowded but silent streets.
Before the awful event, the race itself was as [sic] truly amazing. I soaked up as many high fives as I could along the route and, until the last few brutal miles, really enjoyed the race. Boston's spirit is so vibrant and I have to imagine the city will come back even stronger."
Michael Nickerson '11
Hometown: Poquoson, Va.
Major: Public Health
Currently: Boston School of Public Health
"The actual experience of running Boston was absolutely surreal. The crowds were by far the most energetic and lively I've ever witnessed, the small Massachusetts towns we ran through leading into Boston were charming and full of life, and the course was challenging, especially the infamous Heartbreak Hill. I could not have asked for a more fulfilling, heartwarming test of endurance …
I'm lucky to have finished, and enjoyed, the race before any of the tragedies occurred. However, I'll always remember stretching in a park just a few blocks away from the finish line when I heard the initial 'boom' of the explosions. What happened after that is poignant in my brain and something I'm still trying to fully comprehend. I'm still learning to separate the horror of that day from my positive personal recollection and experience, which has proven difficult to do."
Kelsey Budd '11
Hometown: Boston, Mass.
Major: Government, economics
Currently: Senior consultant at Booz Allen Hamilton
"The Boston Marathon is the mecca of marathoning for distance runners — racing down the streets of Boston is emotional and empowering at the same time.
You can imagine how surreal it was to have that moment scarred by the cowardly acts of a terrorist.
I had finished the marathon awhile before but we had only just cleared the family waiting area and were about a block and a half away [when the explosion happened]. The ambulances and cop cars descending on the finish line was [an] erie [sic] sight and sound to hear. What should have been a celebration for all turned into a nightmare.
I'm fortunate that the friends and family who traveled to watch me race are safe and were not harmed but the way I'll honor those who weren't as fortunate is to keep running and run those streets again."