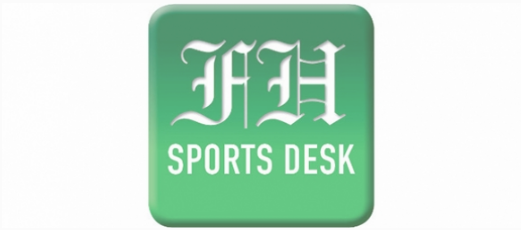 The Flat Hat sports desk takes a look at the month of June, compiling the biggest news from William and Mary athletics.
Stites, Smutsky claim national titles at USAT&F Junior Olympics
It's one thing to win two national titles in the same year. It's an entirely different thing to win the second title by more than 47 seconds.
Rising sophomore Emily Stites did just that, claiming her second national title by winning the U.S. Track and Field Junior National Championship 5,000-meter run in 16 minutes and 13 seconds. As she lapped more than half of the field, fans reportedly cheered her on to see just how close Stites could come to the American Junior Record, set at 15:40.
Stites has put together a campaign for the record books. TribeAthletics.com put it all together:
Emily Stites 2012-13 Accomplishments
2013 USAT&F Junior 5,000m NATIONAL CHAMPION
2013 USAT&F Junior Cross Country NATIONAL CHAMPION
2013 NCAA Outdoor 5,000m Second-Team All-America
2012 NCAA Cross Country All-America
2013 IAAF World Cross Country Championships – Captain, Team USA Junior Women (23rd overall)
2013 BUPA Great Edinburgh XC Challenge – Seventh, Top Team USA Finisher
2013 CAA 10,000m Champion
2013 Top American Junior Outdoor 5,000m Time (15:45.31, fifth all-time)
2013 Top American Junior 10,000m Time (34:15.49)
2013 Top World Junior Indoor 5,000m Time (16:05.71)
2013 USTFCCCA All-Academic Track Team
2012 USTFCCCA All-Academic Cross Country Team
2012 CAA Women's Cross Country Rookie of the Year
2012 Southeast Regional Cross Country All-Region Team
2012 CAA Cross Country Championships Bronze Medalist
While Stites stole the show on the track, freshman Bob Smutsky dabbled in drama of his own. Down to the final round, Smutsky needed a huge throw to win the event.
He did just that. Smutsky won the USAT&F Junior National Championship in the javelin, throwing 69.08 meters on his final throw to beat out the field. Smutsky cements his position in the record books, becoming the fifth male athlete from the College to win a national title from USAT&F. Of those five athletes, Smutsky is the lone field athlete to win a title.
With their titles, Stites and Smutsky each qualified for the Pan-Am Junior Games in Medellin, Colombia. The Pan-Am games take place Aug. 23-25.
Historic season ends; two go in MLB Draft
When senior right fielder Derek Lowe grounded out to short in the ninth inning, the throw to first wasn't just another routine throw — it recorded the final out of the Tribe's historic 2013 season.
As Lowe returned to the Tribe dugout, North Carolina State celebrated its 9-2 Raleigh Regional championship victory, now eligible to advance to the super regional. For the College, the trip home would undoubtedly be a quiet one, ripe with disappointment that the magical trip had ended.
What a trip it was. Ending the season with 39 wins and 24 losses, the Tribe's showing in the Regional final ensured a top-32 finish among all teams in the National Collegiate Athletic Association. Rising sophomore catcher Ryan Hissey and senior pitcher Brett Koehler, two key players that helped the Tribe win its first-ever games in the NCAA tournament, both made the Raleigh All-Tournament Team.
Ryan Brown, John Farrell, Brett Koehler, Jackson Shaver, Matt Wainman and Ryan Williams each made their final starts for the College, leaving behind a lasting legacy. Second-year head coach Jamie Pinzino will return next season, looking to keep the momentum going.
While reaching Omaha, Neb. for the NCAA Championship may still seem a long shot, this season highlighted a program with the right framework for such a run. Strong pitching, timely hitting and an attitude uniquely its own helped the team through the highs and lows of the season. From suffering a 20-3 defeat at the hands of Delaware early in the season to making the big dance, "#rolltribe" has been the constant motto.
With the No. 599 and No. 638 picks in the 2013 First-Year Major League Baseball Draft, Farrell and rising senior second baseman Ryan Lindemuth kept the magic going. The Pittsburg Pirates selected Lindemuth, while the Tampa Bay Rays later selected Farrell.
Farrell finished with an 11-3 record and 2.70 earned run average, becoming the first Tribe pitcher with ten wins since 1938. Lindemuth hit .351 with 88 hits and 49 runs batted in for the season before hitting .647 in the Colonial Athletic Association.
"As a coaching staff and as a program, we are extremely proud of both John and Ryan. Both are extremely good baseball players, outstanding individuals, and were a huge part of our success this season," Pinzino said to TribeAthletics.com. "We wish John the best of luck as he begins his professional career and will continue to work with Ryan and his family to make the best decision possible for his future."
Farrell made his first professional start June 19, pitching 1.2 innings and recording two strikeouts alongside two assists for the Hudson Valley Renegades of the Class-A New York-Penn League.
With the season behind the team and a long offseason, Plumeri Park should be a more popular venue next season. For now, however, the NCAA Raleigh Regional will have to be enough.
Swanson names new staff for new look program
New women's basketball head coach Ed Swanson has more in mind than a new playbook. Swanson announced the signing of three assistants June 19. Jeanette Wedo, Millette Green and Kelly Killion join Swanson's staff in what has become a complete overhaul of the women's basketball program.
"I am extremely excited to announce that these terrific coaches have decided to join my staff at the College of William and Mary. Jen, Millette and Kelly have the qualities I was looking for to help turn the William and Mary program into a perennial CAA contender," Swanson said to TribeAthletics.com. "They are all accomplished recruiters, developers of talent, and will serve as great role models for our student-athletes. Their energy and positive outlook will provide our student-athletes a quality experience on and off of the court."
Wedo and Killion each coached under Swanson at Sacred Heart University. Green comes aboard after last coaching at Fairleigh Dickinson University. The College has yet to release a schedule for the upcoming season.
Follow @Flathatsports for the latest and greatest.