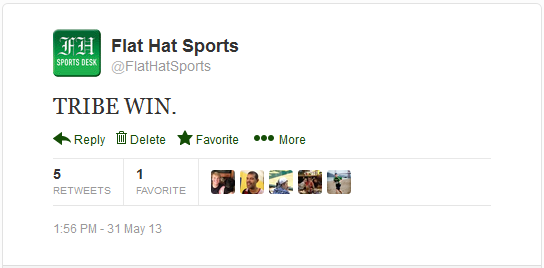 Sophomore pitcher Jason Inghram scattered eight hits over as many innings, allowing two runs for his ninth win of the season. Senior closer Matt Wainmen recorded his ninth save of the year, one shy of the school record (10, set in 2008).
Yet, all that paled in comparison to the biggest story of the day: the College (38-22) won its first game in the National Collegiate Athletic Association tournament in program history with the 4-2 victory over Mississippi.
The Tribe will face the winner of the N.C. State – Binghamton game tomorrow, June 1, at 7 p.m. Relive the action from the Raleigh Regional with select Tweets from @FlatHatSports.
Tribe baseball game day in Raleigh Regional. Catch Pinzino and rest of Tribe on ESPN3 at 2 p.m. taking on Ole Miss. #WMtribe #roadtoomaha

— Flat Hat Sports (@FlatHatSports) May 31, 2013
For you weather junkies, it's 85 and sunny in Raleigh. Good day for baseball. #raleighregional

— Flat Hat Sports (@FlatHatSports) May 31, 2013
Breaking ball working for Inghram – strikeout strands Rebel runner on third. Still scoreless. Top third up next. #raleighregional

— Flat Hat Sports (@FlatHatSports) May 31, 2013
Inghram (@j_ings) considered Tribe's No. 2 pitcher, but working well though two. 0-0 top 3

— Flat Hat Sports (@FlatHatSports) May 31, 2013
It's a whatever-you-can-do-I-can-do pitchers duel so far as Inghram (@j_ings) and Ole Miss's Meyers working quickly through frames, 0-0

— Flat Hat Sports (@FlatHatSports) May 31, 2013
Squeeze at third gets an out, but now 2nd and 3rd with two outs. Good fielding job by Inghram to keep scoreboard clean. #raleighregional

— Flat Hat Sports (@FlatHatSports) May 31, 2013
Inghram (@j_ings) goes back to breaking ball to get pop up, Katz makes final out on first base line. 0-0 heading into top of the fifth.

— Flat Hat Sports (@FlatHatSports) May 31, 2013
Full count for Katz, who walks to load the bases. 2 outs, Lindemuth up at the plate. By far best Tribe opportunity today. #raleighregional

— Flat Hat Sports (@FlatHatSports) May 31, 2013
Mayers walks Lindemuth, who calmly takes first. Ole Miss walks in a run, it's 1-0 Tribe. Bases still loaded. Top 5. #raleighregional

— Flat Hat Sports (@FlatHatSports) May 31, 2013
And another walk, 2-0 Tribe. Back-to-back walks for Ole Miss's Mayers. Bases still loaded, two outs. Still no hits in the inning.

— Flat Hat Sports (@FlatHatSports) May 31, 2013
Sarty (3-3 today) with an RBI single on another E5 (second of inning). Ole Miss pitching change due up. It's 4-0 Tribe lead. Top 5, 2 outs.

— Flat Hat Sports (@FlatHatSports) May 31, 2013
Damage done in top of the fifth inning. Tribe takes advantage of slew of walks, two E5s to score four runs. Force Ole Miss to use bullpen.

— Flat Hat Sports (@FlatHatSports) May 31, 2013
Ole Miss gets one back after a big double and then single to plate the run. 4-1 Tribe as Inghram gets another pop fly to end the inning.

— Flat Hat Sports (@FlatHatSports) May 31, 2013
Inghram (~110 pitches) with a great snag, Brown with a catch and then a textbook diving catch to get out of the eight. 4-2 Tribe lead, top 9

— Flat Hat Sports (@FlatHatSports) May 31, 2013
Love to see that Brown diving catch again, looked like he made up a ton of ground. It's Tribe 1-2-3 batters up now, 4-2 Tribe lead.

— Flat Hat Sports (@FlatHatSports) May 31, 2013
Ball four to Hissey. It's Sarty, who's been hot all game, to the plate with bases loaded and two outs, top 9. Insurance would be huge here.

— Flat Hat Sports (@FlatHatSports) May 31, 2013
Third baseman redeems himself after 2 earlier errors, diving to the bag to beat a sliding @Ryan_Brown006. Three outs for the win. Bot. 9 up.

— Flat Hat Sports (@FlatHatSports) May 31, 2013
Out #1 recorded, Shaw with difficult throw to first. 4-2 Tribe lead, one out, bottom nine.

— Flat Hat Sports (@FlatHatSports) May 31, 2013
Out #2 recorded, Wainmen collects and throw to first just in time. 4-2 Tribe lead, bottom nine.

— Flat Hat Sports (@FlatHatSports) May 31, 2013
Now it's Ole Miss on first and second. Wainmen hits batter. Tribe lead 4-2, two outs. Rebels best hitter up. #raleighregional

— Flat Hat Sports (@FlatHatSports) May 31, 2013
TRIBE WIN.

— Flat Hat Sports (@FlatHatSports) May 31, 2013
Game #2 for @WMTribeBaseball is tomorrow (June 1) at 7 p.m. They'll face the winner of N.C. State – Binghamton. #raleighregional #CAApride

— Flat Hat Sports (@FlatHatSports) May 31, 2013