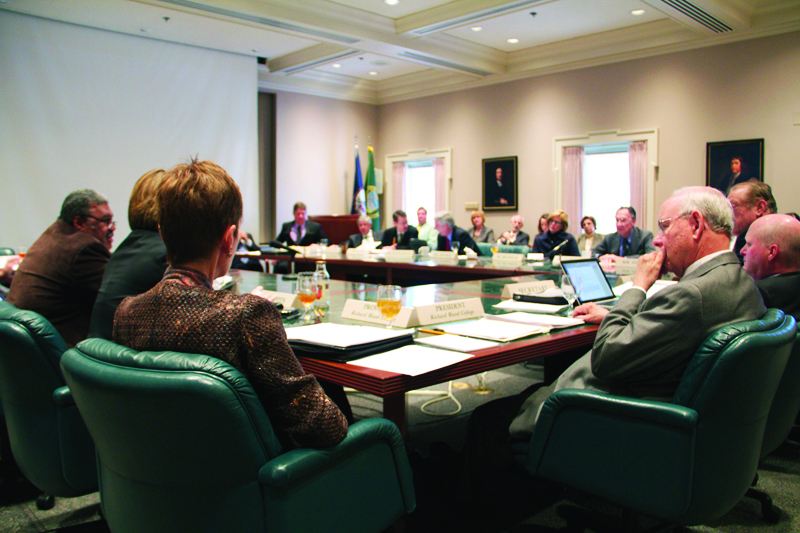 Gov. Bob McDonnell appointed three new members to the College of William and Mary's Board of Visitors Friday. Judge John Thomas was reappointed to his second term on the Board.
Lynn M. Dillon '75, DeRonda Short, J.D. '78 and H. Thomas Watkins III '74 will serve a four-year term on the BOV. The three will replace Dennis Liberson '78, Michael Tang '76 and outgoing Rector Jeffrey Trammell '73. Thomas will begin his second full term.
"It has been a real pleasure to serve with Dennis Liberson, Michael Tang and my predecessor as Rector, Jeff Trammell," Todd Stottlemyer '85, the BOV's new Rector, said in a press release. "All served with great distinction and will be missed."
The Board's new appointees, who all attended the College at some point, will begin their terms immediately. Dillon, a financial consultant, has worked in several alumni and civic associations and is a current member of the William & Mary Foundation Board of Trustees. She also received the Alumni medallion from the College's Alumni Association in 2009. According to the organization's website, the medallion is the highest award it can bestow upon a graduate.
Short is an attorney in Newport News and was the first woman to serve as president of the city's Bar Association. She was previously a member of the Christopher Newport College Board of Visitors, where she received an award from the school for her service.
Watkins is the current chair of the William & Mary Foundation Board of Trustees. As a student at the College, Watkins played on the football team and was involved in several campus organizations, including Alpha Phi Omega and Order of the White Jacket. Following his graduation, Watkins worked in health sciences, serving as president and chief executive officer at Human Genome Sciences for eight years.
Thomas is a former member of the Supreme Court of Virginia. On the BOV, he serves on the Executive Committee and is the chair of the Committee on Audit and Compliance. He is also the vice chair of the Committee on Student Affairs.
"It's marvelous that Justice Thomas is returning to our Board. He has played a very significant part in the life of William & Mary for many years," College President Taylor Reveley said in a press release. "We also welcome the Board's new members…. I look forward to working with them for the good of William & Mary. With the arrival of new members, there is always the departure of those who have been serving. Saying goodbye is never easy. Our Rector, Jeff Trammell, leaves the Board after extraordinary service to the College. Dennis Liberson and Michael Tang leave as well, and their contributions have been quite telling. Jeff, Dennis and Michael have our profound gratitude."