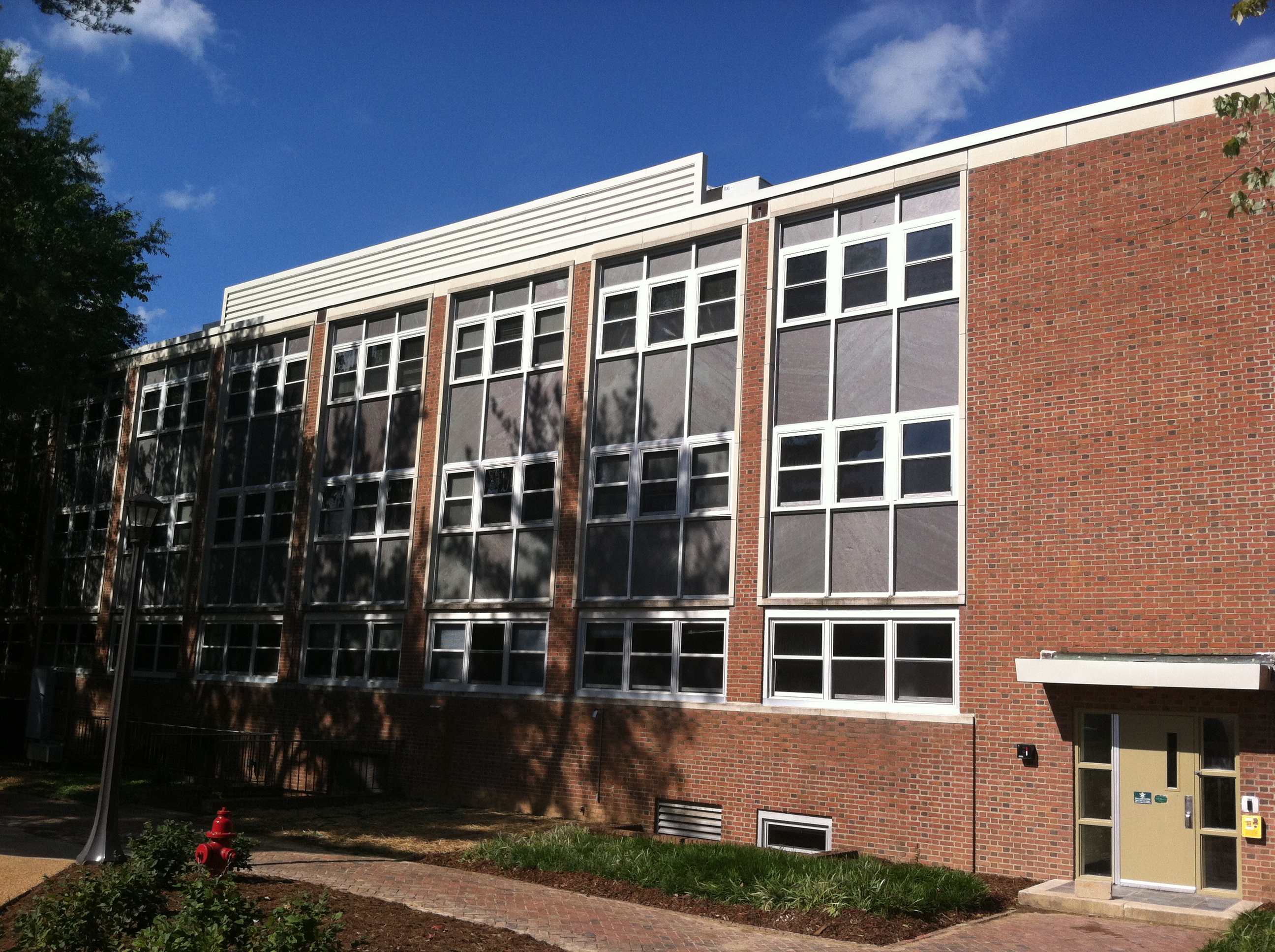 The Botetourt Complex
By Emily Stone, Flat Hat Variety Associate Editor
Not to deter any optimistic incoming freshmen, but anyone assigned to the Botetourt Complex should apply for a room change immediately.
Just kidding. Still, the Botetourt Complex is widely known on campus as the slum of the College of William and Mary. However, while the living conditions are less than desirable, there are a few positive sides to life on the wrong side of campus.
First of all, there is the small size of the dorms. Residents become very close knit, aided by the giant lounges on the first floors. Each building has a study lounge and a social lounge, large enough to bring all of the residents together comfortably.
While each individual dorm is small, the dorms combine frequently to hold large events. Last year, the complex held a block party with a dunk tank, a DJ, food and a pie-eating contest.
Students who want to get mileage out of their Freedom Meal Plan will appreciate the proximity of the Commons Dining Hall. The Botetourt Complex dorms are also some of the closest residence halls to the Rec Center.
Lake Matoaka is also a very short walk from the dorms, with a running trail and a dock rarely utilized by students beyond the Botetourt Complex. Unfortunately, Old Campus and Colonial Williamsburg are both a hike.
The complex was originally built to be sorority housing, but the Greeks rejected it. It's easy to imagine why, when considering the aesthetic quality of the buildings. Residents should prepare to bring plenty of wall hangings to cover the penitentiary-esque cinder block walls and numerous lamps to make up for the lack of natural light.
Botetourt freshmen can take solace in two things: Firstly, it could be worse. The residents of the Green and Gold Village can certainly attest to that. Secondly, living conditions can only improve for Botetourt residents after their freshman year.
Brown Hall
By Devon Ivie, Flat Hat Variety Associate Editor
Do you love constantly walking, biking and being late for class? Then we have a treat for you.
Situated on one of the charming main streets in Colonial Williamsburg, Brown Hall is considerably more isolated than the rest of the freshman dorms. Translation: Investing in a comfortable pair of walking shoes or an inexpensive bike is recommended. Besides Blow Hall or the eastmost tip of the Sunken Garden, walks to and from classes can become quickly onerous (especially in the rain or the dead of winter). And don't even think about heading to the Rec Center — the 40-minute round-trip walk itself is decent exercise. Hey, at least you don't have to worry about the freshman 15.
Contrarily, much to the delight of the 72 residents in Brown, you're right in the heart of our quaint town. Some of the most popular student spots — Aroma's, The Cheese Shop, Barnes & Noble — are quite literally a few steps away. And don't forget your student ID. Certain shops, including Berrybody Frozen Yogurt and the Tea & Spice Exchange, offer generous discounts for students. But remember to watch your savings account — it's very easy to spend a lot of money, especially on Aroma's sandwiches, due to the close proximity of the shops.
You also have some pretty "sweets digs," compared to the significantly decrepit Green and Gold Village and the Botetourt Complex. On the ground floor, a study room (decorated with timeless van Gogh prints) is situated next to a lounge, which contains such luxuries as a flat screen television (yes, with cable), comfy couches and a foosball table. A large kitchen with an industrial refrigerator also awaits you, in addition to smaller-scale kitchens on the second and third floors. Room-wise, hardwood floors provide a modern and chic aesthetic, the windows are large, and some dorms even have connected suite-style bathrooms with a tub and medicine cabinet. In the words of Larry David: "Prett-ay, prett-ay, prett-ay, pretty good."
Overall, Brown is a great place to live despite the somewhat-remote location. It's a small dorm with excellent amenities and a wonderful community. Congratulations on your new residence.
The Green and Gold Village
By Ryan Feeney
Don't be fooled by the interior and exterior appearance of the newly named Green and Gold Village. This is still college, not prison. The Units, as they have been called since the dawn of the time, may look repulsive, cramped and soul deadening. Trust me, they are. I spent my sophomore year in Unit H back when it was still upperclassmen housing. I suffered cockroaches, cold showers and an ant infestation. Without air conditioning, my cinderblock walls were literally sweating in the Williamsburg humidity. The glass slivers that somehow passed as windows provided pretty unsatisfactory circulation. Almost every morning, I bonked my head on the low ceiling when I woke up. Pro tip: Don't loft.
But take heart, kiddos, there are some really great things about the Units, too. First of all, the location is amazing. Wawa, the Commons Dining Hall and the Rec Center are all fairly equidistant from your new abode — which is great for late-night snacking, normal-time snacking and working off all of those snacks, respectively. You also have some pretty great patios, perfect for fall tailgating or spring cookouts. Pro tip: Get elected to hall council and force your hall to invest in some outdoor furniture, pronto. Ignore the questionable stains and revel in the benefits of living in a place where fraternities resided since the early 1960s by scouting behind your ceiling tiles. All kinds of stuff is probably stuck up there, from practical things like ice cube trays, to ridiculous things like inflatable palm trees, to other things like alcohol (which should obviously be turned in immediately to your RA, you underage hooligan).
Aesthetic warts aside, the unity generated by the Units — er, the Green and Gold Village — is a perfect way to start life at the College of William and Mary. This will be the place where you and your hall mates bond over natty psych study guides, late night Domino's and the total decrepitude of where you live. It'll be home.
Jefferson Hall
By Abby Boyle, Flat Hat News Editor
As far as freshman dorms go, Jefferson doesn't have much of a reputation. No famous talk show hosts have lived in the basement, the hall baths are nothing to brag about, and residents probably won't even battle cockroaches, mice and other wildlife on a regular basis. However, Jefferson offers a quintessential freshman living experience that you'll look back on fondly, even if no single characteristic of the building sticks out.
If you're the type to roll out of bed five minutes before class, Jefferson's location is perfect: Many academic buildings are just a short walk away. Jefferson is also right next to the Sunken Garden, so it's easy to join your hall mates for a quick soccer game between classes or to nap outside when the weather finally warms up. The building's location right across from the Marketplace and relatively close to the Sadler Center allows for somewhat varied dining options. More importantly, Jefferson is a quick walk from Wawa, so you won't have to traverse the entire campus in search of that perfect midnight snack. However, Jefferson is farther from the Rec Center and the Commons Dining Hall: In the winter, heading across campus to the gym will feel like part of the workout itself.
The building's rooms themselves are a decent size, and the basement has a big lounge that's great for hanging out with friends. While bugs aren't a huge problem, flies are not uncommon, serving as a nice reminder to empty your trash more than once a semester. If nothing else, the showers will make you very grateful for the perfect water temperature and pressure at home once fall break rolls around. On the plus side, however, Jefferson is air-conditioned, so there's no need for a giant fan.
Ultimately, the people you meet in Jefferson will make for a better experience than any amenity the dorm could offer. Whether you're relaxing in the lounge, attempting to climb the tree in front of the building, or just commiserating over the hall bath experience, Jefferson offers many opportunities to get to know the people in your building. Take advantage of these moments: You will carry them with you for the next four years and beyond.
Monroe Hall
By Sarah Stubbs
When you walk into the lobby of Monroe, it's inevitable you will encounter a semicircle of sloppily dressed people wearing glasses, peering at the screens of their laptops, and discussing anime. Welcome to the dorm often branded as the smartest, or nerdiest. This building houses many "regular" freshmen, as well as most James Monroe scholars, or the cream of the crop of incoming undergraduates. Monroe's walls enclose about 140 students in an often-volatile combination of over-achievement and naiveté. But, really, Monroe is not too bad a deal. It is small enough that you will forge many close friendships, but big enough that you will be able to avoid that awkward second floor kid who stalks you with a guitar.
Rooms run large, so invite over your friends from the less spacious dorms. Monroe's top floor is a huge, echoing lounge, which is good for games, study parties and movies (but beware of couples hooking up in the corners). The best thing about this building is its location, which is a five minute walk from the Sunken Garden and the Sadler Center, 10 minutes from Colonial Williamsburg and, most importantly, a stone's throw from Wawa, the Tribe Square restaurants and the bars across Richmond Road. If you are nervous about being thrown into the lascivious and sleazy side of college life, don't sweat it. Just go with the flow and join the frenzied horde of sexually repressed overachievers who can't handle their alcohol.
Then again, that applies to most freshman dorms.
Taliaferro Hall
By Julia Baum
When telling people you live in Taliaferro, expect blank facial expressions void of all recognition. Chances are that the few who have heard of this hobbit-sized residence either do not know its name's proper pronunciation or are the over-eager boys of Jefferson Second. Taliaferrians can also expect a fair share of misinformed prospective students to wander into the lounge, believing the hall to be the Admissions Office or a poorly marked administrative building.
Despite initial worries of social anonymity and identity crisis, the Taliaferro resident truly has nothing to fear on campus. While some will argue that it pales in comparison to the hallowed halls of Barrett, Taliaferro alumni know this little dorm charms the socks off of any building west of the Sunken Garden.
From the outside, Taliaferro resembles a colonial cottage. The social lounge features a functional fireplace that enhances this old-timey feel; it is a favorite activity of Taliaferro residents to roast marshmallows over the crackling hearth during the cold winter exam period. In addition, the hall boasts a "secret tower" that can only be reached from one outside entrance, remaining private from the main hallway.
Orientation aides may preach that Taliaferro's proximity to the Marketplace is its greatest redeeming quality, but do not be fooled by this all too common fallacy. Although you may find it extremely convenient to eat there for every meal, the very thought of Zoca nachos will eventually make you want to drown in a vat of slimy queso.
In reality, tiny Taliaferro's most attractive characteristic is its strong sense of community. Housing only 51 residents, the dorm's cozy environment fosters close friendships and an unmatched sense of home during the transition into life at the College of William and Mary.
 Yates Hall
By Rachel Brown, Flat Hat Variety Associate Editor
Stark, white walls. Long, unadorned hallways. Cramped, semi-smelly rooms. You must be entering a hospital.
Or maybe it's your freshman dorm, Yates Hall.
Having just reached its half-century mark, Yates struggles to maintain its hippie identity on a hipster campus. Although the dorm holds traces of its once-groovy atmosphere, it still has a way to go before it can become a historic landmark. When it does, look out, Wren Building!
Yates has stellar amenities — freshmen get a (very) cozy room with four thin walls to share with a roommate (preferably one who doesn't snore at night since sounds tend to reverberate off the thin walls; also, pray that your hall mates don't snore either, as you'll be able to hear their sounds through the walls, too). Yates even has running water and electricity along with five washing machines for all of the residents to share. And, to top it all off, each room has an air conditioning unit that will be cut off long before the heat of summer ends and turned back on long after spring has sprung.
Together, 266 lucky residents get to live in Yates, but only a select few of them get the privilege of residing in the luxurious basement, or the Yatesment. Jon Stewart '84 lived down there in the deep recesses of the earth, which, according to Stewart, "combined the cheerfulness of a bomb shelter with the prison-like comfort of the group shower."
Another Yates commodity is its location. If you enjoy frequenting the frats, take two big steps out of Yates, and you're there. The Commons Dining Hall is also close, although cooking in Yates's one kitchen may help relieve stress (unless the fire alarm goes off, but don't fret because it sounded less than 50 times last year). There's also no need to go to football games because the announcer's voice can be heard from the comfort of your own dorm.
Some dorms have big grassy yards, but not to worry — Yates has an aesthetically pleasing parking lot that most of its residents can't use.
Despite all the countless comforts of Yates, the best part about the building is the people who live in it. Within Yates the Great, you'll find hall mates who will become your best friends, a guy or girl who will become your girlfriend or boyfriend and an RA who will become your role model. The building has its perks, but it will never compare to the people you'll find inside its walls.