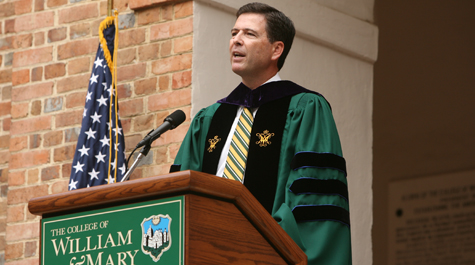 "FBI Director and NASA's chief scientist are W&M alum. Domestic and galactic domination," Dean of Admission Henry Broaddus tweeted in July. His tweet sums up some of the accomplishments that College of William and Mary alumni achieved in 2013. From a record-tying 13 Fulbright Scholars to an alumnus' sixth Tony award, there was a wide-range of success.
"We were supplying leaders for the country a long time ago and we're still at it," President Taylor Reveley said about the summer's alumni accomplishments.
 Comey '82 heads FBI
The Senate confirmed James B. Comey '82 to serve as director of the Federal Bureau of Investigation July 29 in a 93-to-one margin. The Washington Post reported that his nomination was put on hold due to Sen. Rand Paul's, R-Ky., questions about how the FBI used drones in the United States. After 38 days, he was confirmed and began his new role.
Comey was deputy attorney general of the United States from 2003 to 2005. In 2004, as he served as acting attorney general, Comey famously challenged the White House over the constitutionality of domestic wire-tapping.
"Jim Comey has made his alma mater enormously proud yet again," College President Taylor Reveley said in a public statement. "President Obama has nominated Mr. Comey to lead an agency whose effectiveness and integrity are vitally important to our country. Jim's willingness to return to public service in this crucial post is quite wonderful."
Comey graduated with a double major in chemistry and religion. He was the guest speaker at the 2003 and 2009 Opening Convocation ceremonies. After speaking at the 2008 Charter Day ceremony, he received an honorary doctor of laws degree. Comey was a member of the William and Mary Alumni Association's Board of Directors from 2008 to 2012. He was awarded one of the highest honors the College gives for public service in 2011 — being named a Carter O. Lowance Fellow.
Stofan '83 advising with the stars
The National Aeronautics and Space Administration announced July 29 that alumna Ellen Stofan '83 was named NASA's chief scientist. In their official press release, NASA announced Stofan, a planetary geologist, will serve as NASA Administrator Charles Bolden's principal advisor on the "agency's science programs and science-related strategic planning and investments."
Before her appointment, Stofan was serving as vice president of Proxemy Research in Maryland and as an honorary professor at the University College London in England. She previously held a few senior scientist positions at NASA from 1991 to 2000.
Stofan received her Bachelor of Science degree in geology at the College. She studies the geology of Mars, Venus, Saturn's moon Titan and Earth. Stofan is a principal investigator on the Titan Mare Explorer, an associate member of the Cassini Mission to Saturn Radar Team and co-investigator on the Mars Express Mission's MARSIS sounder.
William and Mary News reports she is married to alumnus Timothy Dunn '83 and her two children have attended the College.
 Long's '69 Cinderella story 
William Ivey Long '69 was awarded his sixth American Theatre Wing's Tony Award for best costume design in a musical for his work in "Roger and Hammerstein's Cinderella."
Long has been nominated 12 times and received his five other awards in costume design for "Grey Gardens," "The Producers," "Hairspray," "Crazy for You" and "Nine."
Long majored in history while attending the College. In 2004, he was awarded an honorary degree, and in 1990, William and Mary's Muscarelle Museum of Art presented him with the Cheek Medal, which is given to recipients who have had outstanding contributions to the arts.
In addition to his long and varied career working in Broadway costume design, Long has designed for Mick Jagger, Joan Rivers and Siegfried and Roy.
13 awarded Fulbright Scholarships
A total of 13 graduates of the College were awarded Fulbright U.S. student grants to teach and conduct research in 2013 and 2014. Six others have been named alternates. This ties an institutional record set in 2010.
William and Mary News reports Brett Evans '13, Morrison Mast '12 and Michelle Repper '13 were awarded grants for a full year of dedicated research. Evans will head to the United Kingdom to earn a master's degree in classical studies, Mast will develop a long-term monitoring system for leatherback sea turtles in Panama, and Repper will research modernist artist Amrita Sher-Gil in India.
10 students received English Teaching Assistanceship grants. The students were Chris Engebretson '13, Indonesia; Libby Hennemuth '13, Germany; Alex McGrath '13, Russia; Dana McKelvey '13, Bosnia and Herzegovina; Kristine Mosuela '11, Mongolia; Emma Paynter '13, Germany; Judson Peverall '13, Germany; Mariel Tavakoli '13, Czech Republic; Kyra Zemanick '13, Norway and Angela Hales '13, Luxembourg (declined).