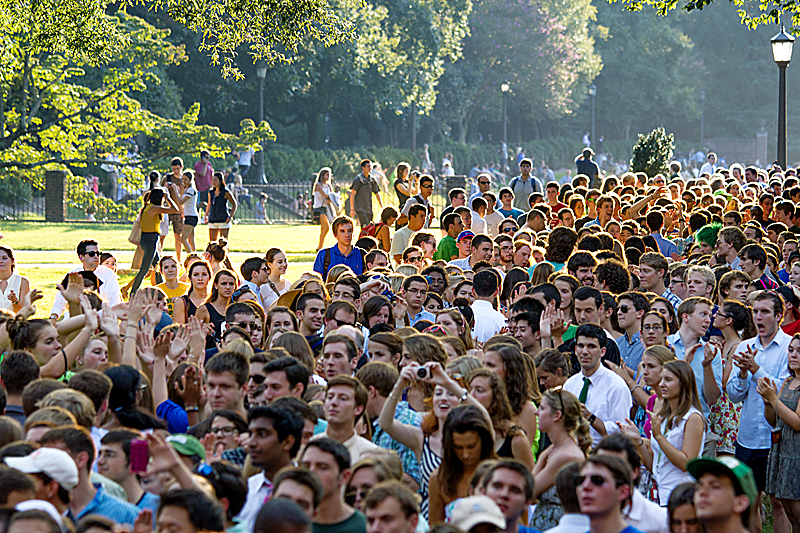 Out of a total of 14,047 applicants, 1,483 students were selected to be part of the College of William and Mary's incoming Class of 2017. This record-breaking number of applications marks the ninth year in a row in which the undergraduate application pool has increased.
"College admissions are a form of matchmaking," Dean of Admission and Associate Provost for Enrollment Henry Broaddus said. "You're scrutinizing students based on their talents and aspirations and making tough choices about who's going to best suit the College. Getting to then see successful matches makes this the best job in the world."
Diversity of background is a major hallmark of the Class of 2017. Students of color comprise around 30 percent of the class, and 9 percent of the freshmen are first-generation college students.
"I think the Class of 2017 brought much of the same passion and commitment to service and outreach, as well as the academic accolades, as most of our previous classes," Senior Assistant Dean of Admission and Director of Multicultural Recruitment Tish Lyte said. "It's crazy that I can still be surprised each year at just how awesome these kids can be."
Among the incoming class are 20 University of St. Andrews joint degree students, the co-founder of a non-profit dedicated to earthquake relief in Haiti and Miss Teenage Philippines.
"Just when you think that you can't be more blown away by the caliber and the number of students in the pool every year, you are," Broaddus said. "The great part of college admissions, which is an art as well as a science, is that you're constantly trying to project forward with a limited amount of information. We think that we've found the students who are going to do exceptional things once they're here."
From Aug. 23 until Aug. 28, the first day of classes, the new class will participate in an orientation program with its halls and resident assistants.
"I want to remind the Class of 2017 that they're all in the same boat and entering an exciting time in their lives," Resident Assistant Eric Martinez '16 said. "Just make the most of your new lifestyles and have fun."
The new class also possesses a strong academic record. Eighty percent of the rising freshmen graduated in the top 10 percent of their high school class. The SAT middle 50th percentile for the group is 1270-1460.
As the freshman prepare for their time at the College, Broaddus advised new students to enjoy the new experiences.
"Have fun. Challenge yourself," Broaddus said. "Wear flip-flops in the shower. Enjoy being part of this community and recognize that coming to W&M is the start of lifelong association. Students that walk through the Wren Building at Convocation just affiliated themselves with a tradition that spans back more than 300 years. It really is a profound thing and something to be celebrated and enjoyed for a lifetime."