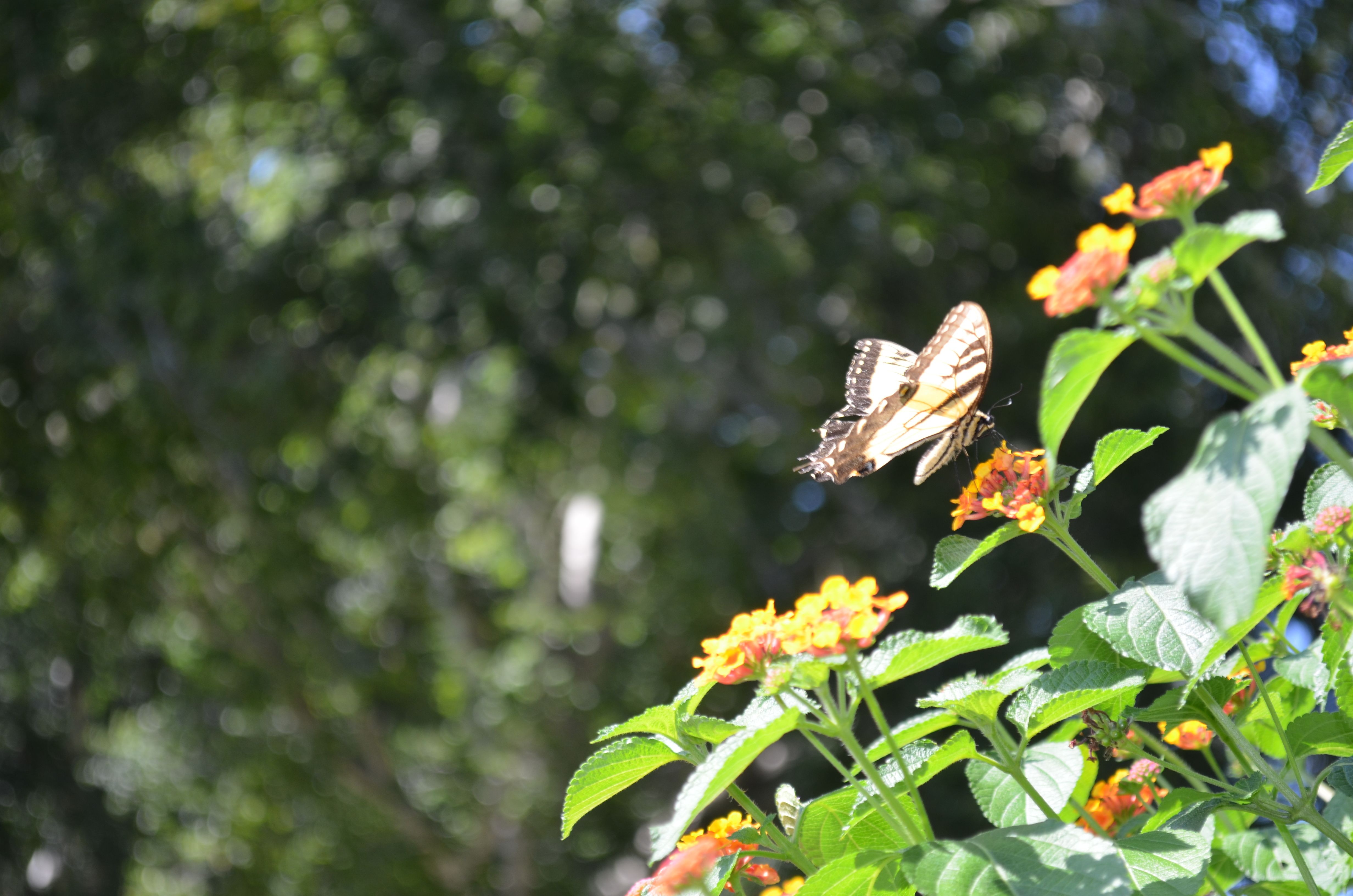 The Governor's Palace Gardens
Áine Cain, Flat Hat Variety Editor
It's not hard to imagine the gentlefolk of Colonial Virginia strolling through the magnolias and dogwoods between minarets during a gala at the Governor's Palace. Getting lost in the tunnels of trees and hedge mazes allows the minutes and centuries to melt away without a second thought.
In the heart of Colonial Williamsburg, the Palace's dark green gardens attract hordes of tourists and school children during its peak summer season. On quiet days, however, it's an ideal place to read, write or take artsy photos of the butterflies hovering among the magnolias. The Palace grounds also feature a canal and a patchy boxwood maze, frequently navigated by College of William and Mary students during nighttime triathlon escapades.
The phrase 'the Governor's Palace' may have originated as an ironic nickname for the house. Lieutenant Governor Alexander Spotswood angered the House of Burgesses with his lavish expenditures on the structure, which was completed in 1714. The modern house and gardens owe their existence more to the philanthropy of John D. Rockefeller Jr. than their original architect. During the Revolutionary War, the compound was used as an infirmary. The main building burned in 1781.
Reconstruction of the house and the grounds took place during the 20th century with the support of Rockefeller. Traces of vegetation were used to reconstruct the composition of the colonial gardens, with special attention paid to historical authenticity along with aesthetic design. Today, the tiered, geometrical gardens feature many benches and shady spots to hide away for a few hours. Students need a Collegiate Pass to access the gardens, which can be attained for free from the Colonial Williamsburg Visitor Center.
Jamestown Beach
Bailey Kirkpatrick, Flat Hat Assoc. News Editor
While driving down Jamestown Road, you will encounter a 7-11 on the corner of the intersection of Humelsine Parkway where you can stop for an ICEE or sunscreen if you've run out — you'll need it in the Williamsburg summer heat.
If you continue on down the road, you will pass multiple gas stations as well as multiple swamps — a signature landmark in this area. Feel free to also enjoy the sights as you pass the many colonial homes and buildings along the road until you finally reach the Jamestown Settlement.
While it is an interesting stop, the huge Jamestown museum you will see on the left — with all the tourists' cars parked in the lot out front — is not the intended destination. If you drive a minute further down the road, there is a right turn onto a sandy driveway located just before the bridge. This road leads to the parking lot of a quaint beach and picnic area that is always full of locals, college students and people walking puppies — always a fan favorite at the College of William and Mary.
Now, the water in this sound may not ever go deeper than your knees and the portable toilets may be a little on the sketchy side, but if you're in the mood for some sun and some barbeque, this is a great place to hang out. The beach, extended not long ago, is long enough to walk around and to bring a towel to lay out.
There is an area off to the side with many picnic tables and barbeque pits — just bring your own food, grilling utensils and coal. You can bring drinks, of course, but glass bottles are not allowed here. And be warned, sometimes police cruisers do roll by.
Jamestown Beach is a very peaceful place either to enjoy a lazy day or to bring your homework and eat dinner. Bring along your friends and family; you don't need to pay to park or lay out on the beach here. It is a bit of a trek, and no buses go all the way to the beach, but there are other resources you can use to get there. Just bring your laptop, turn on some tunes and enjoy this summer beach outlet while the weather is still nice.
Sno-to-Go
Katherine Chiglinsky, Flat Hat Editor-in-Chief
The orange and peach-flavored shaved ice surrounds creamy custard, both held in place by Sno-to-Go's Styrofoam cups. The stuffed Snoball, Sno-to-Go's mixture of custard and ice, offers some respite from the rest of Williamsburg's humid summer days.
Located on Richmond Road closer to the Outlets, the gray shack that houses Sno-to-Go often teems with students and Williamsburg locals looking for a cool summer treat.
The menu of shaved ice options covers the basic flavors, such as cherry, grape and raspberry, but shakes up the options with its shaved ice combinations. The Fuzzy Navel consists of orange and peach-flavored ice, while the Ninja Turtle combines margarita, granny smith apple and lemon lime-flavored ice. Even more unusual combinations fill the menu.
The Richmond Road location is open Monday through Friday from 3 to 8 p.m. and Saturday from noon to 10 p.m., but as the summer season comes to a close the venue will operate on a different schedule. Starting in October, Sno-to-Go will be closed Monday through Thursday and will open up Friday from 3 to 9 p.m. and Saturday from noon to 9 p.m.
At the Richmond Road location, the Snoball season officially closes Saturday, Oct. 26..
The closing of Sno-to-Go used to herald the end of summer, but the business opened a second location this August.
Located in the Premium Outlets behind Nike and near Auntie Anne's, the second location will stay open year round. The store will is open 10 a.m. to 9 p.m. Monday through Saturday.
College Creek Beach
Bailey Kirkpatrick, Flat Hat Assoc. News Editor
While many students may think the closest beach is an hour away, there are two nearby beaches that often go overlooked because many students do not know about them. College Creek beach is informally named because of the creek you pass getting to it called "College Creek" that runs alongside and underneath the Colonial Parkway.
If you aren't familiar with the road that makes the historic triangle a triangle, the Colonial Parkway — albeit bumpy — can take you to all sorts of fun places. However, College Creek beach is probably the stop known best by students of the College.
There is a small parking lot directly across from the beach entrance that is partially hidden by tall grass, but you will be able to see the bright tops of umbrellas sticking out before you reach the entrance. Typically scattered with families, groups of students and locals sunbathing on their beach chairs,  grills and picnic tables have been sacrificed for a much wider length of beach.
You can actually swim in the water, since it quickly becomes fairly deep, but the current is strong, so don't get pulled too far out because there are no lifeguards here. The view, however, is much nicer than that of Jamestown Beach. It has the feel of both a big beach and a secret retreat that you just discovered.
Pack a lunch and some corn hole and take a day trip to the beach to recover from a night out, take a mental health day, or just to get a nice bronze on your skin. This beach is a nice place to be whether you are there for the day or night, and while there are no places to cook, you can bring other food and a large blanket to prevent sand from getting on it.
While on your way, watch out for bikers and runners, as exercisers frequent the road. It is a very scenic route and part of the historical intrigue of where we go to school. Again, there are no buses that stop here. If you do not have a car, you will have to find another mode of transportation, but it is well worth the trip.