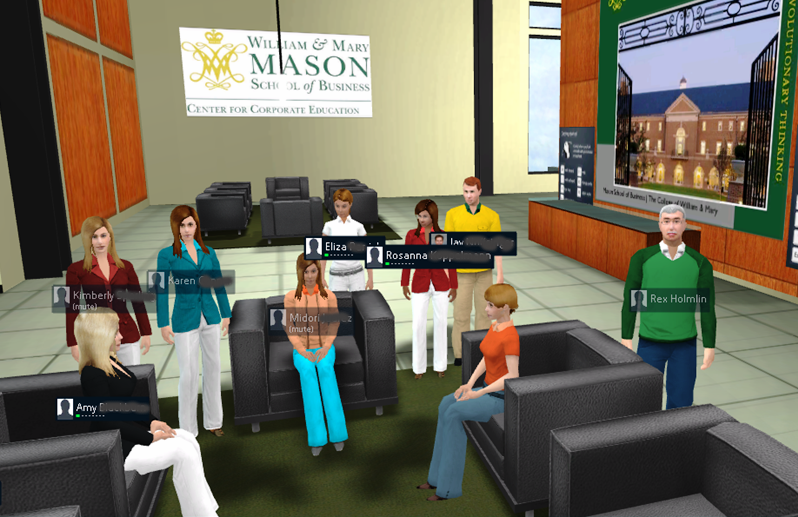 Beginning this fall, members of the College of William and Mary community working from California, Florida, Massachusetts and other locations will be enrolled in the same course at the Mason School of Business. The class, "Managing Small Projects Successfully," will be taught entirely online.
Adjunct professor of operations and information technology Rex Holmlin, who is teaching the course, said it is aimed at people who have already obtained degrees or are working in fields where they can apply their knowledge. The course consists of several pre-recorded lectures that students will watch on their own time and three "avatar-to-avatar" sessions in which participants and Holmlin will interact in a virtual classroom.
The business school's Center for Corporate Education is offering the two-session course. Between the two, Holmlin said 34 people have enrolled. Participants' careers range from specialized graphic design to jobs in the healthcare industry and in communications firms.
"It's a lot of fun using these new platforms — particularly the virtual world platform is exciting," Holmlin said. "For me — because I like projects — it's interesting hearing about the things [students] are arm-wrestling with on a daily basis."
"Managing Small Projects Successfully" is just one example of thousands of online courses offered by universities around the country. However, Holmlin does not define the class as a massive open online course (MOOC), given that it does not enroll thousands of participants and that it costs $995 per student. Most MOOCs at other schools are free.
Owen Youngman, Knight professor of digital media strategy at Northwestern University, is offering his first MOOC class this semester, titled "Understanding Media by Understanding Google." He said he believes online learning's role in higher education will only continue to grow.
"[Online education] gives universities access to students who otherwise can't travel to their campuses, as well as exposure to the ideas of people we normally wouldn't run across, if we do a good job of engaging with them online," Youngman said. "We can't predict all the changes that will occur or all the applications, but getting involved early — like Northwestern is trying to do with this course — is a good way of understanding what's going to happen."
Holmlin said he is glad many departments at the College are already utilizing technology in instruction.
"There's a lot of e-learning going on at William and Mary," he said. "A number of faculty at the College are using blogs or wikis, using short video clips to show particular problem-solving methods or to expand on the material in class. … I think the real future of e-learning is in enhancing our face-to-face instruction and there's a number of faculty at William and Mary who are doing that now."
Provost Michael Halleran said the College's professional schools will take the lead in developing online programs.
"At W&M, e-learning won't replace the high-touch, face-to-face, engaged learning that characterizes our education, but can complement and strengthen what we do and in some cases help to control the cost of education," Halleran said in an email.