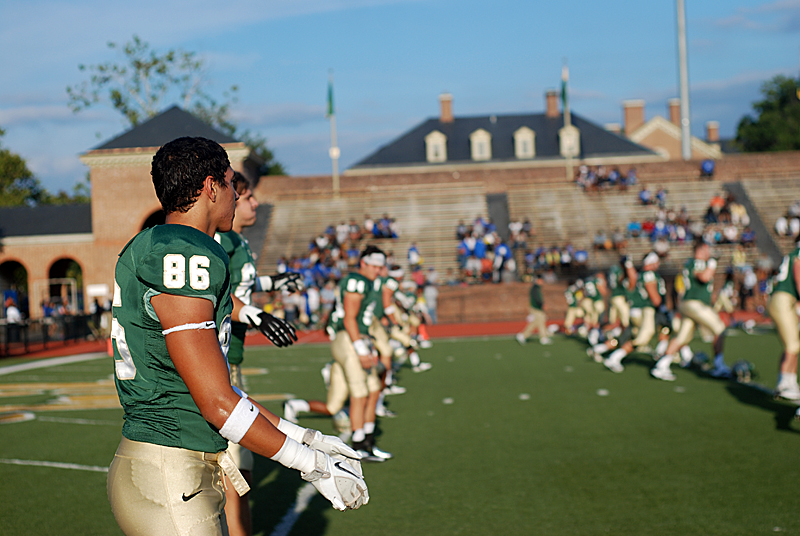 Leading 17-0 at halftime, William and Mary still hadn't converted a third down. Hampton rushed 15 times for a net loss of five yards.
Senior quarterback Michael Graham, coming off a strong performance against West Virginia a week earlier, threw six times for four yards in the second half, watching five of them land innocently on the turf.
In a game of abnormal statistics, one thing remained the same. Perfect in his first three games against Hampton (0-2), head coach Jimmye Laycock kept his record clean as the College (1-1) won 31-7.
"By and large, it was a good solid win for us. We played pretty hard and, for the most part, we played pretty well," Laycock said. "It was pretty evident early on that our defense was controlling their offense, so that set the stage."
Senior safety Jerome Couplin led the Tribe with eight tackles, helping hold Hampton to 185 yards. The Pirates rushed 27 times for just 24 yards.
"The main thing we were harping on all week was stopping the run and making them pass the ball, make them uncomfortable. We just said upfront we had to control the line of scrimmage," senior defensive lineman George Beerhalter said. "We didn't do any exotic blitzes; we basically went straight forward and played our gaps and we were able to stop the run."
Holding Hampton to negative rushing yardage well into the second half, the College nearly found itself rewriting its own record books. The Pirates' tailback Marcus Hampton, however, scampered for 22 yards with 11 minutes left in the third quarter to finally put his team's rushing yardage out of the red.
"We feel pretty good about [allowing 24 yards]. But, we let a 22-yard gain in the third quarter we shouldn't have given up — it was a big play. We like to have negative yards," Beerhalter said.
Offensively, Graham's lackluster nine of 21 passing performance featured a lone highlight. Leading 10-0 with 2:45 until halftime, Graham launched a 41-yard pass to junior wide out Sean Ballard. An acrobatic mid-air adjustment gave well covered Ballard room to haul in the only passing score of Graham's night.
"Offensively, we were kind of sporadic. We had the one big play there in the first half, the shot to [Ballard]. We came back and showed a little more consistency in the second half," Laycock said.
Consistency came in the form of the College's offensive line. Not allowing a sack, the line protected Graham and opened holes for the run game to the tune of 383 total yards.
"You know, one of the things in a game like this we focus on is coming off the ball, staying low and staying on our blocks. I think we did that pretty well for most of the game," senior offensive lineman Trevor Springman said. "For us it's about finishing — finishing blocks and finishing games."
Springman led a line featuring two redshirt freshmen. Although they are relatively inexperienced, Springman sees a bright future.
"I think those guys have come along quite a bit. We're very happy they've integrated themselves into the lineup seamlessly so far," Springman said. "These guys are going to be good players for a couple years to come."
The College's trio of tailbacks — sophomore Mikal Abdul-Saboor, redshirt freshman Kendell Anderson and junior Keith McBride II — each finished with more than sixty yards.
"[Anderson's] powerful and over 200 pounds and very strong. Abdul-Saboor is very quick; he's got good quickness," Laycock said. "[McBride] is strong and he's got a lot of speed; he might not have the lateral moves Abdul-Saboor has, or even [Anderson] has."
Abdul-Saboor led the way with 111 yards and a score. Anderson powered his way to 97 yards and a score, while McBride II added 63 yards. Combined, the backs averaged 5.9 yards a carry, gashing the Pirates' defense for 277 yards on 47 carries.
Leading 31-0 in the fourth quarter, the College wanted to update the date of the program's last shutout. Hampton began its final drive on its own 10-yard line, making the Tribe defense's goal very plausible.
Forcing fourth down three separate times, Couplin III and company couldn't find a stop. Hampton's quarterback Jaylian Williamson found wide out Jorrian Washington for the score to end the drive.
"As a defense, our goal was to finish the game with a shutout. Unfortunately, we did give up the touchdown at the end," Couplin said. "We have to take that — look at that, because later on that situation might come up again."
Allowing 24 points the last two weeks, the Tribe's defense has impressed in spite of an inexperienced secondary.
"We forgot about playing defense that last drive. Other than that, I think they played really well. We broke on a number of passes, but couldn't get the pick like we wanted too," Laycock said. "We gotta get more turnovers, but they're getting better."
With conference play two weeks away, Couplin III knows the importance of staying sharp against non-conference teams.
"We just gotta stay aggressive and keep coming every day. We're just trying to get better. We played pretty good these last two games and we gotta keep going to play these next two games," Couplin III said. "We need to come in, keep our alignments, our assignments, and just focus on doing our jobs."
The College heads to Easton, Pa. to face Lafayette at 6 p.m. Saturday in the Tribe's final road non-conference game.