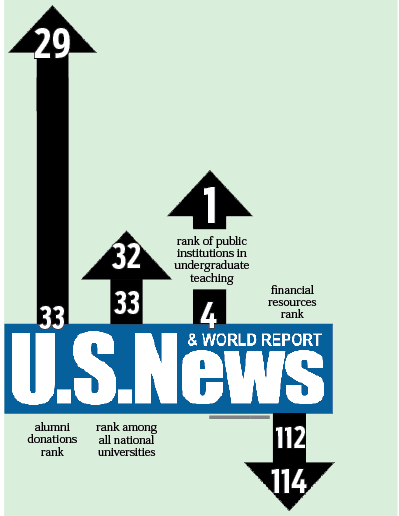 Moving up one spot, the College of William and Mary now sits at No. 32 of the U.S. News and World Report's 2013 list of universities — making it the sixth  highest rated public institution in the country. It has also nabbed the top spot for public universities in undergraduate teaching.
"While these rankings never capture the true excellence of William & Mary, it's always satisfying to see them move in a positive direction, as they did this time around," College President Taylor Reveley said in a press release. "It remains amazing that William & Mary achieves such an extraordinary high level of quality with such a modest set of financial resources, as these rankings make clear."
For overall rankings, Princeton University took the top spot. University of California-Berkley is the top public university and ranks 20th on the total list.
For the ranking of "strong commitment to undergraduate teaching," the College ranks third in the nation. Dartmouth College and Princeton University take the first two rankings, respectively, which makes the College the top public university for undergraduate teaching. Last year, the College was sixth on this specific ranking.
The College is tied with eight other schools, including the University of Virginia, for 21st in a ranking created by information from high school counselors. The College moved up one spot from 2012's ranking.
While Reveley mentioned the lack of financial resources, U.S. News took note of that as well. The College fell from 112th to 114th for financial resources. William and Mary News reported that the 82-spot gap between overall quality and financial resources is the largest discrepancy of the top 50 schools.
Despite this, the alumni giving ranking is up from 33rd to 29th. This is due in part to the College's recent record-breaking fundraising year of $104.3 million.
The magazine released its annual rankings today.