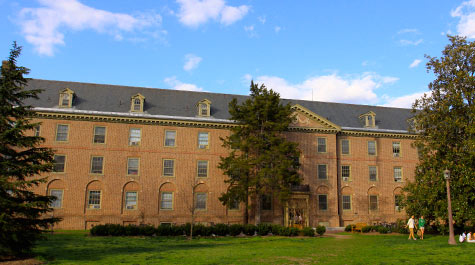 Monroe Hall's ID swipe system experienced a power failure that went on for several hours early Saturday morning, leaving residents and Resident Assistants unable to enter the duty office or building without help.
Eric Martinez '16, the RA on duty, said the card readers stopped working around 12:30 a.m.
"I was coming back from doing rounds and I noticed some residents outside, unable to get into the building," Martinez said. "When I tried to swipe into the duty office, my own card key wasn't working. My Head Resident tried her card both at the duty office and outside and neither were working. … Since I was on duty, I was responsible for letting people in."
Martinez added that in order to combat the problem, RAs propped several doors open, which technically breaks College of William and Mary protocol.
Area Director Jenn Garcia said  ResLife staff left one door opened to allow residents to enter the building. They also emailed residents to let them know which door would be available.
"Safety and security of students in residence is extremely important," Garcia said in an email. "When any type of issue with a door is discovered, we work hard to get it resolved sooner rather than later. … I'd encourage any student that sees something that could pose a security risk (doors or windows or lights out) to inform the RA on duty, their RA or the Area Director as soon as possible."
She emphasized that card reader issues are not common, but that when they occur, the staff always works to get them resolved as quickly as possible.
John Byxbe, associate director of Auxiliary Services, said the ID system — which was updated over the summer — has been effective so far but has caused a few minor difficulties.
"The card system is an ongoing project and periodically experiences small issues mainly with door readers going bad," Byxbe said in an email.
Despite the occasional problems, Byxbe said Auxiliary Services has generally received positive feedback regarding the ID system changes. Specifically, he said students are pleased that the new system is faster than the one it replaced.
In the case of residence hall security system failures, William and Mary Chief of Police Don Challis said the access system is set up to lock to the default setting if there is a problem.
"Our role is to first see if it is a problem with a specific card," Challis said in an email. "If it is, we reset the card. If it is a system problem, we notify the system administrator."
Monroe's ID swipe system issues were resolved over the weekend.