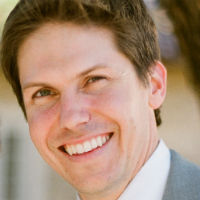 Under 33 years old and making Diplomatic Courier's list of "some of the brightest and most innovative minds of the time," David Trichler took the advice of Secretary of State Colin Powell to heart — that working for the government or in public policy is some of the most "noble and rewarding" work one could do. Powell's advice, given at a summer program at Georgetown University that Trichler attended while in high school, led Trichler to his current position as operations director at AidData at the College of William and Mary.
Diplomatic Courier's 2013 list of the "Top 99 under 33 Foreign Policy Leaders"  is broken down into catalysts, conveners, influencers, innovators, practitioners, risk-takers and shapers. As an innovator, Trichler is designing "a new solution to a critical global challenge."
While he says it's always embarrassing to be publically recognized, Trichler feels flattered because he was nominated by his peers.
"It was a nice gesture to know that other people I worked with valued what I was contributing to the team and to the things we were doing," Trichler said.
After graduating as valedictorian from Brigham Young University, Trichler moved on to complete his master's degree at Georgetown University. Since then, Trichler's resume includes serving as a special assistant to the chairman of the joint chiefs of staff, operating as an advisor to the ExxonMobil Foundation, and serving as a consultant to the World Bank. At AidData, Trichler oversees day-to-day operations.
"You wake up and go to a job you love and you try to do the best you can," Trichler said.
Members of the AidData staff said they appreciate Trichler's work.
"AidData is currently going through a period of rapid growth," Brad Parks, co-executive director of AidData, said in an email. "Our staff has tripled; our budget has increased by a factor of five; and we now have field operations and partnerships with local universities, civil society organizations, line ministries, and USAID missions in Africa, Asia, and Latin America.  David has made this rapid expansion in AidData's global reach and impact possible. He brings an infectious energy, enthusiasm, and stick-to-it-iveness to his job and has raised the bar for all our staff, our students, and our faculty affiliates."
Troy Shepley, who serves as project manager at AidData, said it is exciting to work with Trichler because, while he is approachable and helpful, he holds his staff accountable for good work.
"He's got a lot of vision and he really implements things," Shepley said. "[He's] really driven."
Trichler says that he thinks of himself as more of a fixer than an innovator. He says perhaps he was put in that category because of the type of work he has to do for AidData.
"The first line of staff will solve them or resolve them, but the problems that get kicked up to me are just a little more complex or nuanced. So often times I take a different approach by using different resources to solve them," Trichler said. "That combination of resources, whether it's people or financial resources or technology solutions, means you have to get creative. There's a little bit of innovation in there."
Trichler also explained that he thinks he was also put in the "innovator" category because of AidData.
"It's also a reflection of AidData at William and Mary that what we are doing is innovative and I benefit from that association," Trichler said.
Students can learn from the people on the list, Trichler believes. He says that many of them got where they are today because they used their peer networks to make connections.
"I think, more broadly, if you look at the list, it does show just the power of this generation," Trichler said.
To celebrate his achievement, the AidData staff threw Trichler an ice-cream-cake party, and they kept their sense of humor.
"Anytime the printer ran out of paper they called for an 'innovative solution' to get back to me, so they keep you humble. It's a good work environment," Trichler said.
Trichler has even bigger goals for AidData.
"If foreign aid is more efficient, you can do more with it and touch more people," Trichler said. "Including our students in that process is to me a great goal. I want to continue to grow AidData. I want to get more students and more of the faculty involved. If we can tee that up for success, we'll do some incredible good in the world, just because what we're doing is incredibly valuable for so many people."