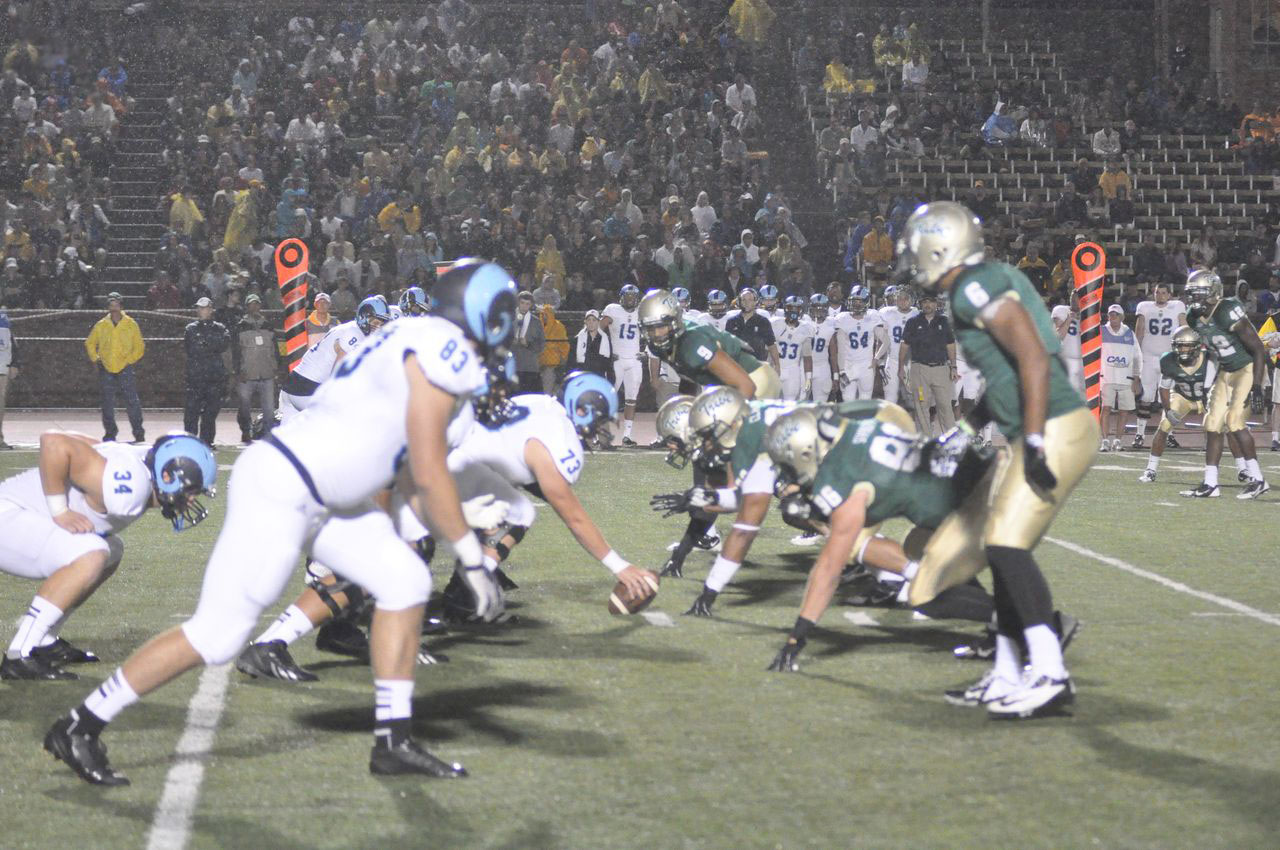 Just like that, 2013 has eclipsed 2012 for William and Mary football. Saturday night's 20-0 victory over Rhode Island (1-3, CAA 1-2) moves the College to 3-1, improving from last season's 2-9 record. The win marks the Tribe's best start to a season since its 2010 campaign, a season that lead to the second round of the Football Championship Subdivision playoffs.
The main reason for the quick turnaround is the defense, which didn't allow a single touchdown for the second straight game. Saturday's shutout was the program's first since Sept. 11, 2010. The Tribe has given up just 13 points over its last three games — that's 180 minutes and 13 points.
"Well pretty obviously, the story of the game was our defensive play," head coach Jimmye Laycock said. "Anytime you take on a CAA opponent and you shut them out, I think that's quite an accomplishment."
The formula for the College's previous two victories stayed consistent against Rhode Island. While the defense smothered the Rams, the Tribe's rushing attack chipped away more and more yardage, leading to easy scores.
Sophomore running back Mikal Abdul-Saboor secured his third-straight 100-yard rushing game, gaining 108 yards on 26 carries. After staying on the sidelines for the duration of the season opener against West Virginia, Abdul-Saboor's 26 carries Saturday showed his improvement and steady production since 111 yards against Hampton in week two. Abdul-Saboor has earned and cashed in on the full faith and credit of Laycock, becoming the team's de facto No. 1 running back.
"I just have confidence in myself, confidence in the lineman up front, and I'm not really second-guessing myself a lot," Abdul-Saboor said. "I think that's really helped me to be successful so far."
The first 26 minutes of the contest were one of attrition, with both sides battling principally over field position. The next two minutes were a bonanza for the College, from which Rhode Island couldn't recover.
With four minutes left in the first half, junior running back Jarrell Cooper punched through the defensive line and easily outdistanced the Rams' linebackers for a 28-yard score, his first of the season, giving the Tribe a 7-0 advantage.
A quick three and out for Rhode Island's offense gave offensive coordinator Kevin Rodger's squad another chance to punctuate its advantage before halftime. On the first play of the possession, Graham faked a handoff and looked deep, while the Rams defense bit hard on the play-action. Graham found junior tight end Bo Revell wide open with nothing but open field between him and the end zone. Revell hauled in the uncontested 49-yard touchdown strike.
What had been a scoreless game for 26 minutes became a virtual blowout at the half. Although just a 14-point deficit, the Rams never showed any indication that they could overcome it. Rhode Island converted just 6 of 18 third-downs, and had 11 first downs overall.
The Rams' quarterback Bob Bentsen relied on quarterback draws and short screen passes and Rhode Island averaged four yards per pass attempt. The Tribe's phenomenal open-field tackling stymied the Rams' short-yardage hopes time and again. If Bentsen ever looked further afield, odds were that the Tribe's cornerbacks were not allowing any separation with their receivers.
"We knew everything they were doing," junior defensive end Mike Reilly said. "We knew they were going to try to pound the rock on us. We had to stop that — make them do the quick throws, make them throw the ball — and we knew our back guys would make the plays. And they did just that."
Graham had another solid, but not spectacular, performance, completing 13 of 20 for 155 yards. Abdul-Saboor's rushing supremacy meant that Graham could content himself with short, safe passes, besides the 49-yard touchdown throw to Revell. Junior Tre McBride garnered over half of the Tribe's receiving yardage with 87 yards on eight catches.
"I thought Michael was really solid today," Laycock said. "By and large, I thought he handled the offense very well, made some good throws and played pretty solid. He did what we asked him to do."
McBride also helped cement the College's control by dashing for a 64-yard kickoff return to start the second half. Junior kicker John Carpenter tacked on a 20-yard field goal to cap the ensuing drive. Carpenter would return four minutes later to hit another field goal, this time from 33 yards out, to increase the Tribe's lead to 20-0.
The College's perfect defensive performance was nearly tarnished midway through the fourth quarter. On fourth down, Rhode Island was at the Tribe's two yard-line, trying to punch it in to bring itself within two scores of the lead. However, the College defense had other ideas. Reilly and sophomore linebacker Luke Rhodes teamed up to take down Rams running back Justin Semmes behind the line of scrimmage, ending Rhode Island's last chance for points.
"We just had the mindset of going out and getting that shutout," senior safety Jerome Couplin said. "To be able to stay tight, stay together and get it, that's a big confidence booster."
The College heads into its bye week after three straight dominant wins. The Tribe will need to prepare for its Oct. 5 matchup against No. 22 Villanova, a team that demolished No. 12 Stony Brook 35-6 Saturday.