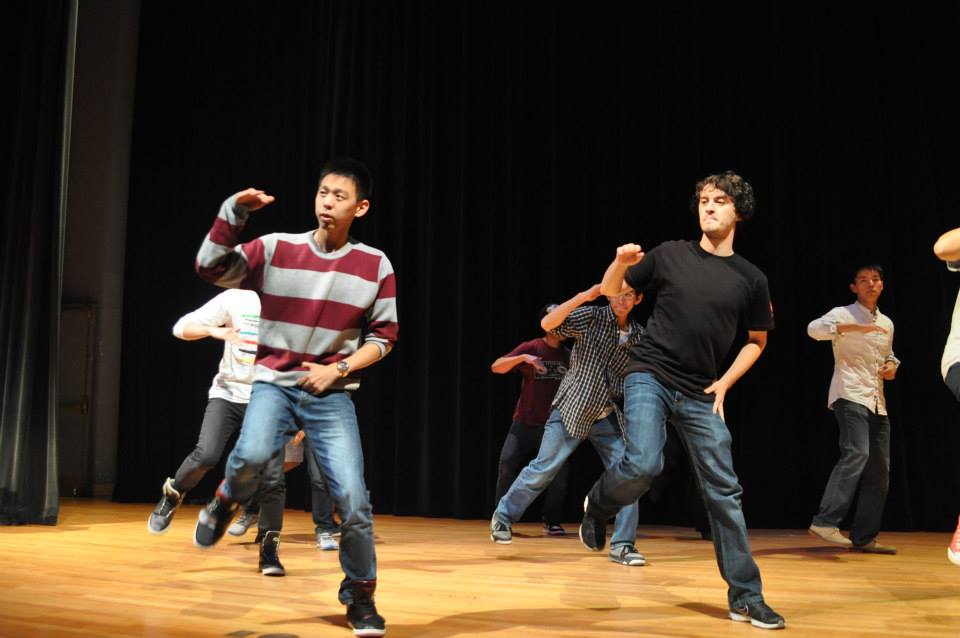 In just 45 minutes, the Commonwealth Auditorium bore witness to a fusion of hip-hop dancing, kung-fu fighting, innuendos, Confucian ethics, Chinese tropes and slapstick comedy. This was the result at the Chinese Student Organization's annual Harvest Moon Festival Show.
The College of William and Mary's CSO held their annual Harvest Moon Festival show in Commonwealth Auditorium Friday Sept. 20, . This festival, also known as the Mid-Autumn Festival or zhongqiujie, is celebrated every year on the 15th day of the eighth month of the Chinese calendar during a full moon.
The show's co-directors took their inspiration for the script from the festival's origin myth. In Chinese mythology, there was a hero named Hou Yi who was a master archer. One year, 10 suns rose into the sky, bringing overwhelming heat to the earth. Hou Yi shot down nine of the 10 suns. For his bravery, Chinese goddess Xi Wangmu granted him the elixir of immortality. Hou Yi did not want to leave his wife Chang'e and be immortal without her, so he left her the elixir. While Hou Yi was out hunting, a jealous apprentice of Hou Yi broke into his house and tried to steal the elixir. Chang'e refused to let him have it, swallowed the elixir and flew to the moon — which is why the moon is worshipped during the festival.
"We started with the Hou Yi and Chang'e story and looked for ways to make it more adaptable," Lily Li '15 said. "The main challenge was deciding on a plot. We had originally wanted to work with a murder mystery, but felt it was too complicated."
The co-directors, Li and Mimi Jou '15 had never written or directed a play before. They were only certain that they wanted to write a script based on a "typical" Asian drama.
They started thinking about their script last April and began working intently on it this past August.
The show began with the hosts introducing the Harvest Moon Festival in both Chinese and English.
CSO's modernized interpretation of the Chinese myth followed Hou Yi, the heir to a major sporting goods company. During the show, he meets Chang'e who is working at a mooncake store. He proclaims that he has finally found the best mooncake recipe. This prompts him to want to turn his family's company into a mooncake factory.
The show was highlighted by bouts of fighting that occurred between the antagonistic Jade Empress and Chang'e. Crystal Yi '15, a second-degree blackbelt in Tae Kwon Do who also knows multiple styles of Kung Fu, choreographed the various fight scenes. The actors she instructed in on-stage fighting did not need a background in martial arts to participate in the fight scenes.
The festival culminated with the audience and actors eating a Harvest Moon dinner of food from Hong Kong Restaurant in Newport News and, of course, mooncakes.
The co-directors explained the cultural activities their families participate in for the Harvest Moon Festival. Li's family treats themselves to mooncakes, while relaxing and moon-gazing.
"For our Mid-Autumn Festival, my family will eat a big buffet dinner and will buy mooncakes," Jou said. "It's hard for me now because most of my family is in Taiwan. Family is a very important aspect of this holiday."
Overall, CSO members were pleased with the outcome of the show given the time constraints they were operating under.
"It is always a challenge, but it is also fun to try and find badass looking moves for beginners that work," Yi said. "We put the cast together last Wednesday, so we only had nine days from getting the cast to the show. I'm really proud how everyone came together even though we only had a week to rehearse."
CSO President Andrew Kopca '15 echoed these sentiments.
"What many people don't know about this year's harvest moon show was that it was put together in a much shorter time than years past," Kopca said. "Many CSO members quickly stepped up to the task and made everything possible. Even though we had an extremely short period of time, the right people came together at the right time and made it happen and it was fun to be a part of it."
The CSO faced many challenges in planning their first major event. Issues involving booking rooms for practices and choreographing dances were resolved by the club's executive board and acting team.
"I had never directed a show before," Jou '15 said. "This was definitely an … experience. But I had a lot of fun and will look back with a lot of fond memories."