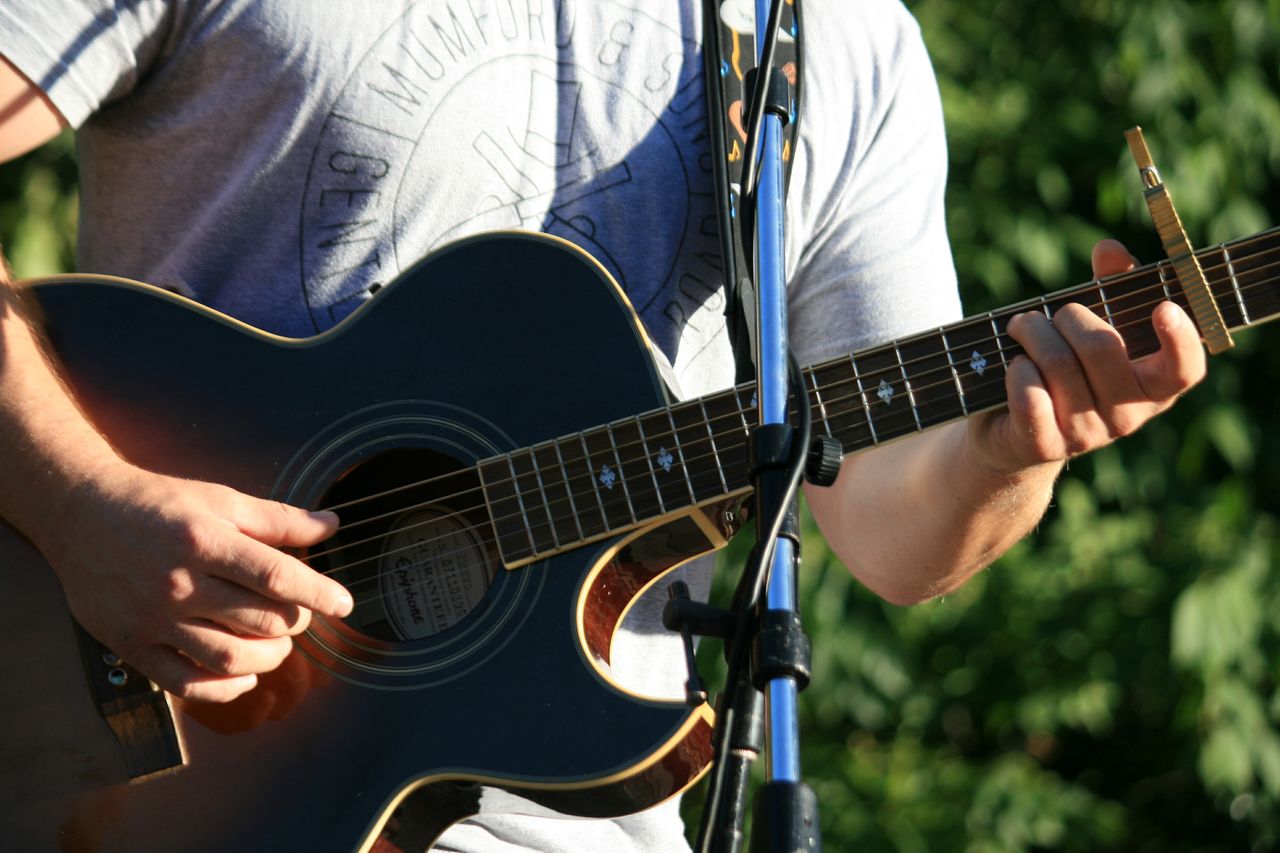 Have you ever wanted to be at the center of student life on campus? If so, the Terrace on a Friday afternoon is most definitely the place to be at the College of William and Mary.
AMP's Fridays at 5 are a free weekly event for students at the College, in which local bands are invited to perform outdoor concerts next to the Sadler Center.
The concert this past Friday, Sept. 20, was a particularly fitting engagement for the beautiful Virginia weather we've been experiencing. In a last glimpse of summer, the Alex Hilton Band treated the College to a classic, soulful country performance.
For me, country music is most appropriately played while cruising in my car with my windows rolled down in the summertime. With fall quickly approaching, one last breath of summer was all I needed. When the Alex Hilton Band opened up their set with one of Kenny Chesney's more recent summertime hits, "Reality," I knew I was in for a treat.
After taking my first test of the semester, I was ready to relax and unwind. The Alex Hilton Band afforded me that luxury.
Just like the lyrics of "Reality," say, "Yeah, some days it's a bitch; it's a bummer. We need a rock-and-roll show in the summer to let the music take us away, take our minds to a better place," the Alex Hilton Band definitely took me, along with the rest of the audience, to a place where we could forget about tests, readings, grades and everything else that clogs up the lives of a typical college student.
At first glance, the College doesn't appear to be a school full of country music fans. TWAMPs usually favor more hipster and alternative bands that you've probably never heard of — I was nervous for the band when I saw their onslaught of cowboy hats, boots, dark wash jeans and rock 'n' roll T-shirts. The Alex Hilton Band's audience may not have included the world's most devout country fans, but that didn't stop the group from making sure everyone was having a good time.
Lead singer Alex Hilton made an especially valiant effort to incorporate the audience into his performance. His quirky dance moves, occasional air guitar and snarky side comments definitely made the concert casual, while still engaging.
My personal favorite instance of audience participation that evening occurred during an original song by the Alex Hilton Band entitled "Buy Me a Drink," a quintessential, post-workday, unwinding tune. Whenever they sang, "buy me a drink," we were all supposed to respond with an enthusiastic "WOO." Cheesy, I know, but it made everyone stop gabbing or scrolling through their newsfeed and actually listen to the band's original music, which, by the way, was quite impressive.
As a country music fan, I've been to many concerts and sat through countless opening bands that employed horrendously offensive and stereotypical country references, metaphors and analogies. The Alex Hilton Band definitely surpassed any opener that I've had to endure.
Aesthetically speaking, Alex Hilton's voice is comparable to many contemporary country singers. He didn't resort to the typical "talk singing" that most country singers have to do. He had just enough twang to make a country gal swoon, but not so much that his voice isolated non-country fans. The harmonies between Hilton and his band mates were always on point and added another dimension to the band. Impressive riffs and improvising by Hilton kept his covers of contemporary songs interesting and unique.
Though they covered many of their contemporaries — including Jason Aldean, Kenny Chesney, Luke Bryan, Eli Young Band, Blake Shelton and Tim McGraw — the Alex Hilton Band performed many of their own original songs.
These original songs were reminiscent of songs by Jason Aldean and Kenny Chesney, evoking more emotion and heartfelt meaning than the pun-filled, light-hearted Brad Paisley hits.
The band's original songs were varied and inspired by many different experiences and emotions. Hilton drew inspiration for three songs in particular from his fiancée. He introduced his song "Without Your Love" by saying, "This one is for the ladies. What's the point of playing guitar if you can't sing one for the ladies?"
Hilton didn't resort to typical conventions when talking about his fiancée's appearance in another original song, "Summertime." She didn't have lips as red as roses or hair like silk, but rather "a tan as dark as a bottle of Beam." So definitely country.
The group's most poignant song was an original track called "Soldier Boy." Hilton took a moment to thank the ROTC students at the College for their time and commitment and to thank the soldiers that protect our freedom daily. The song goes on to detail how the horrors of war can turn a soldier boy into a soldier man and in light of the recent events in Washington, D.C., I found Hilton's song particularly moving and his introduction well spoken.
The Alex Hilton Band heads to the studio this November to record. Check out their website at www.alexhiltonband.com to keep up with their music and future performances.