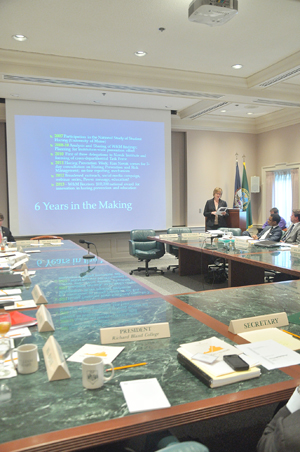 During the Board of Visitors' Committee on Audit and Compliance meeting, Chief Compliance Officer Kiersten Boyce presented on the need to increase regulation and enforcement of compliance at the College of William and Mary.
"Compliance is a major institutional challenge and both a source of risk and opportunity," Boyce said. "We should know who the legal professionals on campus are — whether they are general council or chief compliance officer — and rely on them for experience."
The first principle in the William and Mary Code of Ethics states that those at the College will "obey the laws, regulations, and policies applicable to our university activities."
The College's Compliance Program deals with the policies and other controls designed to ensure all offices fulfill their compliance functions. The program works mostly with the offices of the Internal Audit and Human Resources.
"The reality [is] that doing this —complying — is not a simple matter. Some administrators operate at the intersection of highly complex, evolving compliance obligations," Boyce said in an email. "They need expertise in these obligations in order to perform their jobs and legal training may help."
Administrators within the Dean of Students office, the Compliance staff, the Student Conduct office, the Development office and the President's office all have law degrees, but Boyce suggested that having more legislative minds at the College could help with compliance.
"If the job market for lawyers continues to be poor, I wouldn't be surprised if we see one or two more [College] administrative jobs being filled by J.D.s, as positions turn over," Boyce said at the meeting.
Boyce also reminded the Board that many administrators without formal legal training successfully navigate regulated areas. She gave various examples of administrators who do so.