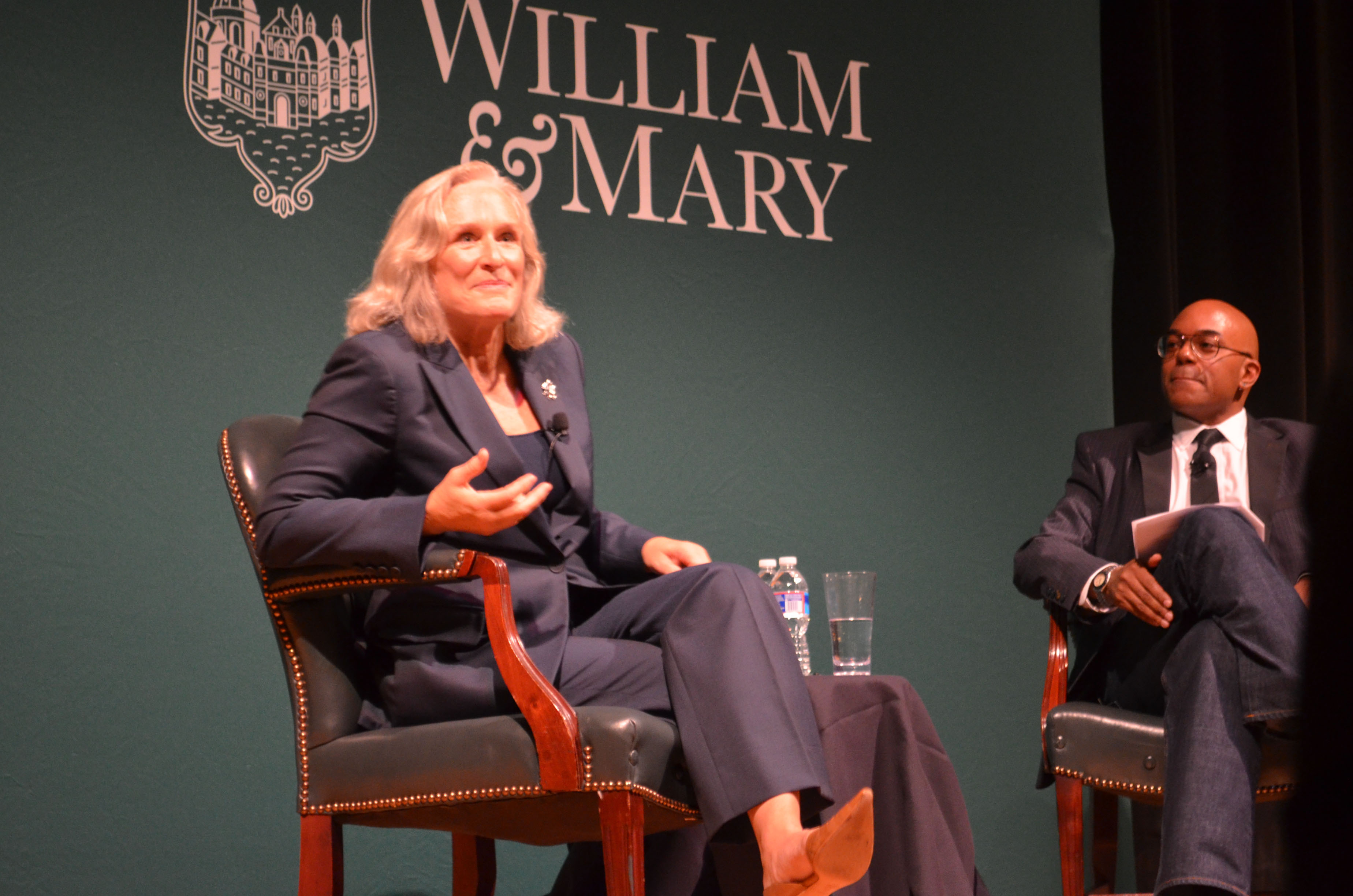 About 40 years after graduating from the College of William and Mary, Glenn Close '74 returned to mentor theatre students and speak with members of the College's community.
During her visit to campus to accept the Cheek Medal Award as part of the Arts and Entertainment Conference, Close held an open conversation in the Sadler Center.
"I think it was really great that students had the opportunity to ask questions," Arts and Entertainment Council Board of Directors Member Jimmy Finn '00 said. "Glenn was once in the same position that all the students here are in. She really serves as a great role model."
As an undergraduate, Close starred in numerous productions, acted in supporting roles, and worked in costume design and production. To Close, focusing on the craft of acting is more important than the celebrity aspect of her work.
"When I started, people talked about wanting to learn to act," Close said, "Now people talk about wanting to be famous and walking the red carpet and 'What am I going to wear?' And I really think that it is a strange state of affairs for our culture."
Although Close had many starring roles at the College, she was not immune to failure. She recalled one of her theatre professors referring to her as "a big fish in a small pond" while at William and Mary.
"I came to William and Mary to do theatre — I knew what I wanted to do," Close said. "In the beginning there were many rejections, but you have to get up. You have to get up and keep going."
Close began her freshman year at the College at the age of 22 with the intent of becoming an actress. Along the way, she picked up a double major in theatre and anthropology.
"I always thought it was really cool to have a strong theatre department in a liberal arts school," Close said to the audience.
The liberal arts education impacted her in various ways, Close noted.
"By seeming more intelligent, [I was] able to talk to people about things other than theatre," Close said.
Despite having entered the celebrity realm, Close continues to make an effort to give back.
"She clearly loves the College. There are alumni at every college who are more of a challenge to bring back," Finn said. "It's great that we can give her the Cheek Award, but even greater that she wants to give back and to talk to students and be a mentor."
Close ran a master class Friday for students in the theatre department. A handful of students were selected to read monologues for the famous alumna and she provided feedback. Theatre minor Celeste Hall '14 observed the class.
"You could tell she was very invested and committed to the students," Hall said. "For the six students who performed, it was really neat to see how their monologue changed based on the feedback they received. At the end of the class, she gave us advice about acting and auditioning."