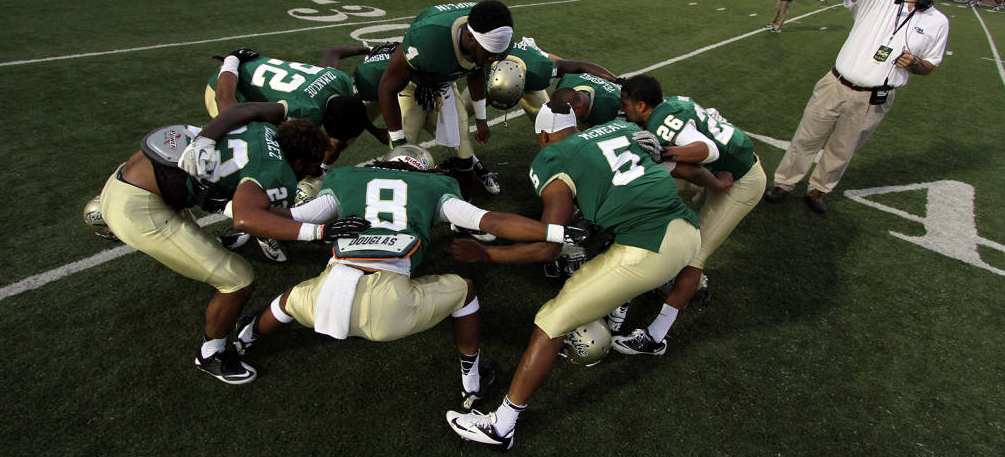 Harry S. Truman is president, and the Cold War rages as the Cleveland Indians defeat the Boston Braves to win the World Series in six games. The House Un-American Activities Meeting holds its first-ever televised congressional hearing, and William and Mary athletes are referred to as the Indians.
That was 1948. Now, 65 years later, head coach Jimmye Laycock's defense is attempting to rewrite history. Through four games, the Tribe (3-1, 1-0 CAA) has allowed 37 points, the fewest allowed during an opening-season stretch since 1948.
"Right now, we're playing with a lot of confidence, a lot of swagger. When we can play with that kind of confidence and that kind of swagger, we tend to do well," senior linebacker Quincy September told Tribe Athletics.
Nationally, the College ranks second in scoring defense, allowing 9.3 points a game. In terms of total defense the Tribe ranks seventh in the nation, giving up 283.8 yards a game. Running on the College has been equally tough, as the Tribe ranks seventh nationally, allowing just 91.3 yards per contest.
"I think the big thing is the turnover margin. We're plus 3 right now, and that's probably why we're 3-1," Laycock told Tribe Athletics.
Defensive coordinator Scott Boone's linebacker corps has been instrumental in the Tribe's positive turnover margin.
Linebackers redshirt freshman Marcus Harvey and junior Airek Green each returned an interception for a score against Lafeyette, highlighting the defense's scoring ability.
With the defense playing at a level not seen since 1948, the Tribe's offense has been equally effective. The Tribe has outscored opponents 85-13 over the three-game win streak. Sophomore running back Mikal Abdul-Saboor has recorded three consecutive 100-yard performances.
"We're running the ball pretty well. The offensive line is coming together, they're gelling, they're working well together and Saboor is running very well. We have some other good backs, but he's kind of taken over, simply because he's been extremely productive," Laycock said. "He's been working at it, he's been studying film, and when he gets his opportunity he's been making good cuts, good reads."
When Abdul-Saboor isn't on the field, the Tribe hasn't missed a step, averaging just shy of 200 yards a game on the ground. Feeding off the success of the run game, senior quarterback Michael Graham has been consistent, if not flashy, posting a 127.6 efficiency rating.
Through four games, Graham has completed 49 of 85 passes, throwing only one interception that came late in the loss to West Virginia.
Graham's 614 yards place him on track to top his season-best mark of 787 yards, set in 2011. While Graham's 7.2 yards per play is lower than last season, his 153.5 yards per game is just four yards shy of his career mark.
As the College travels to No. 20 Villanova Saturday, the focus is on finishing games.
"We know coming into this season we left a lot to be desired from last season. Finishing is something that's very important to us." junior tightend Bo Revell told Tribe Athletics. "We feel like last year, had we finished games, things would have been different."
No. 20 Villanova (2-2, 1-0 CAA) comes off back-to-back wins over Stony Brook and Pennsylvania after opening the season with losses to Boston and Fordham. The Wildcats boast the conference's best rushing attack, averaging 266 yards per game in conference play.
"We're going to have to do something to slow down their running game, and do something that nobody's done the past couple of weeks and move the ball on the ground against their defense," Laycock told Tribe Athletics.
Kickoff is set for 1 p.m. in Villanova, Pa. If this squad plays anything like the 1948 team, one that beat Oklahoma A&M 20-0 in the Delta Bowl, Laycock has much to look forward to.