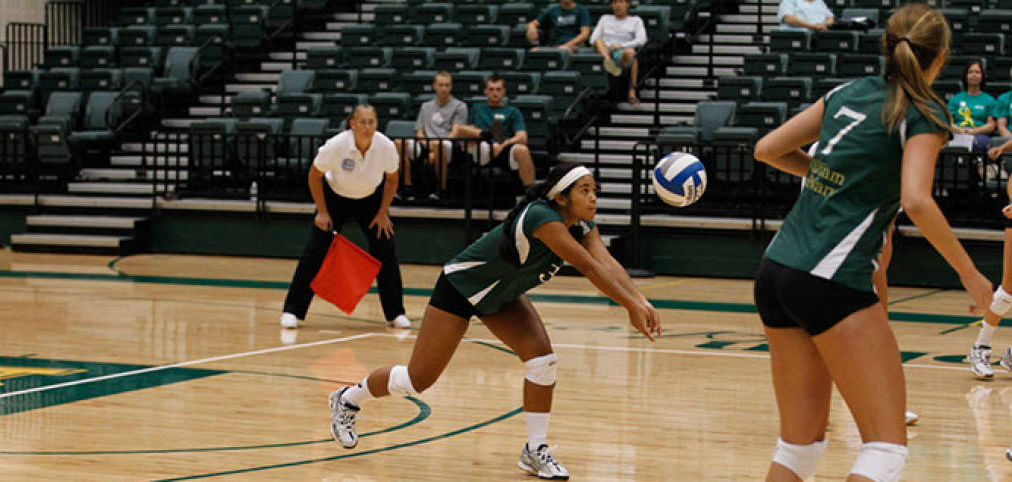 Gaining momentum before entering the bulk of its Colonial Athletic Conference schedule, William and Mary (5-12, CAA 0-1) returned to Williamsburg and defeated Liberty three sets to one Tuesday, snapping a five-game losing streak that dates back to Sept. 20th.
Freshman setter Stephanie Paul led the effort, distributing 50 assists to her teammates as they overwhelmed the Flames.
Paul also added 11 digs, a kill and a block. Partially due to Paul's impressive assists total, nine of the 10 Tribe players recorded a kill during the match.
The Tribe took the first set with relative ease, jumping to a 20-7 advantage before securing a 25-12 set win. Early on, Liberty (1-13, Big South 0-1) couldn't match the Tribe's superior firepower when it came to spikes. Liberty's efforts were squandered time and again by the Tribe's digs, which set up more Tribe kills.
While the first set was a breeze for the Tribe — and seemed to anticipate a three-set blowout win — the second set proved too challenging. The roles reversed, and the Flames began converting digs into kills at the expense of the Tribe. The second set was a close affair, even though the Tribe was down throughout its entirety. Within one point of the Flames at 21-20, the Tribe couldn't carry out the comeback, taking a 25-21 set loss into intermission and tied one set apiece.
Coming out of the break, the Tribe regained its momentum after the second set glitch, taking the last two sets — but not without a challenge. The third set featured 11 ties and five lead changes.
The Tribe seemed to be in control at 24-21, but the Flames fought back to 24-all, and then, 25-all. Sophomore Dessi Koleva, the CAA Rookie of the Year a season ago, notched her seventh kill of the game to give the Tribe another match point. The Flames finally couldn't fight back, hitting the net and ending the set.
The Tribe took its 2-1 lead into another contentious set, this time looking to capture the overall victory. Through the first 40 points of the set, both teams had 20 apiece.
But the Tribe seized the match once and for all by converting five of the next six points to take the 3-1 match victory.
The Tribe hosts its second CAA opponent of the season Friday at 7 p.m. against North Carolina-Wilmington.