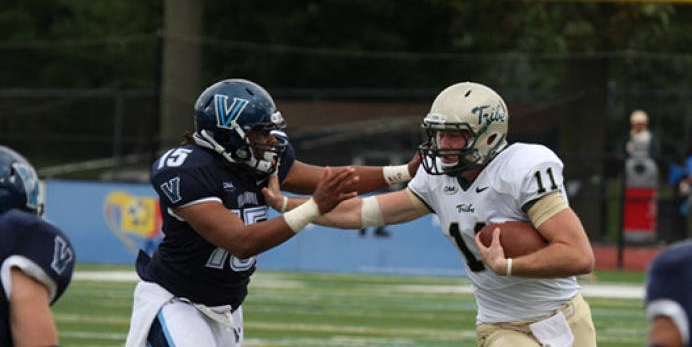 William and Mary fell to No. 20 Villanova Saturday, 20-16. Check back Tuesday for full coverage and analysis of the Tribe's (3-2, 1-1 CAA) second loss on the season.
Score by quarter
William and Mary    7   3   3   3
No. 20 Villanova       3   0   7   10
Defensive player of the game
Junior linebacker Airek Green
Green recorded an interception in the first quarter, giving the Tribe's offense a short field. Senior quarterback Michael Graham took advantage, finding junior wide out Sean Ballard for the 8-yard score.
 Offensive player of the game
Sophomore tail back Mikal Abdul-Saboor
Abdul-Saboor racked up 78 yards on 19 carries against a stout Villanova run defense, and hauled in two catches for 33 yards. Abdul-Saboor had run for over 100 yards each of the three previous games (all wins).
 Critical decision
With 6:17 left in the fourth quarter, head coach Jimmye Laycock faced a fourth-and-one on No. 20 Villanova's seven yard-line with the game tied at 13. Laycock sent in junior placekicker John Carpenter for the go-ahead 24-yard field goal.
The alternative, go for the first down, could have afforded the College a first-and-goal in a tie game. If the Tribe offense failed to convert, Laycock could have turned to his defense to prevent a 93-yard scoring drive. As it was, Laycock took the three points and instead watched his defense allow the game-winning 80-yard touchdown drive.
GO FOR IT JIMMY!!!

— Dante Cook (@Dante_Cook1) October 5, 2013
Quarterback situation
Senior Michal Graham started the game 7-of-10 for 66 yards and a touchdown before leaving following a sack. Rather than send in senior Brent Caprio, who had been taking snaps in meaningless time the past two weeks, Laycock elected to use redshirt freshman Steve Cluley. Several stalled drives and an interception later, coupled with a tie game, prompted Laycock to pull Cluley for Caprio.
Much like last year, Laycock demonstrated no qualms in switching quarterbacks mid-game. Laycock said Graham had concussion-like symptoms. If Graham's injury keeps the senior out for an extended period of time, Laycock is faced with a touch decision: the unproven Cluley, or an apparently still not healthy Caprio? Sophomore quarterback Christian Brumbaugh complicates the issue even more.
 Next up
The College returns to Zable Stadium to host the University of Pennsylvania Saturday. Kickoff is set for 3:30 p.m.
Full coverage
Be sure to check back here for full coverage and analysis later. Pick up an issue when they hit stands Tuesday evening.