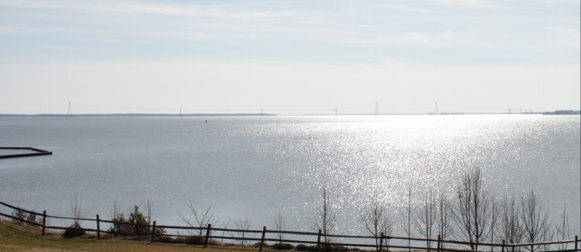 Dominion Virginia Power is still waiting for approval from two state agencies for its plan to build a 500 kV power line over the James River after having announced the project last fall.
The power line would span from Surry Nuclear Power Plant to James City County. If constructed, the towers would be visible from Jamestown Island, Kingsmill and Colonial Parkway.
James City County allocated $200,000 to pay for legal expenses related to the State Corporation Commission's process of approving Dominion's project. Several area institutions spoke out against the power lines including the College of William and Mary, Colonial Williamsburg and a Kingsmill Citizens group, Save the James.
The SCC Hearing Examiner Alexander Skirpan recommended approval of the project in early August. In the report released, he acknowledged there would be some negative impact related to the project, but affirmed the need for the line, as it is the most effective way to supply the peninsula region with power in the coming decades.
"The visual impacts of the Proposed Project are mitigated by locating the line where it will not be seen from most areas of the Historic Triangle likely to be visited by the public," the report said. "Moreover, the added capacity of the 500 kV transmission line, over time, should serve to reduce overall impacts on historic, scenic, and environmental assets by reducing the need for additional transmission projects."
In September, over 2,000 people signed a petition created by the Army Corps of Engineers, which asked the federal agency to hold a public hearing on the project. The project will consult organizations labeled 'consulting parties,' such as other government agencies like the U.S. Fish and Wildlife Service.
According to an Oct. 1 article by the Virginia Gazette, the Army Corps of Engineers is still working on the case, but experienced delays after closing temporarily due to the government shutdown.
"We can assure everyone that a final decision will be a balanced decision that takes into account the need to preserve our historic and ecological treasures with the energy infrastructure needs of the nation," Army Corps Environmental Scientist Randy Steffey said to the Virginia Gazette.