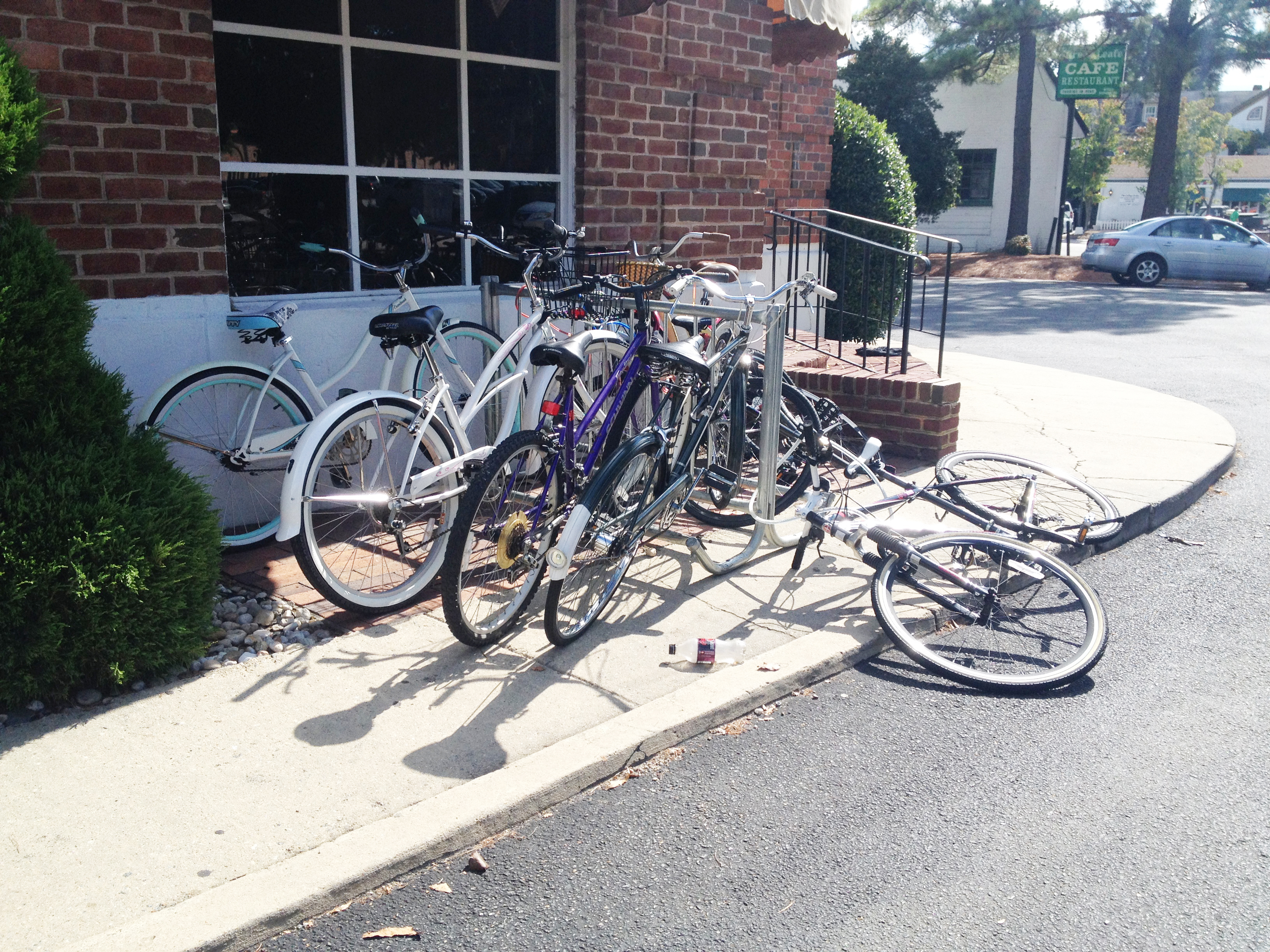 Bike riders on campus may soon find it more convenient to cycle at the College of William and Mary.
Parking Services, as a stem of Auxiliary Services, is implementing a new Parking Services bike initiative which aims to make the campus more bike-friendly and address issues with abandoned bikes, bike parking and unregistered bikes.
Penny Mayton, assistant manager at parking and transportation, encourages students to secure their bikes on the bike racks throughout campus. She noted that bikes locked to stairways, light poles or left on sidewalks  pose safety hazards because they are less secure. Repeatedly locking bikes in these locations could cause bike confiscation.
"We have had bike tripping-over injuries happen on campus, which could have been avoided. By regulating random bike parking, we hope to eliminate such injuries," Mayton said.
Lucy King '15, an Auxiliary Services intern assisting with the new bike initiative, said the project will undergo three phases over the next year and a half.
The first phase will feature policy change and logistical work. According to Mayton, in August, the bike program began transitioning from the jurisdiction of Campus Police to the Parking Services Office. Parking Services will now organize the clearing of bike racks, gather data on bikes on campus, and enforce annual bike registration.
"We want to put this program in place to make William and Mary a more bike-friendly campus, to encourage students and faculty to be more inclined to ride and to improve the College community as a whole," King said.
While completing repair and continuing construction on parking facilities, the office also expects to hold  events like Bike Day to promote sustainable transportation on campus as the initiative's second phase. Cycling lanes will also be identified and marked on new campus maps.
Lyzzie Golliher '17, who bikes on campus, said she thinks the bike system is fairly adequate, but has room for improvement.
"A really good addition that would improve my personal bike experience would be to install more bike racks around campus, as the ones we have now are often overcrowded," Golliher said.
The initiative outlines the opening of a Tribe bike shop in One Tribe Place as its final phase. Parking Services also hopes to make bike maintenance and rentals available. Students and faculty who wish to borrow bikes will also have such opportunities, because the project also incorporates a bike-sharing program. In addition, safety-riding classes will be offered for cyclists at the same location.
The bike initiative, as a joint effort of the Parking Service office, aims to help the College qualify as a Bike Friendly University with the League of American Cyclists and fundamentally to benefit members of the community.
"Through this program, we hope to bring cultural and philosophical change of views on bike riding, not just as a means of transportation or an alternative to cars, but also an integrated part into our lifestyles," King said.