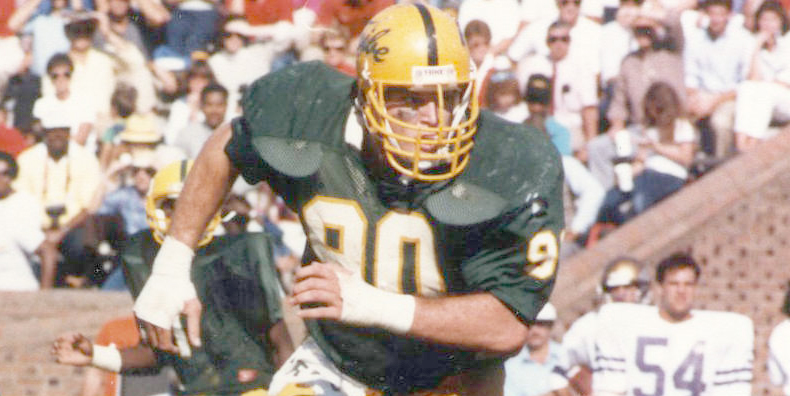 "I can't wait until I'm old enough to remember when I was good," former defensive back Steve McNamee '81 said.
Numerous William and Mary graduates, traveling from around the globe, will return to the campus they used to call home this weekend. For alumni of the football team, the weekend takes on additional meaning with the annual Homecoming football game.
For many Tribe football players, the red-brick refinement of Zable Stadium will always hold a special place in their memories. Wherever they live, whatever they do, football alumni feel a compulsion to look down once more upon the 120 yards of turf where they spent their Saturdays so long ago. Images of past Homecoming games are relived all down the field — some sweet, some bitter.
"There was quite a build up to my senior year Homecoming game in 1997 against Villanova," former defensive tackle Peter Coyne '98 said in an email. "They were ranked No. 1 and earlier that season we defeated No. 2 Georgia Southern. It was a painful loss because it meant … missing the NCAA playoffs. On a brighter note, I fondly recall Brian Shallcross ['98], our All-American placekicker, [kicking] a field goal with three seconds on the clock to seal a victory against Villanova in 1995."
The Homecoming game stands out from the other home games during the season. As much as current players assert that Saturday's game will be just like all the others, alumni know better.
"I think there were more distractions that week," Coyne said. "For instance, you'd see some of your former teammates coming back for practice. Also, many of the guys who were returning were 40-60 pounds lighter than the last time you saw them."
With old teammates returning to campus, there is added pressure to impress during Homecoming. Players strive to prove they belong in the same tradition that has spawned decades of successful players, many of who watch from the stands.
"I will always remember seeing former players and alumni in the stands and wanting to put on a good show for them," said former defensive lineman Ed Zaptin '00.
Coming back as an alumnus, however, is an entirely different situation — and the small modifications to the program tend to stand out.
"A turf field with lights is new to me," Coyne said in an email. "Walt Zable ['37], 'Flying' Jack Cloud ['50] and most of us played on grass."
But what sets the program apart is its constancy: Jimmye Laycock has been head coach for 34 years, and Zable Stadium predates him by 44 years. Former players know what to expect when they return for Homecoming, not only in the facilities and personnel, but also in the character of the team.
Alumni affirm that being a Tribe football player and, more specifically, being mentored by Laycock, provide a testament to one's quality beyond football, which is a major reason why former players choose to stay connected.
"Coach Laycock's approach structures the program in such a way that folks will want to be connected, and to remain connected, and to learn about the people that are playing their position or wearing their jersey number," Coyne said.
Post-graduate success of Tribe football players vindicates Laycock's approach.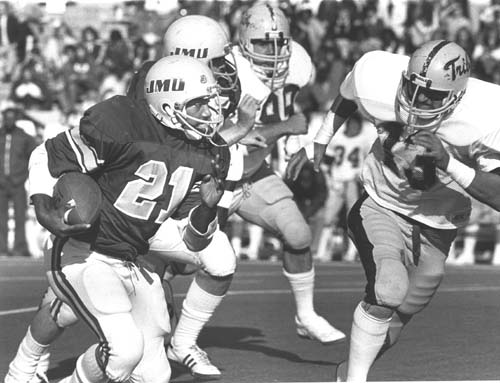 "I don't think it's a coincidence that three of the members of the Board of Visitors are former football players," former offensive lineman Mario Shaffer '84 said.
Homecoming provides former players an opportunity to reconnect with their old teammates and other former players, share stories and cheer on the Tribe. The camaraderie felt between Tribe players transcends age.
"I don't know what word to put to it, but there's a bond between William and Mary players — a tremendous bond," McNamee said. "All you really hear are stories. I especially love hearing the stories from the older guys, who played in the 40s and 50s. But I'll talk to a former teammate and they might not remember it the way I do. That's the fun of it."
A major component of the fraternal affinity between Tribe players, young and old, is the shared experience, often exhaustion, of being a student athlete. Finding harmony between the two callings can be a challenge for any young adult, especially those that perform in front of large, expectant crowds each week. But the athletic department makes sure that players have their priorities in order. Alumni stress that this is the key to what makes being a football player at William and Mary such a rewarding experience.
"The commonality between players past and present is not only the structure of the program, but also the integrity and the intensity of the academics at William and Mary, and really the commitment to being a student-athlete," Coyne said. "I think that's the foundation. It's an incredible opportunity, a privilege, really, to play for a school like William and Mary."
Even though their playing days are long behind them, football alumni still find themselves annually trekking from all over the map back to Williamsburg for the Homecoming festivities.
"I try to head back every year for the game," Shaffer said. "It's a great feeling being able to go back and see old friends that you haven't seen in far too long."
As foggy as their memories may be of the Homecoming games they played during their time wearing green and gold, these football alumni were resolute with their picks for Saturday's Homecoming game between the Tribe and James Madison.
"Please don't ever ask me that question again," Zaptin said.
"I'm going with the Tribe," McNamee said. "I know we're underdogs, but it's Homecoming and that should help, or at least it did when I was there."