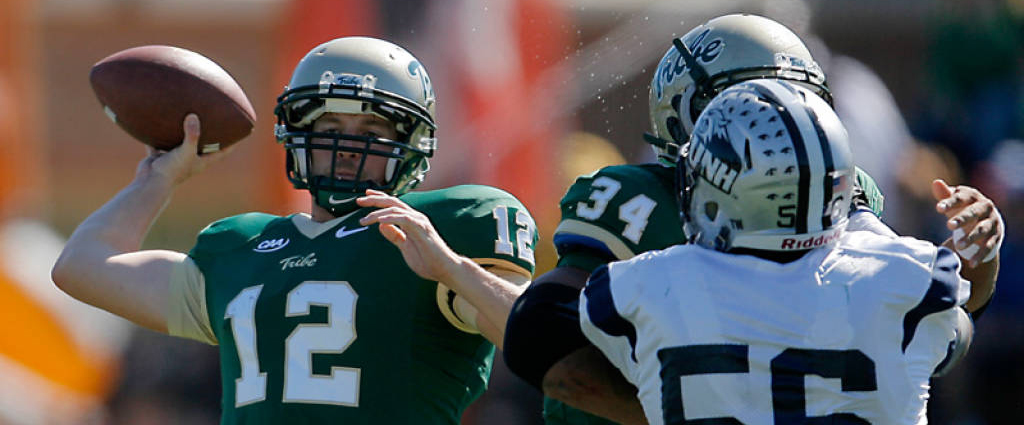 The University of New Hampshire hadn't been shut out since 2009, when William and Mary trounced the Wildcats in a 39-0 win. Saturday rewrote those records, as the College registered three takeaways in a 17-0 win over No. 16 New Hampshire.
Sophomore safety Jared Velasquez forced the Tribe's (6-3, 3-2 CAA) first takeaway with a hit on Wildcat's (4-4, 3-2 CAA) starting quarterback Sean Goldrich that caused both a fumble and Goldrich to spend the remainder of the game dealing with bruised ribs. Sophomore DeAndre Houston-Carson and senior Ryan Smith, the Tribe's starting cornerbacks, each produced an interception. Overall, the College allowed 84 yards rushing on 26 carries. New Hampshire converted just 20 percent of its third down conversions (3 of 15).
Offensively, senior quarterback Brent Caprio completed 14 of 24 passed for 241 yards and a touchdown pass to junior wideout Tre McBride just before the half. Junior tailback Jarrell Cooper won the start, rushing for 92 yards on 18 carries, including a one-yard touchdown midway through the third quarter. Sophomore tailback Mikal-Abdul Saboor, a game-time decision, ended the day with 41 hard fought yards on 13 carries.
Listed as the second string halfback, sophmore Christian Reeves played more like a receiver. Reeves, a transfer from Virginia Tech, hauled in four catches for 109 yards. Caprio found Reeves on a perfectly executed catch-and-run down the right side that went for 61 yards. Junior wideout Sean Ballard chimed in with 71 yards, including a 54-yard strike in the third quarter. With the Tribe offense enjoying a productive aerial and ground attack, the challenge of a shutout rested on the defense.
Sophomore middle linebacker Luke Rhodes didn't shy from the challenge, recording a game-high 13 tackles. Senior safety Jerome Couplin added eight tackles, including a few highlight-reel worthy hits that broke up a number of Wildcats pass attempts.
With three conference games remaining on the schedule, the College heads to the University of Delaware Saturday. Kickoff is set for 3 p.m.
GAME DAY.

— Flat Hat Sports (@FlatHatSports) November 2, 2013
Play has begun at Zable Stadium. New Hampshire starts first possession at own 10

— Flat Hat Sports (@FlatHatSports) November 2, 2013
https://twitter.com/chrisweber18/status/396706858208989184
"Back in Gear"- our headline for last week's win over James Madison- may have been an understatement. Still 17-0 Tribe with 1:43 left

— Flat Hat Sports (@FlatHatSports) November 2, 2013
FINAL 17-0 Tribe. College's second shutout of season, improve to 3-2 in CAA.

— Flat Hat Sports (@FlatHatSports) November 2, 2013